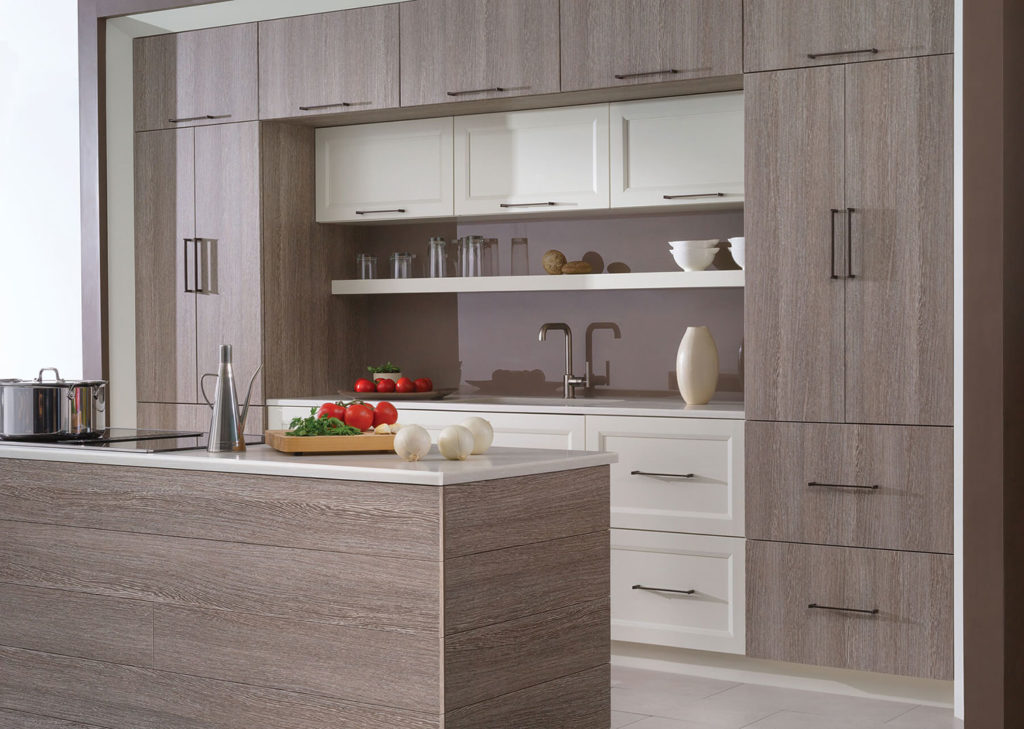 A variety of designs and a great price are only two of the things that recommend laminate kitchen cabinets to so many different people.
There are two basic components to laminate kitchen cabinets. The material at the surface is a thin plastic sheet. This sheet is fixed to some other material, like particleboard or plywood.
Benefits of laminate kitchen cabinets
There are many different kinds of laminate cabinets when it comes to styles, textures, colors and patterns. Do you have a décor that is difficult to accessorize? You can probably find something that fits you in the world of laminate kitchen cabinets. Whatever color you hope to find, from black to white, to red to purple, to cream and beige, you'll find a color that works for you.
Is your kitchen, or home in general, decorated with wood? There are laminate kitchen cabinets that simulate that look as well. Some of them are so well-made, it is very difficult to tell that is not real wood.
Laminate kitchen cabinets are easy on your budget. Since it is man-made, it is less expensive to acquire and ship than actual wood. If you are looking to build or remodel without spending too much money, laminate cabinets are a good choice.
If you don't want to spend too much time cleaning, laminate kitchen cabinets are for you. They are stain-resistant, so you can wipe them down with a sponge and get it over with.
Laminate kitchen cabinetry will not fade if exposed to direct sunlight.
Limitations of laminate kitchen cabinets
Laminate kitchen cabinets are the cheapest option. Sometimes they look like the cheapest option as well. In most cases, it is easy to tell that your laminate cabinets are just that.
Laminate kitchen cabinets tend to be less sturdy than the more expensive options, like hardwood or metal.
Since they are constructed in layers, laminate kitchen cabinets can be difficult to repair if they are damaged. In some cases, it is impossible to repair them at all.
Re-facing laminate kitchen cabinets can be a problem sometimes because it requires special paints for the job.
With some laminate kitchen cabinets with wood-like surfaces, it is still possible to tell that it is not natural wood, even when viewed at a distance.
Cost of laminate kitchen cabinets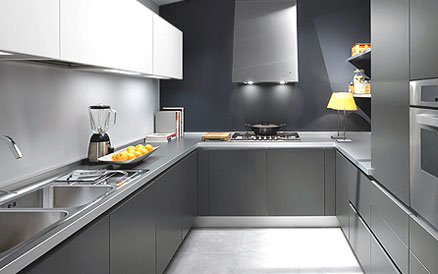 The final price will depend on a number of things, like the overall quality of construction and materials, the design features, the color and the manufacturer. Useful features like Lazy Susans, bins, baskets, rollout pantry shelves, drawers and the like will cost extra. Pulls, knobs, door handles and other added hardware will cost extra as well.
Buying tips for laminate kitchen cabinets
1. A wood or plywood base is the superior type of laminate kitchen cabinet. They'll cost a little more, but they will also last a lot longer. Things like particleboard or MDF (medium density fiberboard) will sag if they do not have sufficient support. They will also not hold screws as well as harder or denser materials, which means that one day your drawers may become loose or even inoperable, and they will be next to impossible to fix. Particleboard and fiberboard also tend take on water, swelling and warping if they get wet.
2. Learn all about your warranty when you get your laminate kitchen cupboards. Major manufacturers, such as Aristokraft and Armstrong are your best bet for a good deal.
3. It will cost more money to get your laminate kitchen cabinets specially made, but it is also the best way to be sure that it will fit with the rest of your kitchen. Stock cabinets may not fit, especially if your kitchen has a unique shape.
4. When you pick a design for your cabinet, think about how it will look with the rest of your kitchen. You don't want your laminate cabinets to clash with your kitchen décor.
5. If you want a contemporary look, use flat surfaces, plain colors and clean lines. Traditional styles are best served by laminate kitchen cabinets with a wood-like surface.
6. RTA (ready-to-assemble) laminate kitchen cabinets will save money on the price, since you have to put them together on your own. They also cost less to ship because they can be packed more tightly. This packing also makes it much less likely they will be damaged in transport. If you've got the tools and the knowledge, RTA installation may be the best possible option. If you are not handy, though, you can have your laminate cabinets installed by professionals and still be ahead.
Laminate kitchen cabinets maintenance
It's actually fairly easy to clean laminate kitchen cabinets. A sponge and some water should do the trick. For the really tough stains, all-purpose cleaners are fine so long as you avoid anything abrasive that will scratch the surface. Steel wool or scrub brushes should be avoided for similar reasons.