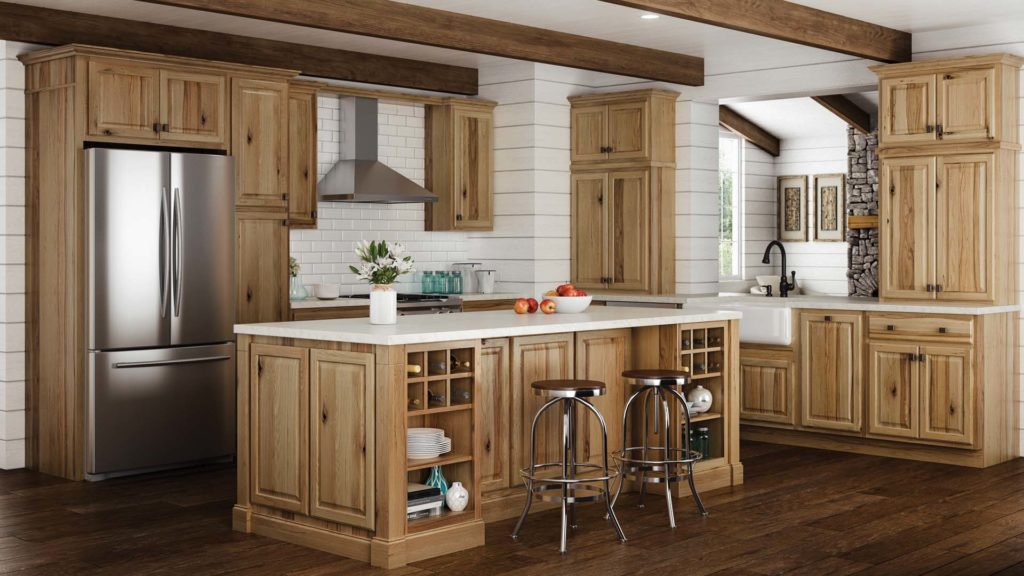 Hickory stands out as a superior wood even before it is shaped and fashioned into furniture. It is strong and solid and has grain patterns that no other wood possesses. Hickory is harder than oak or maple and is sturdy enough to last a very long time. Just think about all of the things that your kitchen furnishings must go through with all the heat, smoke, steam and water that regularly flows over the surfaces. The kitchen cabinets probably go through more use than any other cabinets in the house as well. When sealed properly, hickory kitchen cabinets will survive all that your kitchen has to dish out, without warping or weakening in the slightest. This is also a money saver, because you're not going to have to replace or remodel these for a good long time.
Hickory just plain looks great, which is one of the things that puts it above and beyond other types of wood. The grades come in a fantastic variety of colors, from near-white to the deep dark brown of its heartwood. Hickory gives a truly impressive accent to your kitchen. The swirls and shifts of color give hickory kitchen cabinets a unique appearance. Lower grades of hickory will often have natural marks, like pocks or knots, for that rustic, country look. Understandably, this isn't for every kitchen, but for those trying to create a kitchen that gives the impression of country living, it's perfect.
What to look for in hickory kitchen cabinets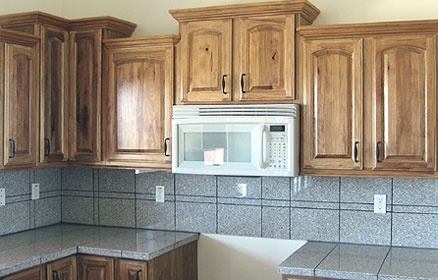 1. Your hickory kitchen cabinets will be the focus of your entire finished remodel. Take advantage of the distinctive colors and patterns of the hickory wood in order to enhance the look of your kitchen.
2. Hickory kitchen cabinets are best with just a clear protective sealer. Painting the wood will only hide the distinctive look of hickory.
3. Hickory kitchen cabinets will not only look great and last a long time, they will actually increase the property value of your home. Products made from particle board/fiberboard/engineered wood, the so-called MDF products, that have hickory veneer are generally, not able to withstand the normal kitchen environments.
4. Getting your hickory kitchen cabinets custom-made will be more expensive. There's just no getting around that. But having the custom-made cabinets will ensure that they fit perfectly with your concept of how you want your kitchen to look. If you have a kitchen that is irregularly shaped, stock kitchen cabinets may not fit quite correctly.
5. How you design your hickory kitchen cabinets will also influence the bottom line when it comes time to pay for them. Items like roll-out pantry shelves, baskets, bins, drawers and Lazy Susans will add to the price, as will certain special hardware – pulls, latches, drawer slides, hinges, knobs and the like.
6. RTA (ready-to-assemble) hickory kitchen cabinets will save you money, not only because you do the work of putting them together yourself, but because the shipping costs are so inexpensive. A bulky cabinet that has already been put together is much more difficult to transport than the unassembled pieces. RTA cabinets are also much less likely to sustain damage in the shipping process. Do you like to build things yourself? With the right tools, some skill and a bit of patience, you can purchase RTA cabinets and install them on your own. If you are not handy, though, you can have your hickory cabinets installed by professionals and still be ahead.
7. You will certainly want to see some samples of the hickory kitchen cabinets you may buy in the near future. It's important to get an idea of what you're going to put into your kitchen before it gets to your home. Hickory does not have a standard appearance, so see what you're getting to be absolutely certain that you like it.
8. Research through the Internet or through word of mouth for some good companies that supply wood kitchen cabinets and see what fits you personally. Talk to some of the representatives from these companies to see precisely what they have to offer. Merillat, Aristokraft, Kraftmaid, and Thomasville are some of the well-known manufacturers of wood kitchen cabinetry.
How to take care of your hickory kitchen cabinets
Hickory kitchen cabinets can be cleaned with a soft cloth. Use mild soap and hot water to gently wash the cabinets, and dry them afterward to avoid leaving standing water on the wood. Leaving water on the surfaces of the cabinet for long periods of time may damage the finish. Wiping it away fairly quickly will keep your wood looking new.
Every once in a while, use a good furniture polish on your cabinets between cleanings. Abrasive chemicals or liquids containing acetone can damage your hickory kitchen cabinets or cause discoloration.