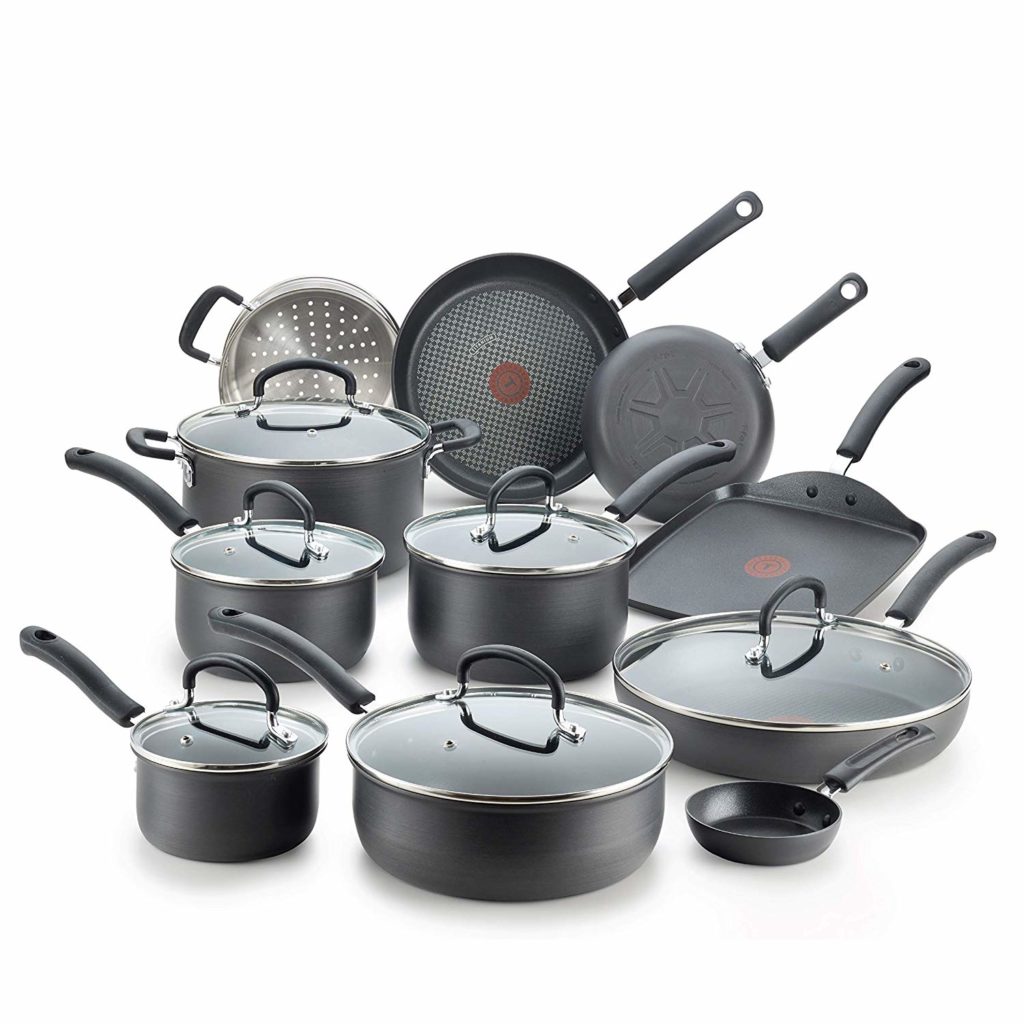 Cookware that suits your taste, style, health requirements and pocket can be considered as the best cookware option for you. Other factors that you could consider are material, storage ease, capacity and maintenance requirements. You must choose materials that heat uniformly and do not chemically react with food.
Materials to choose from:
Cast iron
Cookware made from cast iron, although heavy, is long lasting and good for cooking. It heats slowly and uniformly, and also cools down slowly. This property allows food to be cooked evenly and also remain warm for a longer time, thus preserving nutrients that are lost by reheating. Moreover, iron that leaches from cast iron cookware into the food is beneficial for those suffering from a lack of iron.
Iron cookware is on the heavier side. It also requires some care, as it is prone to rusting, and food can get stuck to its surface. However this is just for the non-enameled version of cast iron cookware. Click here for more information about cast iron cookware.
Copper
Copper is considered as the best cookware material as it heats quickly and uniformly, making it best suited for braising and browning. Moreover this ability to get heated quickly results in saving of time and energy.
Copper cookware, especially mirror-finished copper cookware, has a shine that is good to look at. Copper cookware is costlier than cast iron cookware.
Being a soft metal, copper dents, scratches and can react with food coming in contact with its surface. It also requires some care, as it can get tarnished with time. The copper cookware that has been coated with a strong inner surface metal such as stainless steel is the best type to use. Click here for more information about the best type of copper cookware.
Aluminum
Aluminum is lightweight and conducts heat quickly and uniformly, making the heat spread from the base of the cookware to its sides without burning food. As a result it saves cooking time and energy.
Aluminum, being a soft metal, dents, scratches and reacts with food in contact with its surface. Therefore it becomes necessary to coat it with non-stick material or to anodize it, making it tough, scratch proof and chemically stable. Click here for more information about the best type of aluminum cookware.
Stainless steel
Stainless steel is a hard and durable alloy. It therefore does not get dented, scratched or rusted, nor does food react with it. Its shiny surface makes it visually appealing, and is easy to clean. Stainless steel utensils are good to be used individually, and also make the best cookware sets.
Stainless steel does not conduct heat very well and therefore heats unevenly. Therefore it may burn the food. To overcome this problem, manufacturers use aluminum or copper core sandwiched between two steel layers. Click here for more information about the best type of stainless steel cookware.
Titanium
Titanium cookware, being non-stick, is better than Teflon-coated cookware. It has the toughness of steel and the lightness of aluminum, making it easy to handle.
Titanium cookware does not catch rust, and does not stick or react with food in contact with its surface. Food can therefore be cooked in little or no oil, resulting in a healthier waistline.
It is ideal for camping and other outdoor activities as it is light to be carried around, and also durable.
Titanium cookware does not distribute heat evenly, resulting in hot-spots and burning of food. Therefore it must comprise of an aluminum base or an aluminum core. Click here for more information about the best type of titanium cookware.
Waterless cookware
Foods cooked in water lose flavor and nutrients, and may also lose their visual appeal. Waterless cookware allows foods to be cooked in their own juices, making them crunchier and tastier. Also, minerals and vitamins are retained, making the foods healthier.
The finest waterless cookware is usually made from high quality stainless steel of surgical grade, which is not affected by heat. Such cookware is manufactured with aluminum or copper core and distributes heat uniformly. This keeps the food from getting burnt and enables oil less and waterless cooking. Also, an iron core is added to the vessel so that it can retain heat for a long time.
Although waterless cookware may cost over $1000, it helps save time and energy costs, and has proved to be cost-effective in the long run. Click here for more information about the best type of waterless cookware cookware.
Best cookware buying tips:
The thicker the cookware the better, as this increases conductivity, allows heat to evenly spread, and prevents warping.
Buy oven-safe cookware which will allow you to transfer your cookware directly from the stove to the oven and save cooking time.
Special care should be taken to buy heat-proof handles and fitting lids.
The best cookware sets are the ones that consist of all your required cookware items. They come cheaper than buying individual items.
The best cookware is the one which spells quality, as it will last a lifetime.
The best cookware sets come with the manufacturer's warranty which guarantees a replacement for breakages.
In case you use an induction stove, the best cookware is one with a magnetic exterior.
What do you think?
Do you have a suggestion or comment about the best cookware? Let me know by filling in the form below.