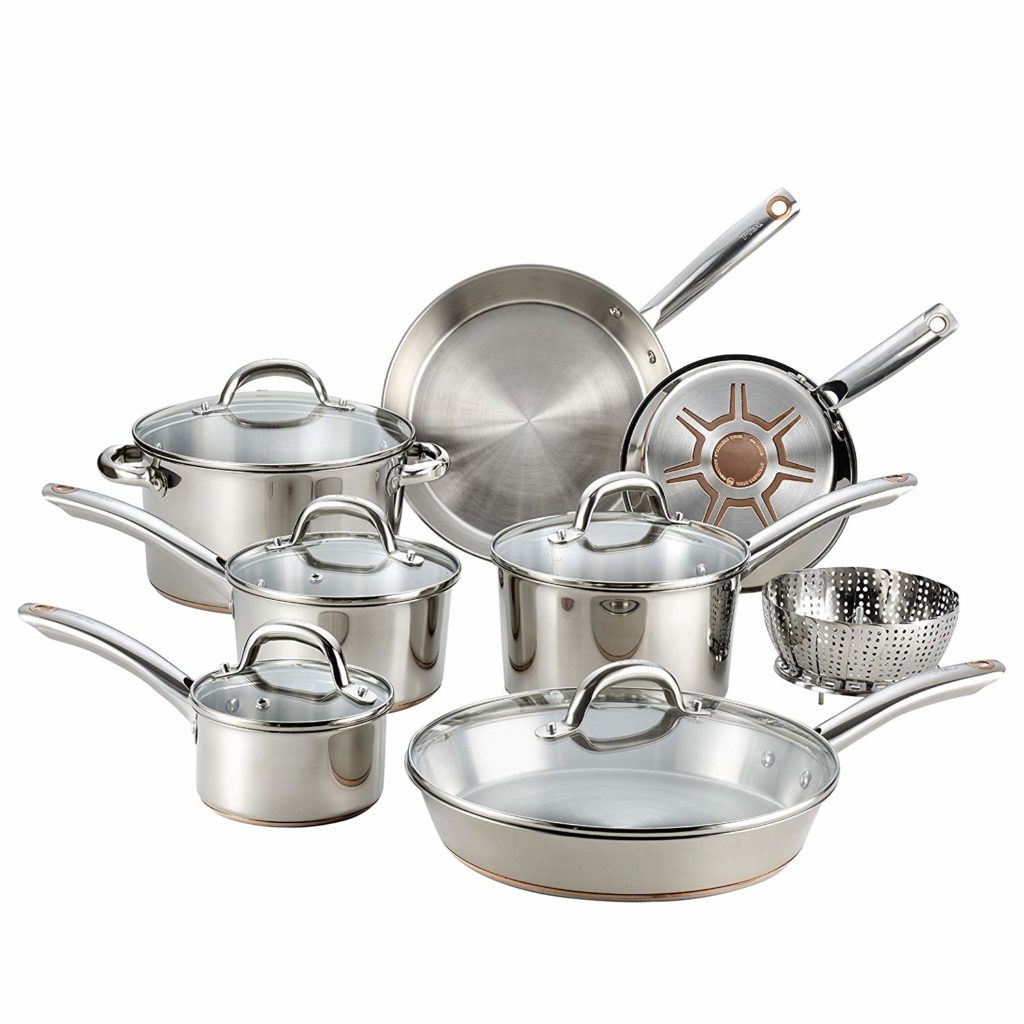 The great advantage of stainless steel cookware is its durability and appearance along with the low maintenance it requires. Being an extremely hard alloy, the chances of it getting dented of scratched during normal use are almost nil. It will not rust and with regular care and cleaning stainless steel cookware can last a lifetime. Stainless steel cookware does not react with food during the cooking process and will not be affected by being used to prepare food with a high acid content. The attractive shiny surfaces of stainless steel, either as a single piece or as part of a stainless steel cookware set, will add to the décor of a kitchen.
A large variety of utensils are made out of stainless steel including stockpots, sauté pans, frying pans / skillets / omelet pans and saucepans. There are many reputed makers of stainless steel cookware and among the best known are KitchenAid, Le Creuset, All-Clad, Calphalon and Cuisinart.
What makes good quality stainless steel cookware
1. The better the quality of the stainless steel, the better the cookware. Nickel is an important component of the alloy and the higher the nickel content the better the quality of the stainless steel. When buying stainless steel cookware, check the specifications for the nickel content. A common specification is given as "18/10". This means that the stainless steel is made with 18% chromium and 10% nickel. A utensil with this specification will be made of a better grade of metal than one with an "18/8" specification.
2. One problem with stainless steel is that it is not a good conductor of heat. This means that your cooking time will be longer and that the utensil may not heat evenly, causing hot spots that may affect the food being cooked. To overcome this, manufacturers use what is called a 3 ply construction technique that involves sandwiching a layer of either aluminum or copper between 2 layers of stainless steel. Copper or aluminum are good conductors of heat and will compensate for the slow and uneven heating you will bet when cooking with pure stainless steel cookware and ensure quick and uniform heating.
3. Look for lids that fit firmly to prevent heat loss during the cooking.
4. Cheap cookware made of stainless steel, is made with screwed on handles made of plastic that tend to come loose and fall off and can be hazardous if you're using heavy pots.
5. Buy stainless steel cookware with "stay cool handles" that will, at least for some time, stay cool but are also safe for oven use.
6. Try lifting the pots and see if the handle design allows you to lift it (keep in mind that it will be heavier when it is full of food) comfortably.
7. Ensure that the cookware is ovenproof. This will allow you to transfer the pot from the stove directly to the oven without transferring the food to another container.
8. Most good quality stainless steel cookware comes with a lifetime warranty. Check the warranty terms before buying and be sure that you will be able to follow the cleaning and maintenance instruction so as not to void the warranty.
9. If you are using an induction stove or are planning to get one, buy stainless steel cookware with a magnetic exteriors which will allow stainless steel pans as well as pots to be used for induction cooking.
10. And finally, look for a design that will fit into your kitchen décor and also look good on the dining table.
Some final suggestions
Always buy the best quality that fits in your budget. Compromising on your cookware quality defeats the purpose of buying something that should last you a lifetime.
Buying stainless steel cookware sets is usually cheaper than buying single pieces. But don't allow this economy to lead you into buying utensils you will not use. Keep your family size, food and cooking habits in mind and buy only that stainless steel cookware that you will be able to use. Sets come in various sizes so you should be able to find one that has only what you are looking for.
Make sure you follow the manufacturer's cleaning and maintenance instructions to ensure that your lifetime cookware does really last that long. Although cookware made of stainless steel is dishwasher safe, the instructions of the brand you buy, may advise cleaning with a fine powder cleaner using warm water. The manufacturer may have found that this will protect the gloss and shine.
Click here for the best deals on stainless steel cookware
#CommissionsEarned