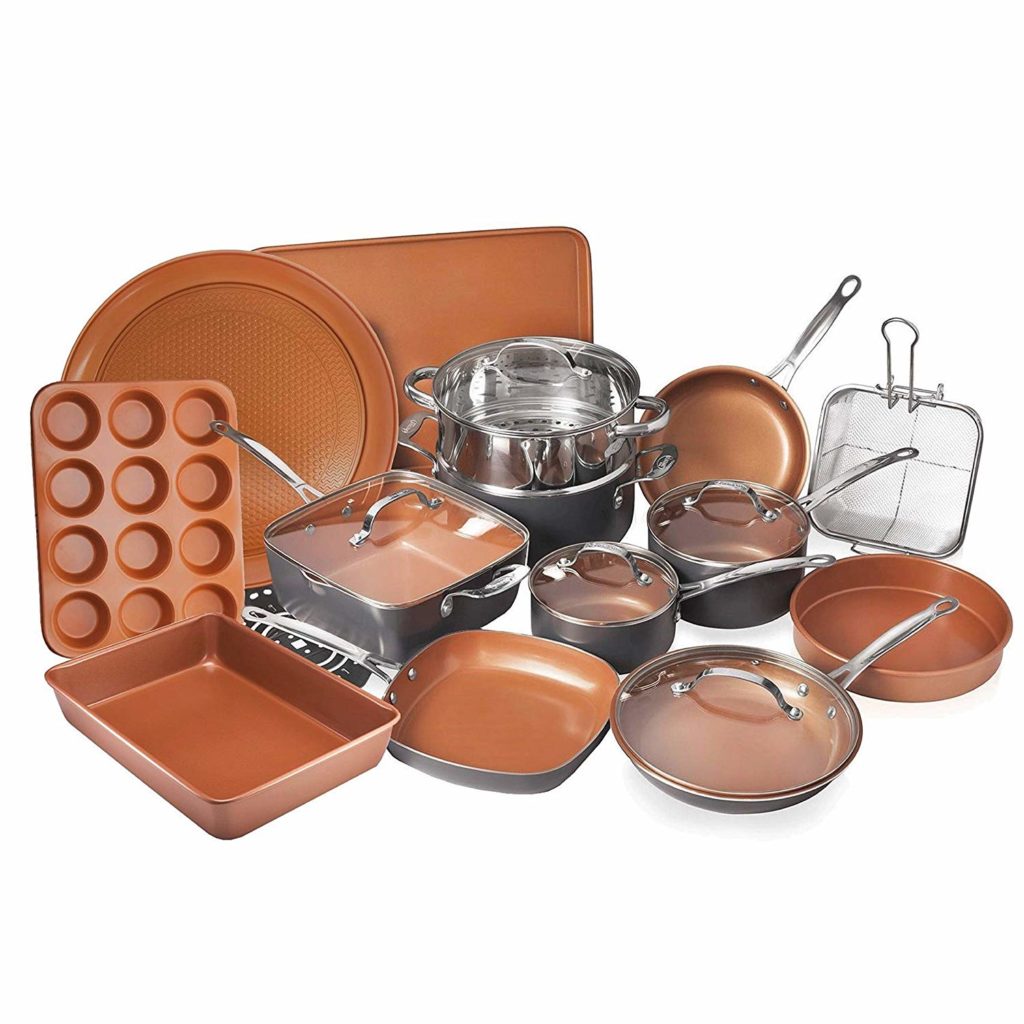 Copper has long been recognized as one of the best metals to use in the manufacture of cookware because of its high heat conductivity which ensures that a cooking vessel will heat evenly all over, with no "hot spots". Since the metal responds rapidly to changes in the heat sources, varying temperatures during cooking becomes easy and braising and browning food may be done without any problems.
The faster cooking you can achieve with copper cookware means you save on both energy and time. Since it also has an attractive glossy finish, you can serve food in the vessels they were cooked in, saving on the amount of washing up to be done. The mirror finish of copper cookware adds class to your kitchen.
Among the well known manufacturers of copper cookware are Calphalon, Ruffoni, All-Clad, Cuisinart and Mauviel. Fry pans, crepe pans, sauté pans, saucepans, roasting pans, egg bowls, gratin dishes, casseroles and stockpots are just some of the utensils that are available in copper.
What you need to know when buying copper cookware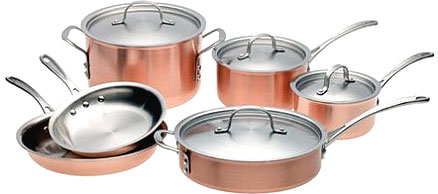 1. Look for a lifetime warranty. This protects you from and any material of construction defects in the utensils you buy. Follow the manufacturer's care instructions to keep the warranty valid.
2. Copper is a soft material that dents and scratches easily and also reacts to food that comes into contact with it. For this reason copper cookware is usually coated on the inner surface with some other metal or alloy like tin, nickel and stainless steel. Tin wears out fast and copper cookware lined with this metal needs to be changed fairly frequently. A stainless steel inner coating is long lasting and easy to clean. Tin lined copper cookware is the cheaper option but because of its long life, stainless steel lined copper utensils are more economical in the long run. Look for copper cookware with an "18/10" rated interior stainless steel coating.
3. The thickness or gauge of the copper is important. The thicker the copper, the better the heat distribution through out the inner cooking surface.
4. Many dishes require being taken from the stove to the oven, to complete the cooking. Buying oven and broiler safe copper cookware means you can avoid transferring food to other utensils before placing them in the oven.
5. Look for the design features you need. Flared rims make pouring hot liquids from the pot much easier and safer. Some copper cookware comes with curved handles that do not heat up excessively when the pan is on the stove. These handles can be welded, riveted or screwed on. Welded handles are very strong and durable but many people find then unattractive. Screw on handles are more streamlined but tend to become loose over time and will require replacement. Riveted handles offer the best combination of durability and looks. Lids may be tight fitting to prevent heat, steam and flavor from escaping during cooking. Some models have lids with a small vent in them to allow for excess pressure to escape and prevent the lid from rattling.
6. Good quality copper cookware is heavy. Before buying a pot or pan, lift it to see if you are comfortable with the weight, keeping in mind that it will be even heavier when it is full of food.
7. Buying a copper cookware set is cheaper than buying individual items, but the set may include pots and pans you will never use. On the other hand, if you buy the cookware one piece at a time, you may find yourself suddenly needing a specific utensil which you have not yet bought. The ideal solution is to buy a basic set that consists of a saucepan, sauté pan, roasting pan and a stockpot. This will meet your basic cooking requirements and you can add utensils as you find the need which ensures that you will be spending money on copper cookware you really require.
Using and maintaining copper cookware
Copper cookware should normally be hand washed in warm soapy water immediately after use and then completely dried to prevent spots developing on the surface. Always follow the manufacturer's instructions for best results and to ensure the warranty remains valid.
Copper cookware will tarnish after a period of use. This does not affect its performance and the original color and shine can be brought back by using a copper cleaning agent.
Click here for the best deals on copper cookware
#CommissionsEarned