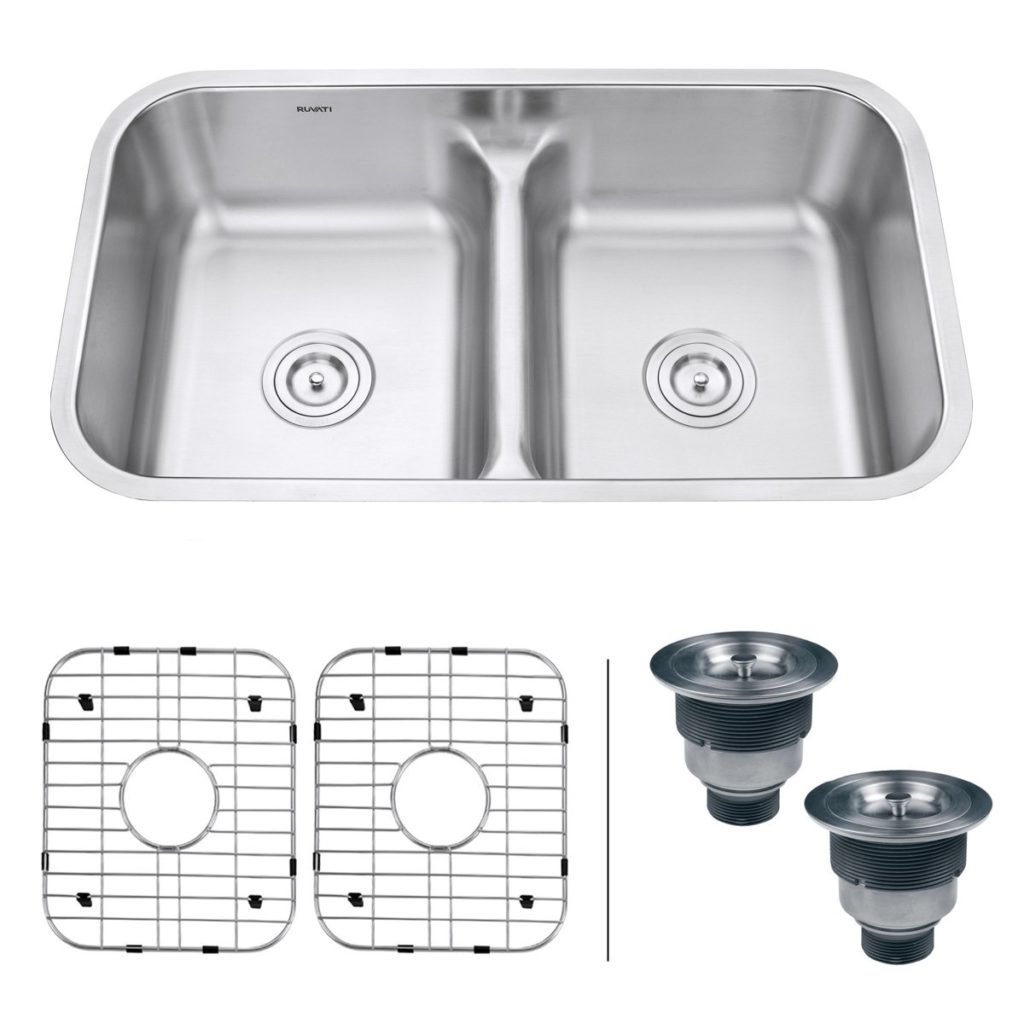 The selection of your kitchen sink will depend on…
the size of the cabinet underneath your sink.
the size of your countertop (whether it has backsplash or not).
the material of your countertop.
the way you will use your sink.
your preferences.
how much you can afford.
Characteristics of kitchen sinks
Sinks may have different shapes…
rectangular.
square.
round.
oval.
other shapes for a more decorative look; for example, an L-shape for corner mounting, or ones that protrude a little further out than the cabinet at the front…
According to the number of basins, kitchen sinks may be…
1. Single-basin: this is a smaller sink. If you have a kitchen island, you might like to mount a single-basin sink in it, auxiliary to your main sink. If you have a dishwasher, you can rinse the dishes in this sink before putting them in the appliance. If its basin is fairly large and deep (10 or 12 inches (25-30 cm) in depth) this sink may be more comfortable for you to wash large utensils in than a standard sink with two identical basins.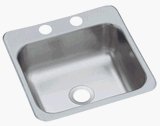 2. Double-basin: a sink of standard 33 inches (84 cm) length to 22 inches (56 cm) width that fits perfectly to the standard sink cabinet – 36 inches (91 cm) length to 24 inches (61 cm) width. Its basins are most often identical.
It's a good selection for a sink if you wash your dishes manually; you wash them in one of the basins and rinse them in the other one. If one of the basins is bigger and deeper, it will be easier for you to wash large utensils, such as pots and pans.
3. Triple-basin: this kitchen sink is bigger. You can use one of the basins to wash the dishes and the other one to rinse them. Use the third one (usually smaller) to wash vegetables or install a garbage disposal unit in it.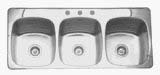 Materials for kitchen sinks
The materials that follow are popular variants for such sinks; but you can see sinks from other materials as well, such as enameled steel, porcelain, fireclay, brass and copper.
1. Stainless steel
A functional material. With it, your sink and countertop may be a whole unit, without any joints. This facilitates cleaning and gives your sink a unified look.
Objects, such as dishes and glasses, dropped in a stainless steel sink are less likely to break.
Other qualities…
durable, non-breakable, heat-resistant.
neutral color: the metal nuance complements most colors.
easy to service: this is the choice for sinks in public establishments.
Disadvantages…
it is easy to scratch.
it is noisy during work.
it may dent.
Learn more about stainless steel kitchen sinks.
2. Enameled cast iron
Usually a more expensive material. It represents a cast-iron base with enameled finish. Here are some of its properties…
durable, heat-resistant.
various colors are available.
dampens noise and vibrations of the sink.
Disadvantages…
breakable.
warm water in the sink basin loses its heat rapidly.
it is more likely that fallen objects will break.
Learn more about cast iron kitchen sinks.
3. Solid surface
Synthetic material. As with stainless steel, your sink and countertop can consist of a single unit.
Other properties…
durable, easy to service.
various colors are available.
you can remove minor damage (scratches, burns…).
Disadvantages…
vulnerable to heat.
easily scratched.
4. Composite
Such a sink is made from natural materials such as quartz, granite, etc. together with synthetics. The color is the same over the entire area and thickness of the kitchen sink. Hence, it will be more difficult to notice any faults.
Other properties…
different colors are available.
easy to service.
durable, non-breakable, heat- and stain-resistant.
Kitchen sink installation
You may install your sink in a number of ways…
1. As a self-rimming sink: here, your sink overlaps the countertop. It's good for your countertop to be made from a smooth material (laminate, natural stone…), thus allowing the sink to align itself perfectly with the countertop.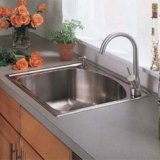 The disadvantage here is that you will find it more difficult to clean around the sink. With time it may also gather dirt, where your sink joins the countertop.
With this kind of installation, your faucet will usually be mounted on the sink itself.
2. As an undermount sink: here, your countertop overlaps the sink. In this case, no joints with the sink are seen on the countertop, giving an appearance of simplicity. It is easy to clean around such a sink; you can wipe waste straight from the countertop to the sink.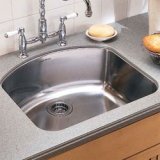 Bear in mind that, in this case, your countertop will be exposed to water from the side as well. If it is made from laminate it may spoil.
With this kind of installation, your faucet will be mounted on the countertop.
3. As a tile-in sink: here, your sink is on the level of the countertop. If your countertop is tiled, this type of sink installation is especially convenient. Sinks are flat at the ends, and their edges are at right angles. Thus they fit well to the tiles.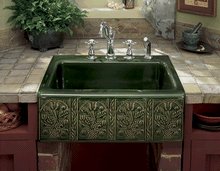 Again, it will be easy to clean the countertop, wiping in the direction of the sink. However, the grout between the tiles, and between the sink and the countertop, will gather dirt with time.
4. As an integral sink: as I mentioned above, your sink and countertop here are a single unit, without any joints. For such a sink and countertop you need such materials as…
stainless steel.
solid surface.
concrete…
5. You can also mount a sink on the wall.
To be sure of the quality of your kitchen sink installation, I recommend that you employ the services of a professional.
Accessories to kitchen sinks
With these accessories, usually bought separately, you will make your sink more functional. Here are some examples…
Bottom basin rack: protecting the inner part of the basin from wearing out.
Dish rack: for washed dishes, utensils and other belongings.
Over-the-sink cutting board: for vegetables, for example. Some boards have also a small colander for washing/rinsing these foods.
Garbage disposal: for grinding large or hard remnants of food before they go to the drain.
Colander: for washing/rinsing different foods (fruits, vegetables…).
Other helpful hints
1. You must keep your kitchen décor in mind before selecting the design of your kitchen sink. From the wide assortment of sinks it is not difficult to choose the right type that blends with your kitchen décor.
2. When selecting kitchen sink from stainless steel, pay attention to its thickness. The thicker the sink, the higher the quality. For example, an 18 gauge or lower one is thicker than a 22/23 gauge, making it a better choice for a sink. A thicker sink is quieter, more dent-resistant and maintains the water temperature in the basins for a longer time.
3. Sinks that have bigger and deeper basins, a flat bottom and vertical walls make it more comfortable for you to work. The area is larger, your utensils will lie well on the bottom and the water jet won't splash outside.
4. Look for kitchen sinks with special technologies on the underside. These technologies dampen noise, protect against condensation and help to control the water temperature in the basin.
5. Sinks cost from less than $100 to more than $1000, depending on the size, the materials and their properties, such as we are discussing now. Buy the best kitchen sink you can afford (sponsored link). This is an appliance you will use constantly, so you need quality materials and construction.
The popular names for kitchen sinks are Blanco, Kohler, Franke, Pegasus, American Standard, Elkay, Kindred and Swanstone.