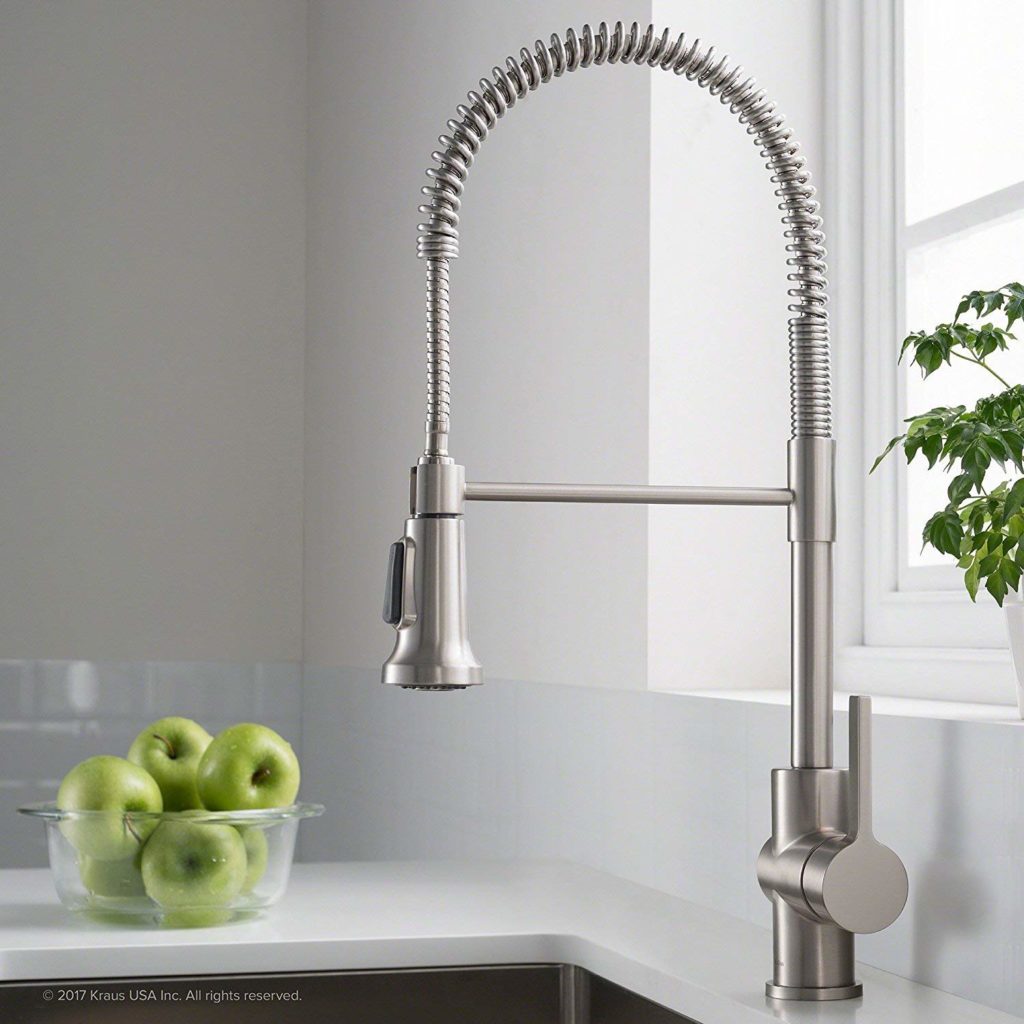 What kind of faucet will work best for you depends on your specific needs. You may wish to have different kitchen faucets for various uses, or you may want to add particular accessories to your faucet.
Special features of kitchen faucets
Types of handle
Some faucets have only one handle, either fixed to the spout or standing apart from it. With these faucets you can quickly and easily control the flow of water and its temperature with one hand. This is especially useful when your hands are full or dirty.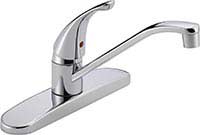 Other kitchen faucets have two handles: one for cold water and the other for hot. The existence of two handles and two flows of water enables you to adjust the water temperature more precisely. More designs are available for two-handled faucets, as well.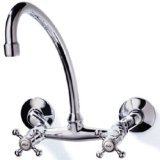 If the handles have the shape of a lever or cross, you will be able to grasp and turn them more easily; levers are especially suitable for people with various physical disabilities.
Types of spout
The spouts of the kitchen faucets may be long, curved, straight, short, etc. Look for a faucet where the spout directs the water to the center of the basin of your sink.
If you will be washing large pots or pans, choose a faucet with a big spout that you can turn aside, with a high arch; for example, one about 14 inches (36 cm) long. Then it will be easy to put your large kitchen utensils in the sink and remove them after washing. Again choose a faucet with a big spout if your sink is big or you have several basins. Then the spout will cover as much of the sink as possible.
There is also one special spout – also known as a pot filler. You install it on the wall near the range to fill large pots with water when you cook. This saves you from having to carry these heavy utensils from the sink to the range. For this spout you will usually need a separate water pipe, supplying cold water.
Kitchen faucets operation
The quality of faucets depends on the materials and their mode of operation. To control the flow of water, they use such parts as…
rubber washers
ball valves
ceramic cartridges
ceramic disks…
Rubber washers wear out comparatively quickly, predisposing your faucet to leak. Ceramic disks or cartridges are far stronger and long-lasting. Faucets with such parts are more expensive, but they require little maintenance.
Kitchen faucets materials
Chrome and brass are materials of sufficiently good quality and are among the most frequently used materials for kitchen faucets. These are also faucets that require little maintenance.
Other materials may be used for the finishes on faucets, over a base of brass. For example, nickel, stainless steel, copper, zinc, bronze, silver, gold, etc. These materials can have a polished or matte finish, and may be used in combination with porcelain, glass or wood.
Keep in mind that there are some faucets you can buy in separate parts. Thus, you will be able to combine different materials, colors and shapes, to create your own design.
Kitchen faucets installation
You can install your faucet in the kitchen in three ways…
through the sink
through the countertop
through the wall
The manufacturers usually supply detailed instructions on how to install the faucet. Another option is to use the services of a professional.
Extra accessories
Some accessories are sold together with your faucet, but you will need to buy others separately. Some of them are installed at the side of your faucet, while others are attached to its spout. For accessories that you will install at the side of your faucet you will need a separate hole in the sink or countertop (which you need depends on the type of installation of the faucet).
1. Spray: a body with a hose through which water runs. This helps you with washing big utensils, rinsing vegetables, cleaning up your sink… You have to be able to reach all areas of your sink with it.
You install the side spray separately from your faucet; on the left or on the right, depending on what will be more comfortably for you.
A pull-out spray (from the spout) will be your best option if you think you will use it frequently and you wish to change the water jet quickly from normal to spray and vice versa.
2. Water filter: for cleaning water; drinking water, for example. The filter will eliminate filth, rust, scale, chemicals, lead, etc. Water filters can be either fixed to the spout of the faucet or separately.
3. Soap dispenser: a container for supplying hand soap. You install it separately from your faucet and eliminate the need for a bottle with liquid soap on the countertop, thus creating a tidier appearance.
4. Hot water dispenser: a spout, supplying hot water. You can use it to prepare different drinks, for example, tea and coffee. You usually install it separately from your faucet.
5. Hole cover: you put it in holes of the sink or the countertop that you don't use anymore. For example, if you don't want a soap dispenser anymore, you can cover the hole left from it with the hole cover. Such covers are useful in that they improve the aesthetic appearance of your countertop and sink, and leave open the option of installing more accessories later.
6. Escutcheon plate: this functions like the hole cover, but you can cover several holes with it, not just one. You will add beauty to your faucet with it. It is desirable to make its color match the color of the faucet.
7. Scald protection: by this function you can set the maximum water temperature, to avoid burning from extremely hot water. It is especially useful if you have small children at home.
Conclusion
1. It's good if the design of your faucet complements that of your sink (or of the kitchen furnishings, for example, the metal wares in the room).
2. When you buy kitchen faucets (with possible accessories), you should bear in mind the following factors, to avoid problems with installation…
the number of holes available in your sink, countertop or wall
the size of these holes and the spaces between them
the size of the outlets for the water supply in the wall
3. The prices of faucets vary according to the quality. Buy the best faucet you can afford. This is an appliance you will use constantly, so you need quality materials and construction.
4. If you want your faucet to be accessible to people with disabilities, look for one that conforms to the requirements of Americans with Disabilities Act (ADA).
Click here for the best deals on kitchen faucets
#CommissionsEarned