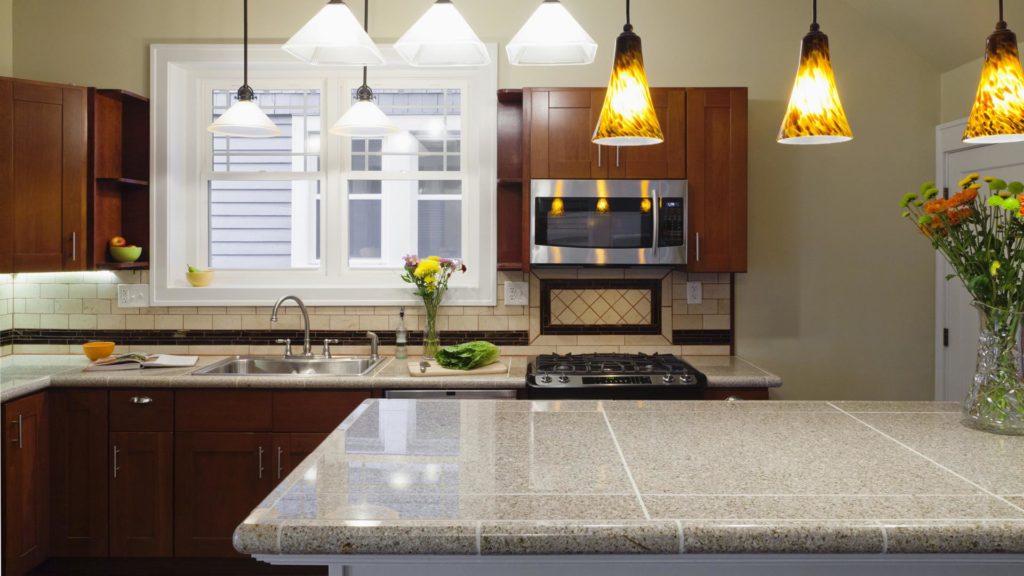 Whether you want the look of natural stone or you marvel the sheen of manmade materials, tile countertops provide you with both options. As the name suggests, tile countertops are actually made from smaller square tiles of various materials, and not large continuous slabs. Tile countertops are comparatively much cheaper, but can give you the exquisite look of natural stone as they are made of the same material. The only difference is that they are in the form of tiles.
Tile countertops can be made of various materials such as marble, granite, travertine, slate or limestone. You can even go for porcelain or ceramic tile countertops. These manmade materials are made of clay as their main constituent, and are treated with high temperatures in order to make them strong and durable.
Benefits of tile countertops:
With tile countertops, you have more versatile options when it comes to colors, textures, patterns and sizes. It is easy to choose one or more colors that will blend well with your kitchen color scheme or theme.
Tile countertops can be merged into beautiful tile work laid out to look elegant. It can also come with matching wall backsplashes to give your kitchen a stylish look. If done well, each piece of tile can be seamlessly integrated into one single attractive countertop.
These tile countertops are durable and comparatively cheaper than large slabs.
Well matched pieces of natural stone tiles can give your countertop a sophisticated look, as the natural stone patterns can stand out.
Tile countertops made of some natural materials such as granite are very popular. They are also very hard and long lasting. In order to get durability at a comparatively lower cost, you can go in for porcelain or ceramic tiles.
They can withstand high temperatures depending on the materials they are made of. Porcelain and glazed ceramic can resist scratching and staining.
Limitations of tile countertops:
Although they are hard, porcelain and ceramic tiles are fragile; so it's a good idea to keep some extra tiles handy.
You cannot use tile countertops as rolling surfaces, as the surfaces are not plain and contain gaps along the seams.
Grout used to fill gaps around the tiles can get porous over time and be a breeding ground for germs. Therefore you will have to pay more attention to hygiene and maintenance.
Pricing of tile countertops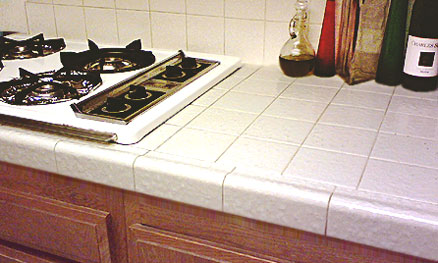 You can buy tiles at a cost of $5 a square foot or more, which works out to a fraction of the cost of large slabs. The factors determining the price are manufacturer, tile size, material and design.
If you want to go in for custom-made tile or hand-painted ones, they are quite costly.
Buying tips for tile countertops
1. You must purchase tiles that would blend with your kitchen cabinetry and the color scheme of your kitchen.
2. If you want a more seamless look, you can go in for tiles of a larger size. This will minimize the grout lines and make your countertop easier to clean.
3. Using colored grout can add to the seamless look of tile countertops.
4. You do not have to use only one tile color and size. You can use tiles of two or more contrasting colors and sizes. An interior designer can assist you in putting together an attractive countertop design with colorful borders and accents.
5. The beauty of tile countertops can be enhanced by adding liners and corners.
6. Always buy some extra tiles in case you have to replace broken tiles. Purchasing them separately later will be much expensive.
Installation of tile countertops
Installing tile countertops takes a lot of expertise as each tile has to be properly laid and leveled. Moreover, incorrect handling can lead to breaking of tiles during installation or at a later stage. Therefore it is best installed by a professional installer.
An experienced installer will prepare a base for the tiles and then lay them out piece by piece without leaving large gaps. Then he will level them and fill the spaces with grout and apply sealant, if required, to form an almost uniform surface. You must ask the installer beforehand about what type of sink is best for tile countertops. Usually tile-in sinks with flat borders and right-angled edges are best for tile countertops.
Maintenance of tile countertops
Ask the manufacturer and installer for specific instructions on how to maintain your tile countertop.
It is best to seal the surface of tile countertops made of natural stone or unglazed ceramic tiles, as they are porous. Resealing will be required on a regular basis. Sealing prevents water and other liquids from entering the pores, as this can lead to staining or roughening of the surface.
Do not drag or drop heavy utensils on the surface as this may lead to cracking of the tiles.
Also, handle acidic organic and chemical liquids such as lime juice and vinegar with caution, as they may eat into the surface making it rough. Never use harsh cleaning liquids as they can ruin the sealing and the grout.
Mild soapy water is the best for cleaning tile countertops.