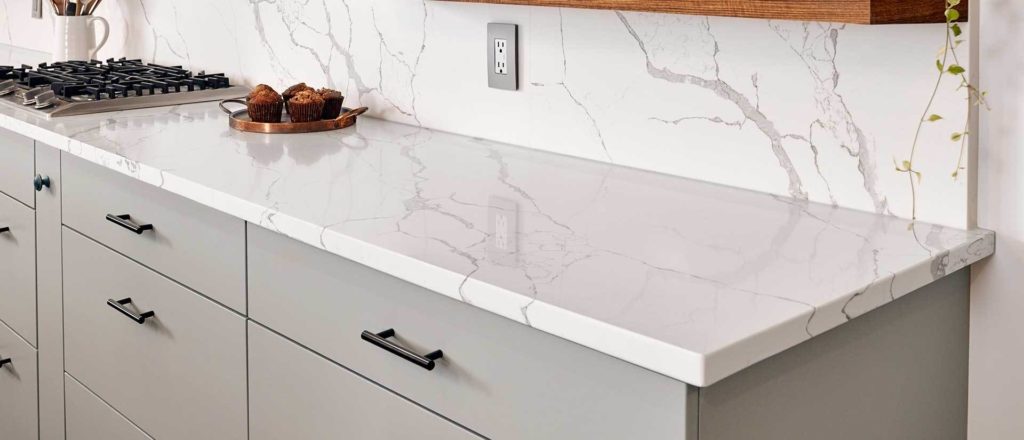 Quartz countertops have surfaces that are hard and resist wear and tear. Quartz is a one of the most highly rated and preferred material in the market as it exudes quality and richness.
Natural quartz is the fourth hardest material available in nature, but quarts surfacing that is used in quartz countertops is actually manufactured by combining about 93% quartz crystals with resin binding and color pigments under high pressure. It is also known as quartz composite or engineered stone.
Quartz countertops look like natural stone and add a luxurious element to your kitchen. Their beauty lasts for a long time inspite of the rugged kitchen work.
Quartz countertops resist staining, scratching and high temperatures. They cannot be etched by chemical cleaning agents and therefore remain smooth and hygienic.
Quartz countertops do not require resealing as required in countertops made of natural stone, and remain smooth and easy to maintain.
Engineered quartz stone does not display veining. Unlike natural stone such as granite, its pattern is consistent and uniform and therefore it is ideal for large countertops.
Due to its uniform appearance the seams do not become obvious as in natural stone countertops.
The edges also look neat and can be carved into various shapes such as bevel, ogee or bullnose.
One disadvantage of quartz countertops is that inspite of costing almost as much as natural stone, buyers prefer natural stone such as granite. Buyers always put a higher value on natural stone countertops, and therefore you must understand that investing in quartz countertops may not increase the resale value of your home.
Although quartz composite is manufactured to replicate the look of natural stone, it may fall short of the naturally formed patterns of natural stone. This limitation can be made good when you consider the many options, the wide color range and the consistent pattern seen on quartz countertops.
Before selecting quartz countertops you may want to compare the engineered stone with samples of natural stone. This will help you arrive at the right choice.
Cost of quartz countertops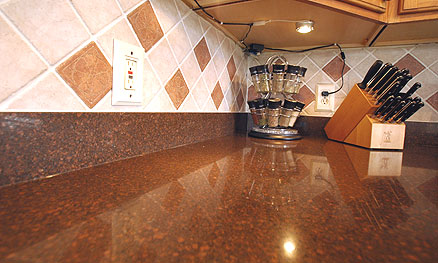 Quartz countertops are made of engineered material, but their prices work out to be similar to natural stone countertops; therefore they are considered to be on the costlier side. Quartz costs about $50 or more per square foot, which may or may not include installation cost.
This cost is determined by various factors such as the manufacturer, location, size, color and finish. The popular names for quartz countertops are Cambria, Silestone, CaesarStone, HanStone and Zodiaq.
Tips for buying quartz countertops
1. Keep in mind your kitchen décor while choosing the color, design and edge style of quartz countertops.
2. Contrasting colors will always look great. For example, if your cabinetry is of a lighter color, dark quartz countertops will look great. On the other hand if your cabinets are of a darker shade, a lighter quartz countertop would add some brightness and warmth to your kitchen.
3. A good way to understand color complementing is to look up some home décor magazines. For creating an attractive color scheme you can also consult an interior designer.
4. If you are looking at a smaller budget, you can of course combine quartz with uniform colored laminate, but be careful to use the hard and durable quartz near areas of rugged use and also around the sink area, as laminate can be damaged. This combination will be much cheaper and elegant if properly done.
Installation of quartz countertops
You will have to hire an experienced contractor to install quartz countertops. These are heavy and need careful handling. This is not a DIY job and may result in broken slabs if not installed with care.
Before hiring an installer, check out some of his work and see to it that he is certified to do the job. Also, he should be willing to co-ordinate with you and get the job done as per your preferences and customization.
Maintenance of quartz countertops
A good contractor will always advise you about how to use and maintain your newly installed countertop.
Quartz countertops are the hardest countertops you will find in the market and may last a lifetime. They have a smooth, scratch-proof, non-porous and glossy finish. Therefore they are easy to clean; do not get stained and do not require resealing.
Although quartz is hard, you need not use abrasive cleaning materials. Just warm soapy water will be enough.
If you avoid dragging and pounding heavy objects across the surface of quartz countertops, their sheen can be maintained for a very long time.