There is a great variety of dishes for baking. The shape, the size and the material of the pans you buy will depend on what and how you cook and what you already possess. If you are an experienced baker, you'll probably know very well what dishes you need for baking and how big they need to be. On the other hand, if you are just starting out in the art of bakery, it is a good idea to think about a kitchen bakeware set that contains some of the most basic dishes. For example, a cookie pan, a cake pan, a muffin pan, two round cake pans and a loaf pan.
As time passes and you become more skillful, you may add different kinds of dish, or different sizes of the same ones. For example, other dishes may be roasting pans, tube pans, bundt pans, springform pans, casseroles, etc.
Materials for kitchen bakeware
Every bakeware material possesses its own particular advantages and disadvantages. For example, aluminum, copper and tin are very good conductors of heat, so you will be able to prepare your food quickly at temperatures that are not so high. The disadvantage of aluminum is that it is prone to rusting and may react with foods containing acids such as wine, tomatoes and lemons, giving them a metallic taste; that's why you may see it in a combination with other metals, such as stainless steel or tin.
It is a good idea to look for anodized aluminum. It is harder and more durable than ordinary aluminum; it's more scratch resistant; and it doesn't rust or react with foods.
Copper, in spite of being quite expensive, may also react with foods such as those mentioned above, and may also be seen in a combination with other metals.
Cast iron and stone are wonderful for long lasting cooking, because they warm up slowly in the oven. In addition, they cool slowly and will keep your food warm for a long time after you take it out of the oven.
However, cast iron also has its disadvantages. It is heavy. In addition, it may rust, so it is a good idea to look for enameled cast iron, which is covered with porcelain enamel. This makes it easy to clean and rust-resistant. It also reduces the probability that the material will react with foods.
Silicone and ovenproof glass are multifunctional materials. For example, you can take them out of the fridge and immediately put them in the microwave. In addition, dishes made from these materials can, as a general rule, be washed in the dishwasher.
Ovenproof glass is scratch resistant, stain resistant, doesn't absorb odors, is easy to clean, and doesn't react with food.
Silicone doesn't absorb and retain heat, so your food will start to cool as soon as you take it out of the oven. It is a naturally non-stick material, which makes it easy to remove prepared food and clean the dishes. In addition, silicone is durable, light, and doesn't absorb odors. It can also be stored easily, because it is flexible and may be folded.
Porcelain and ovenproof ceramic are durable, attractive, don't absorb odors, and are easily cleaned. In addition, food in a ceramic dish is especially delicious. These materials possess qualities similar to silicone and ovenproof glass.
There are different kinds of steel. Stainless steel, for example, is strong and nice and easy to clean. However, food prepared in such dishes is not very tasty. Since stainless steel is not a good conductor of heat, you may see it in combination with copper, aluminum or tin.
Factors to consider when selecting kitchen bakeware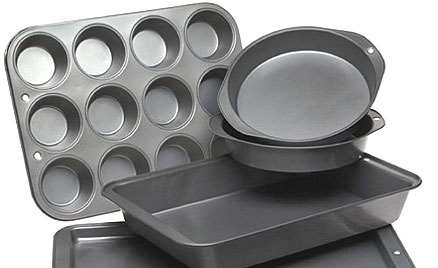 1. Thickness of the metal bakeware: select a dish that is made of heavy-gauge metal. Such a dish will bake your food evenly because it will resist dents and will deform less at high temperatures.
2. Nonstick coating for removing prepared food easily, especially food, the form of which must be preserved while serving. A nonstick coating also makes it easy to clean the dishes after use.
The nonstick coating of quality dishes may consist of several layers, making it strong, durable and scratch-resistant.
3. Dish color: light and shiny dishes will contribute to the even baking of your food because they don't absorb and retain as much heat as dark dishes. As a whole, light dishes are most suitable for foods that don't need much browning.
A dark dish with a matte finish will bake your food faster and is most suitable for foods that need a thicker crust. Usually, dishes with a nonstick coating are dark colored. Consider whether it wouldn't be better to use a dish without such a coating for a particular meal, just covering it with some of the liners below.
4. Easily held: dishes with this characteristic may have nonslip silicone handles, which are not very hot after you take the dish out of the oven. The handles may also be extensions of the dish, etc.
Extra accessories to make your work comfortable
1. Pans from aluminum foil: these dishes are primary for disposable use and are a good variant in case you want to carry prepared food from one place to another without worrying about what will happen with the dish after that.
2. Cooling racks: for the correct cooling of the food after you take it out of the oven.
3. Parchment paper or silicone baking liners: to put over dishes without a nonstick coating. Thus, the food won't stick to them and you will be able to cook with the minimum amount of fat.
Silicone baking liners are practical because they are easy to clean and you will be able to use them over and over again, saving both time and money.
4. Mixing bowls: these are available from different materials and in various configurations, and some of them are designed for a stand mixer.
5. Measuring spoons and cups, pastry brushes, rubber spatulas, sifters, rolling pins…
Conclusion
Good kitchen bakeware is expensive but it will last many years, so buy the best you can afford. With such bakeware you will not only bake with pleasure, but serve with pleasure as well.
Carefully follow the manufacturer's instructions for the use and care of your dishes. For example, never use metal utensils with dishes with a nonstick coating; use only wooden, plastic or rubber utensils. In addition, be careful not to damage the coating if you wash the dish with abrasive cleaners.
When storing bakeware, be careful not to place it in contact with other objects, to avoid scratching or deformation.
Click here for the best deals on kitchen bakeware
#CommissionsEarned