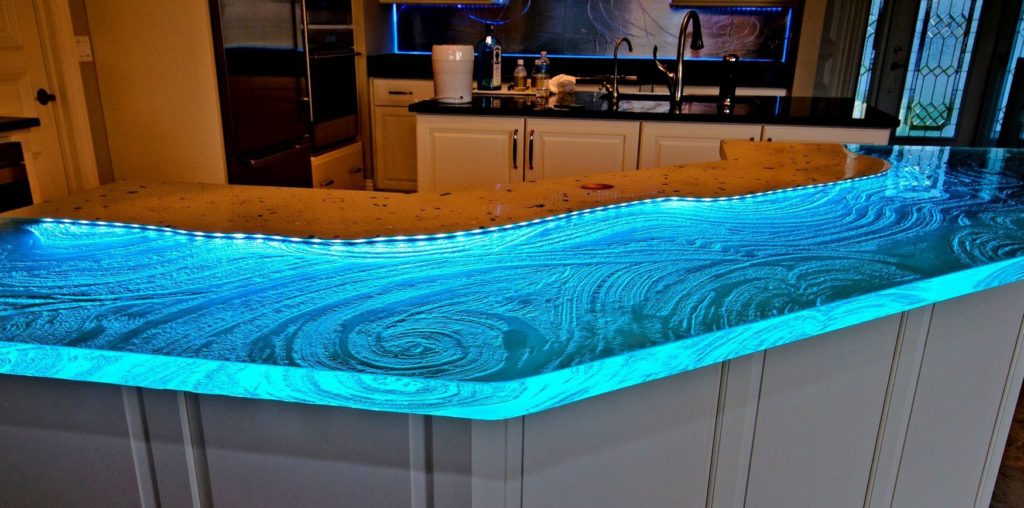 Glass is not often thought of as a material for countertops, yet glass is an ideal material for modern kitchen countertops. Glass countertops bring a glazed and non-traditional look to your kitchen.
Glass looks beautiful and adds a transparent or translucent depth to your kitchen countertops as compared to the traditional opaque countertops. Therefore glass countertops make your kitchen look bright and roomy.
Glass provides an aesthetic as well as a functional advantage, and can be totally customized as per your tastes and requirements. You can have it cut, shaped, textured, colored or decorated with artwork and detailed edges, all according to your preferences.
Glass countertops can be as simple as a transparent sheet of glass or they can be designed into translucent sheets with smooth, etched, sandblasted, patterned or grooved finishing.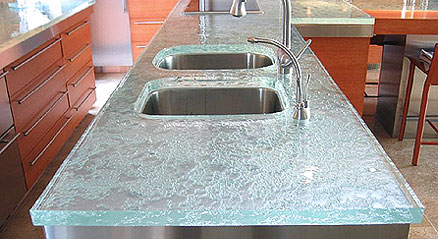 When it comes to maintenance and hygiene, glass countertops are the best, since they are absolutely non-porous, moisture-resistant and stain resistant.
Glass can endure heat, and is suitable for areas around ovens and stoves. Nevertheless, hotplates are recommended for glass countertops.
Glass countertops can be lit up from underneath, making them unique. Lighting up glass countertops makes them visually appealing and creates a dramatic and elegant ambiance around your kitchen. The lighting provides depth and an ornamental appearance that no other countertop material can achieve.
In keeping with the eco-friendly trend, recycled glass countertops are available in amazingly beautiful colors, textures and designs. You can choose countertops embedded with cobalt blue, amber or bottle green accents that look like precious stones. These countertops are manufactured from materials such as dinnerware, bottles and window glass that are disposed of by homes and industries. These countertops are elegant, durable and non-toxic.
Cost of glass and recycled glass countertops
Although glass is manufactured, its elegance demands a high price that is on par with naturally mined stones. A square foot of glass may cost approximately $50 or upwards. You may have to pay extra for installation.
The cost varies depending on the manufacturer, location, type, size, thickness, color and finish. Glass countertops with artistic detailing cost more.
For more economical options you can use a glass-laminate combination by using glass in areas of frequent use (such as the cooking and washing area) and laminate on the rest of the countertop.
Another option is to have a glass countertop just on the kitchen island, rather than on all countertops. This will provide an accented look and enhance the look of your kitchen without spending more.
Recycled glass countertops can cost as much as pure glass ones depending on the design and where you buy them from. If you shop around a bit, you are bound to find attractive ones that are on the cheaper side. The popular names for recycled glass countertops are IceStone, EnviroGLAS and Vetrazzo.
Tips for buying glass countertops
1. For countertops that blend best with your kitchen color scheme, you must consult an interior designer.
2. Looking through interior design magazines could give you a fair idea of the latest trends in countertops.
3. Recycled glass countertops are becoming very popular these days. Although they may not be considerably cheaper than pure glass ones, they can definitely make your friends appreciate the look of your kitchen and at the same time allow you to do your part in saving the environment.
Installation of glass countertops
Glass countertops must be installed only by a professional installer as glass can obviously crack and break. Therefore it takes a couple of skilled hands to do the job. The same goes for recycled glass countertops, which require an experienced installer in order to make it last and prevent problems in the future.
Maintenance of glass countertops
Glass is one of the most sanitary materials, and can be easily wiped clean with all-purpose cleaner or soapy water. Abrasive cleaning liquids are best avoided especially on recycled glass countertops.
Make sure to ask the installer for specific cleaning and maintaining instructions. It must be noted that recycled glass countertops may need to be resealed every year or two in order to prevent the concrete bonding from staining.
Avoid dropping heavy objects on glass countertops as they can crack.
Do not drag heavy kitchen appliances or sharp objects along the surface as they can scratch the surface and mar the finishing.
Textured or grooved glass surfaces and edges may require some special effort to clean them. Use a sponge or a soft cloth dipped in soapy water and move it along the grooves to clean it.