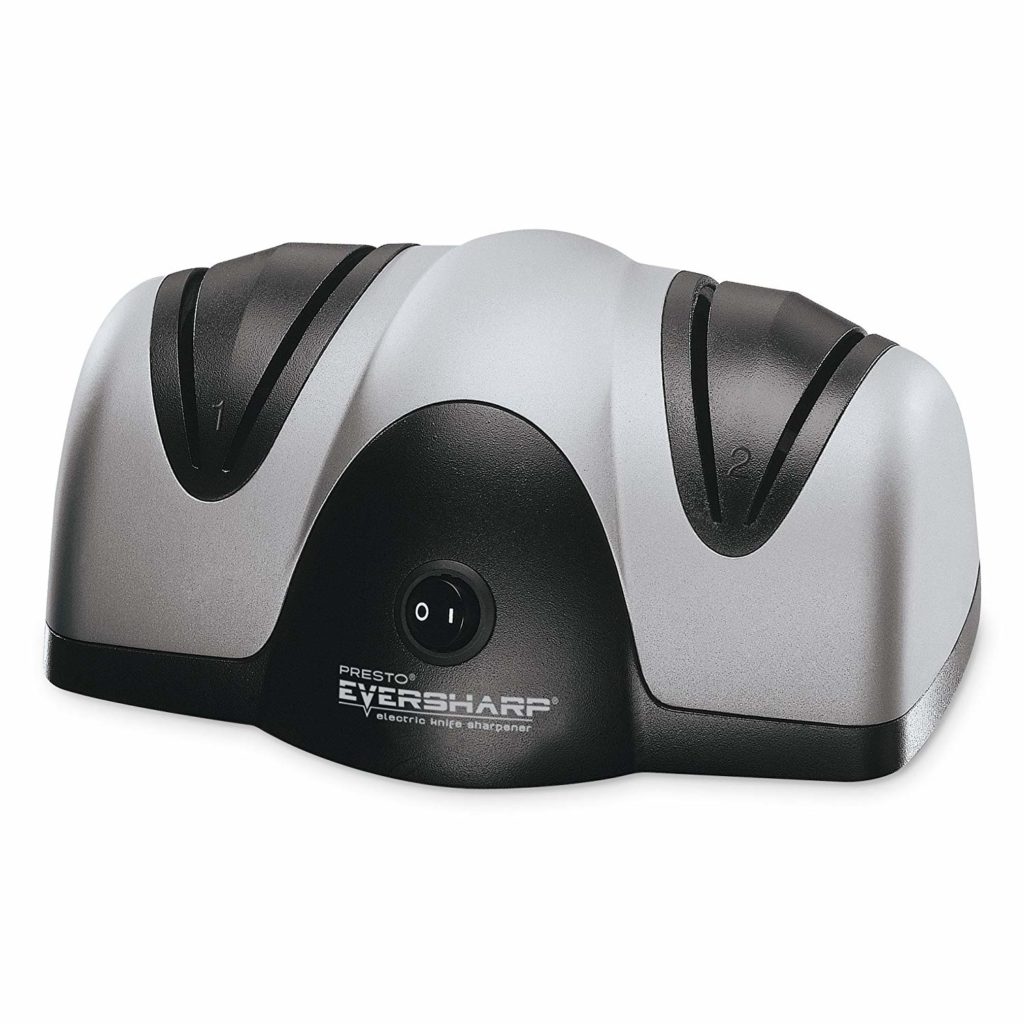 Different kitchen knife sharpeners are available. For example…
a sharpening steel.
a sharpening stone.
manual and electric sharpeners.
a sharpener attached to a can opener…
To have an effect on the knife blades, these instruments use steel pieces or some of the following abrasives…
ceramic.
tungsten carbide.
diamond.
natural or manmade stone…
Whether a sharpener will sharpen your knife, or only keep it sharp for a certain period of time, depends on the way it works.
Characteristics of kitchen knife sharpeners
1. Honing steel

This is a wonderful tool for keeping your knives sharp. Using it, you don't sharpen the knife to create a new cutting edge, but just straighten the blade edge, removing a minimum quantity of metal. After a definite period of time (depending on how often you use the knives), the steel will keep your knives sharp no longer, and you'll have to use some of the instruments for sharpening below.
With a simple ceramic stick, or a stick with a diamond coating, you will sharpen the knife to a certain extent, because these implements are harder then a standard steel rod, but with them you will only prolong the period between sharpening.
You may buy a honing steel either together with a kitchen knife set or separately, and the better ones have a textured or non-slip handle for your comfort. Some also have a magnet that attracts the knife swarves and prevents them from falling on the countertop.
I think that the standard steel rod remains the best choice, because it won't break if you drop it, as it may occur with the ceramic stick. In addition, with a stick that has a diamond coating, the coating will probably get scrubbed off with time.
2. Manual and electric knife sharpeners
Both types of sharpener (manual and electric) are comparatively easy to use and are a good option for the domestic cook. They usually have guides that help you to hold the knife at the correct angle, thus making its cutting edge symmetrical on both sides.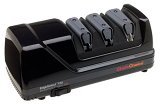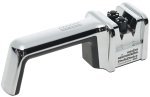 As far as cleaning is concerned, some sharpeners have a magnetic pad that gathers the knife swarves during sharpening, thus making it easier to clean up afterwards. Other sharpeners have rubber feet for greater stability.
To sharpen your knives well, select a sharpener (no matter whether it is manual or electric) with several slots, angular guides and diamond abrasives if possible. Diamond is very hard, sharpens aggressively and removes metal without upsetting the temper of the knife blade.
As you use the various sharpener slots, you will perform the following processes…
in the first slot you will remove the greatest quantity of metal from the knife, creating a cutting edge and removing any damaged parts of the blade.
in the second slot you can form the cutting edge more precisely.
in the third slot you will polish the blade edge and at the finish, your knife will have a strong and durable cutting edge.
If the sharpener has only one slot, as has, for example, a sharpener attached to a can opener, it may be too coarse, taking too much metal away from your knife during sharpening. This will shorten the life of your knife and may damage the blade by upsetting its temper. On the other hand, if the sharpener with one slot is too fine, it will take longer to sharpen your knives; or you might not sharpen them at all, but just hone them as with the sharpening steel.
Another disadvantage of manual and electrical knife sharpeners is the inability of some of them to let you sharpen the knife blade along its whole length or to sharpen a serrated blade. Other sharpeners are good only for a particular knife brand or aren't suitable for a knife with a cutting edge only on one side of the blade. A third type of sharpener isn't appropriate for ceramic knives, and some manual sharpeners are only for right-handed people.
3. Sharpening stone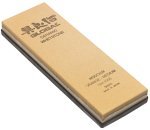 With stone you can sharpen the whole blade of your knife, thus keeping its original shape. You can also sharpen some more specialized instruments, such as kitchen scissors, cleavers, mincing knives, etc.
To sharpen the knives well, use stones with different grades of coarseness, as with the slots of the sharpeners. That is to say…
a rough grit stone to create a cutting edge on the blade.
a medium grit stone to form this edge more precisely.
a fine-grit stone to polish the blade edge.
Another good variant is to use one stone with two grits; rough on one side and fine on the other, with different colors so that you can distinguish between them.
When using a stone, you have to be experienced enough to hold the knife at the correct angle, because otherwise you may spoil its cutting edge. In addition, you have to lubricate some stones with mineral oil or water before sharpening. Thus, you will prevent the knife swarves from filling the stone and impeding its ability to sharpen. (The coating you have to use depends on the type of stone and is usually written in the operating instructions. Nevertheless, it's a good idea to clean your sharpening stone periodically with a brush.)
Conclusion
1. If you want a manual or electric sharpener, be sure that it will be able to sharpen the knives you use and, if it is a manual one, that it will fit the hand you usually work with.
2. If you want a sharpening stone, think about whether you are experienced enough to use it properly.
3. No matter what kind of kitchen knife sharpeners you choose, always use a sharpening steel to keep the blades sharp in the period from one sharpening to another. Use a steel at least 10 inches long, so that you can hone your bigger knives as well. Click here for the best deals on kitchen knife sharpeners
#CommissionsEarned