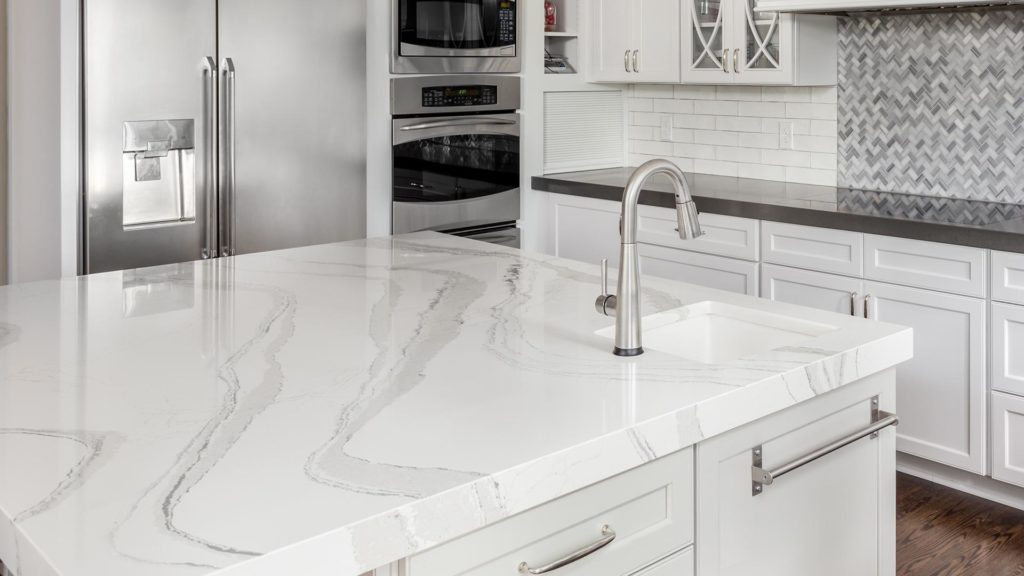 Marble countertops make your kitchen look beautiful and luxurious. Marble, a natural stone that is often associated with prestige and sophistication, is very appealing to the eye, and is ideal for countertops. Marble will add world-class value to your kitchen and give your home a great re-sale value. Home buyers are particularly impressed with marble or granite countertops rather than ceramics, plastics or laminates, and don't mind paying more for marble.
Marble countertops are unique, as each slab displays various patterns of veining and naturally formed designs that are hard to imitate. Every slab of marble looks different. This provides a distinctive element and adds a unique design and style to your kitchen.
Marble countertops come in a wide range of natural colors such as white, gold, pink, purple, green, blue, brown, grey and black. Therefore it is not difficult to choose one to match the color scheme of your kitchen.
When polished, marble countertops acquire a mirror finish. They look brighter and the color looks richer.
Being a natural stone, marble is durable. Although it is highly priced, it can serve you for a lifetime if properly maintained.
Bakers prefer marble as it does not get heated up and is ideal for rolling out pastries, pie crusts and other baked items.
Cost of marble countertops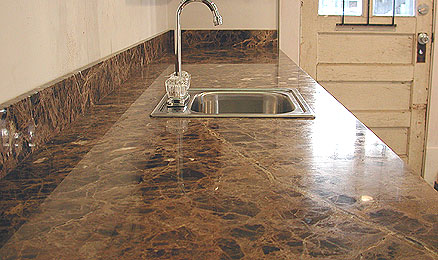 If you want to purchase marble countertops, you must be ready for the cost as they are on the higher side, and on par with that of granite. The price begins with $50 for a square foot, and this may sometimes include installation charges.
The price of marble depends on various factors such as the manufacturer, origin, color, size, thickness, soft mineral content and style. Marble countertops that display color movement, veining and other distinctive patterns cost higher.
If you want a less costly deal, marble tiles are comparatively much cheaper. They have all the properties of natural marble and also look good, but the only drawback is that the borders are visible and a little difficult to clean inspite of filling them with grout.
For a more economical alternative, you can use a combination of marble and laminate.
Tips for buying marble countertops
1. First and foremost, you must keep in mind the color scheme and style of your kitchen, and the color of your cabinetry. Your countertop must blend with your kitchen décor.
2. If you are not sure about the color and style, you can consult an interior designer. You can also look through some interior designing magazines in order to get a fair idea of what looks good and also know the current trends.
3. If your kitchen cabinets are dark in color, you can choose a light colored marble slab, as it will brighten up the area. Similarly, dark colored marble countertops look great on cabinets with light color.
4. If you are choosing marble tiles, you must choose tiles with a somewhat consistent color and pattern.
5. If you are using a combination of marble and laminate, see to it that the action areas such as the cooking and washing areas are covered with marble, and the rest of the countertop, with laminate.
Installation of marble countertops
Marble is heavy, and requires an experienced hand in order to level it and install it. Therefore always let a professional installer do the job. The installer will create templates keeping in mind the sink, the electrical fixtures and the plumbing fixtures. The marble is precisely cut based on these templates.
In order to attain a sturdy base, the installer may use metal rods, plywood and adhesives. If the base is strong, the countertop will not crack during installation or at a later time. Next, the marble slab is fitted on the base and the seams are filled. The borders are ground or made smooth. A sealant is applied on the surface and the countertop is polished to a shiny finish. The sealant protects the slab by preventing liquid from entering the porous surface or from eating into the soft minerals. It also keeps the slab from staining. Therefore you will have to seal it regularly.
Maintenance of marble countertops
Always ask the supplier for instructions on how to maintain marble countertops. He should be able to guide about polishing, sealing and cleaning of the countertop.
Always use warm and mild soapy water to clean your marble countertop. Harsh cleaning liquids will eat into the soft mineral and make the surface rough. Also handle lemon juice, vinegar and other acidic food with caution, as they may cause etching of the surface.
Although marble is hard, it is not as hard as granite and can be scratched or cracked. Therefore do not drag heavy utensils or appliances across its surface. Also, never cut directly on the surface as you may scratch the sealant and the surface of the countertop.