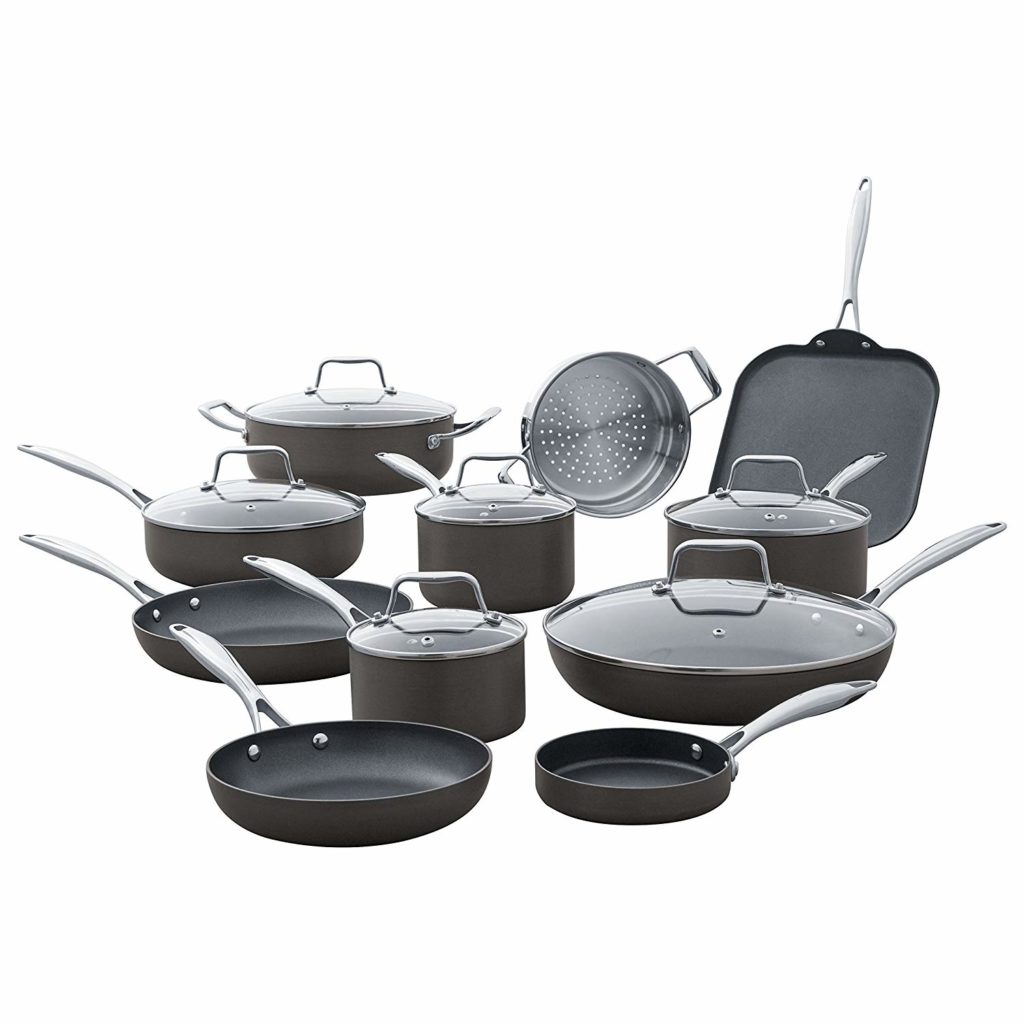 Among all cookware on sale, aluminum cookware comprises fifty percent or more. Aluminum, being light in weight and having excellent heat conducting abilities (only second to copper), is also inexpensive because of its time-saving and energy-saving capabilities when it comes to cooking. Aluminum cookware enables the supplied heat to be distributed quickly from the bottom of the aluminum pot to its sides until the food is uniformly surrounded. This uniform distribution of heat ensures that food is not scorched or burnt. Aluminum cookware is ideal for gas stoves, electric stoves, and even works well on ceramic cook tops. Since the sensitivity of aluminum to heat is high, aluminum cookware can be ideally used to fry and braise.
Some popular aluminum cookware manufacturers are Calphalon, Berndes, Circulon, Swiss Diamond, Cuisinart and Anolon. Aluminum cookware comes in the widest range and serves various cooking purposes such as frying, sautéing, grilling, roasting and boiling. Aluminum fry pans, sauté pans, casseroles, steam cookers, simmering pots and saucepans are some of the regularly used aluminum cookware.
Tips for buying aluminum cookware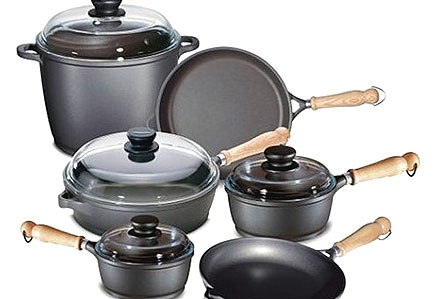 One of the major concerns with aluminum is that it reacts with food. It can react to form aluminum salts when it comes in contact with acidic foods or foods that are salty, and enter the system. Moreover, it is a soft metal and gets easily scratched and dented. Aluminum toxicity is a cause of great concern among many. Therefore companies that manufacture aluminum cookware cover them with a non-stick coating, or harden them through an electrical process in order to make them chemically stable, scratch-proof and non-toxic.
For example, utensils made by Berndes, a leading manufacturer of world class aluminum cookware sets, uses high quality alloy that is subjected to a process called vacuum-casting. The multiple layers of non-stick coating remain intact so that food does not come in contact with the aluminum. Moreover, food does not get stuck or burnt, making the cleaning process easy.
Anodized utensils are the other kind of non-toxic aluminum cookware available. Similar to plain aluminum, this kind of cookware is highly conductive but it does not react with acidic food, making the food safe without changing its taste.
The other benefits of Anodized aluminum are:
Healthy – can be used with little or no fat.
Durable, scratch-proof and easy to clean.
It cannot be dented like plain aluminum.
Prevents the food from sticking and being burnt.
Some final suggestions
1. For best results with aluminum cookware, you must follow the manufacturer's guidelines always. As suggested by many manufacturers, aluminum utensils should be hand washed as they may not be dishwasher safe. Also other metal utensils should not be used with them.
2. It is important to choose aluminum utensils with the right thickness. Thicker aluminum vessels have greater conduction and distribution abilities, thereby enhancing the cooking process and saving time and fuel energy.
3. If your style of cooking involves directly transferring the utensil to the oven after using it on the stove, you can go in for aluminum cookware meant for the oven. Such utensils can withstand high temperatures and they will save you the trouble of transferring hot food to another oven-safe utensil.
4. Many utensils carry a lifetime warranty that protects you against any manufacturing defects and also against chipping and peeling, as long as you adhere to the manufacture's guidelines.
5. The type of handles chosen need a special mention. You must always inspect the handles to ensure that they are not made of plastic, or are attached to the pans with the help of screws. These handles can crack or get wobbly. Handles and knobs that stay cool on hot vessels, and that are ergonomically designed for better grip should always be chosen. These should be firmly attached to the utensil by riveting or welding. Berndes manufactures rivet-free handles that are extensions of the utensils. Due to the absence of rivets, food does not get stuck on the insides.
6. Choose a metal lid or a glass one that fits properly along the rim. Glass lids allow you to see the food as it is being cooked without losing heat in the form of steam.
7. Aluminum cookware sets come cheaper than buying separate utensils, and may be an economical option for large or small families. These may be 6-piece or 10-piece sets. It is best that you restrict yourself to buying only the utensil you need and don't unnecessarily buy the whole set because it comes cheaper.
Click here for the best deals on aluminum cookware
#CommissionsEarned