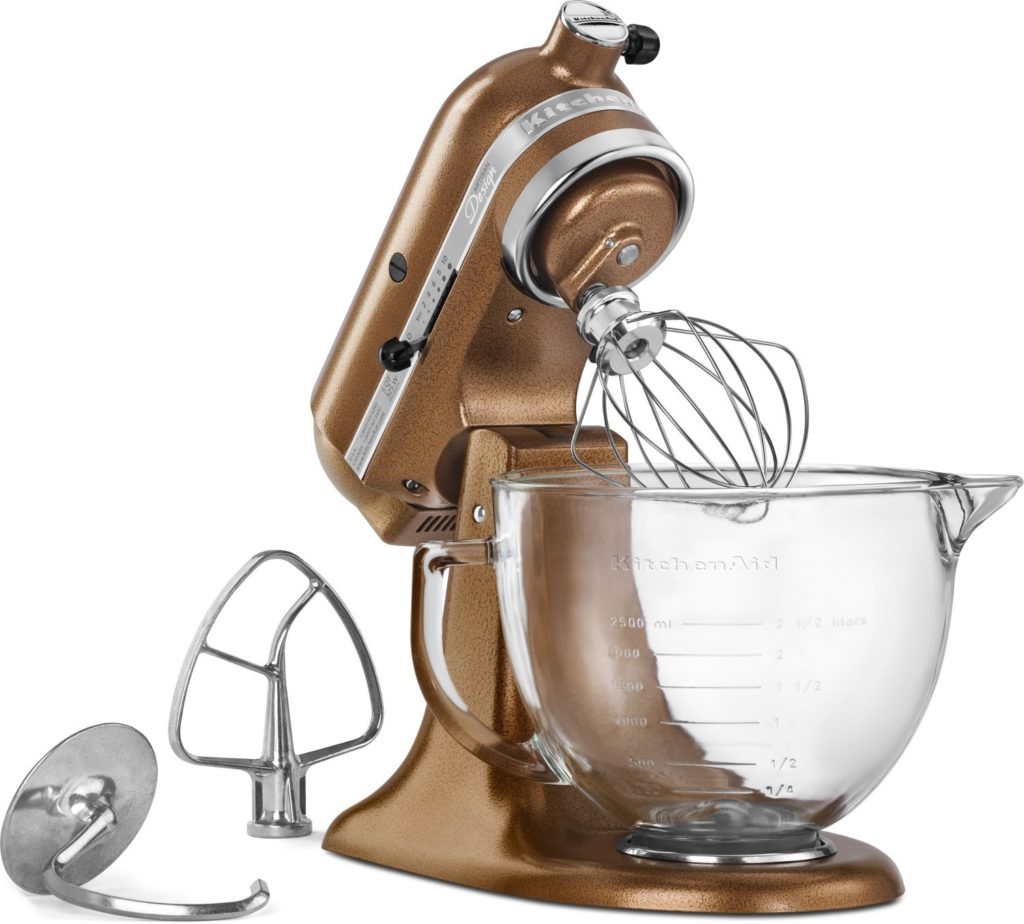 Overview
KitchenAid Artisan stand mixer is a rugged kitchen machine, and has a 325-watt motor. You can depend on the solid, durable, full-metal construction for all your cooking and baking needs for years to come.
There are three attachments that are included with your KitchenAid Artisan stand mixer: a wire whip, a dough hook and a flat beater. The wire whip introduces enough air in your whipped mixtures to make your whipped cream fluffier. You can mix and knead yeast dough using the dough hook, eliminating the need for tedious and time-consuming hand-kneading. You can mix normal to thick batters using the flat beater.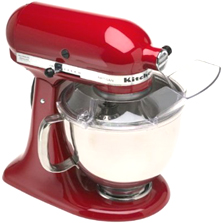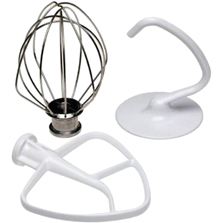 The polished 5-quart stainless steel bowl handles large amounts of mixtures with ease. The handle is ergonomically designed, giving you a firm grip as you lift and pour.
The pouring shield that is included is fitted onto the bowl, and enables you to add ingredients as the mixing process is on. It prevents wet liquids from splashing out of the bowl while the mixer is running. Moreover, the large chute allows you to conveniently add the required ingredients while the mixer is running.
The bowl is tightly locked to the base, and the tilt-back head of the mixer locks down firmly while being operated. By tilting the head backwards you can easily access the beaters and the mixture in the bowl to check the mixture consistency. This arrangement also facilitates easy cleaning.
KitchenAid Artisan features the planetary mixing motion. As the beater turns clockwise, the shaft turns counter clockwise, covering about 67 points around the interior of the mixing bowl. Therefore the beater reaches every part of the mixture, which is blended thoroughly.
You can select from the 10 available speeds, and easily switch to other speeds. You can select very slow and increase it gradually to very high, or whatever your mixing requirement may be. Note that it is normal for the mixer to get noisy at high speeds.
You can easily clean your KitchenAid Artisan. The machine body is designed to allow wiping using a moist towel, whereas the bowl can be put into the dishwasher.
On purchase, a recipe booklet may also be included, demonstrating how you can use your KitchenAid Artisan to prepare various mouthwatering dishes.
Is the KitchenAid Artisan for me?
KitchenAid Artisan is not just a mixer; it's an all-round kitchen machine. There are many useful accessories that you can buy separately to be used with it. These include a food grinder, an ice cream maker, a slicer and shredder, a sausage stuffer and a vegetable and fruit strainer.
The KitchenAid Artisan stand mixer can serve you very well if you wish to use it for mixing and whipping. However, if you're like me, and love to mix up a good bread batter very often, you may want to consider going in for a more powerful model such as the KitchenAid Professional 600 Series 6-Quart stand mixer. It is equipped with a more powerful motor than the KitchenAid Artisan and comes with a bowl with a higher holding capacity.
Since your KitchenAid Artisan is big, and also heavy, placing it on a dedicated area on your kitchen countertop is more advisable than moving it around all the time. See to it that you dedicate a space that is about 8.5 inches wide, 14 inches deep and 14 inches high. The KitchenAid Artisan weighs about 27 lbs.
Additional Information
The KitchenAid Artisan stand mixer looks stunningly beautiful and stands out in any kitchen. You can choose from a wide range of colors to blend with the interiors of your kitchen. The KitchenAid Artisan is available in empire red, metallic chrome, white, brushed nickel, imperial gray, silver metallic, majestic yellow, tangerine, cobalt blue and other colors. It also comes in other attractive color shades such as cornflower blue, bayleaf, gloss cinnamon, pear, almond cream and ice.
You may require some kind of servicing if the beater touches the sides of the bowl, or if the ingredients do not mix properly. In order to maintain the validity of the warranty, see to it that you follow the instructions given in the manufacturer's manual regarding operating and maintenance of your mixer.
How to get the best price on a KitchenAid Artisan
Shopping is a pleasure at Amazon (sponsored link), as you can compare prices and pick up the best deals. Amazon has the lowest prices, and also a policy that is customer friendly, making shopping a pleasure.