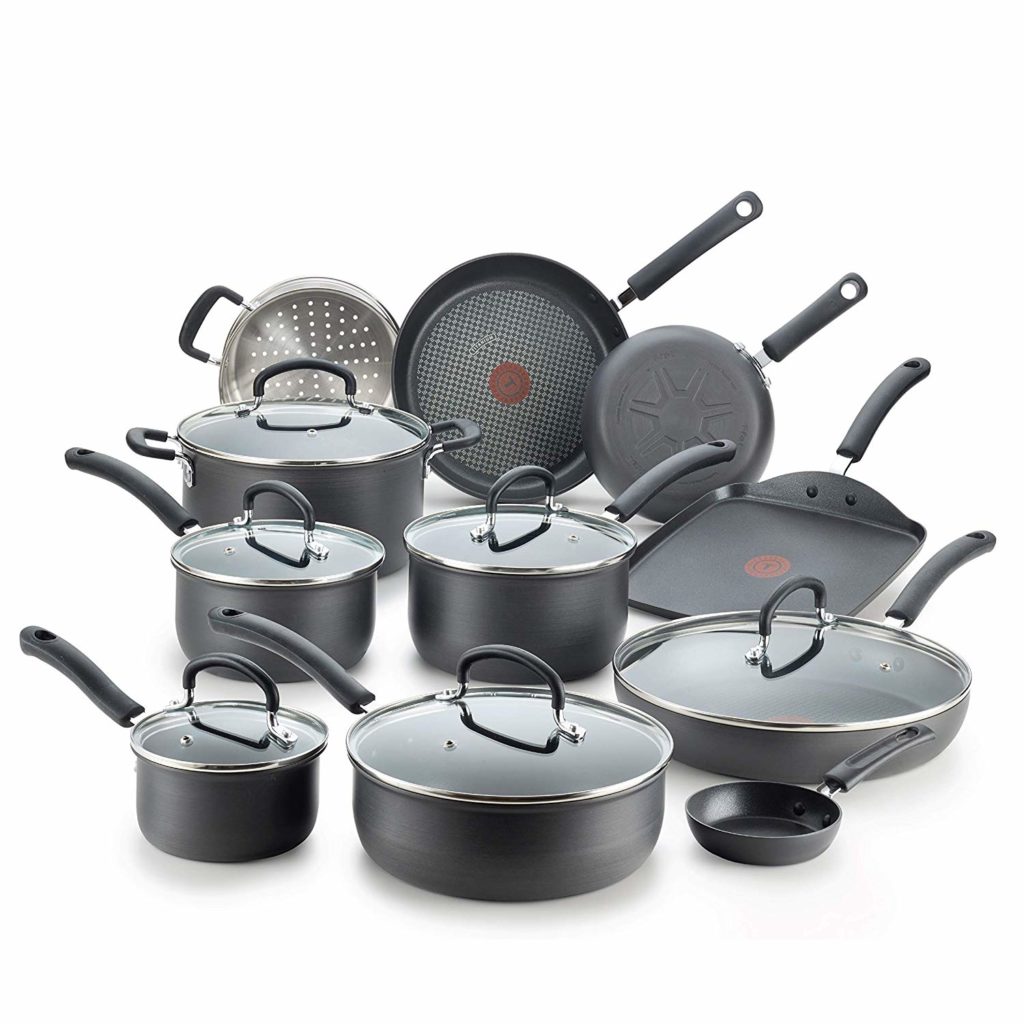 Titanium cookware is non-stick cookware, and is a better choice over Teflon coated cookware. Although titanium has some properties of aluminum, it is tougher, rust-proof and does not form toxic salts by reacting with food, something that is common in aluminum cookware.
Titanium cookware also has the following benefits
While most lightweight cookware breaks and changes shape, titanium exhibits the contrary. Inspite of its light weight, it is strong. Aluminum is light and steel is tough, but titanium is both, light and tough, making it ideal for cooking, especially for those who have trouble using heavy utensils.
Titanium cookware is healthy and safe because it is non-porous and therefore food does not stick to it or react with it. You can therefore cook with less or no oil for a healthier waistline. You will also need less water. This is because the outsides of food chunks get sealed, making them retain water and cook in their own juices, leaving you with succulent chunks. Although water is good, it drains out nutrients and dilutes the natural flavor of the food. Good titanium cookware serves you with food that is non-toxic, healthy and tasty.
The non-stick and hard surface does not get scratched or dented. It is also easier to clean as no food sticks to it.
Due to its light weight and durability, titanium cookware is ideal for outdoor kitchens and rough outdoor activities such as camping.
Titanium cookware is available in a large variety, some of which are frying pans, skillet pans, saucepans, stockpots, grill pans and sauté pans. You can also purchase titanium cookware sets. The range of camping titanium cookware includes compact and light-handled cups and dishes. Some well known names in titanium cookware manufacturing are Scanpan, Eurolux, Anolon, WOLL and Evernew.
Titanium cookware buying tips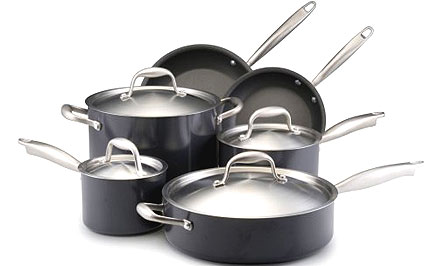 1. Heat is not evenly distributed in titanium cookware. To solve this problem, titanium utensils are manufactured with an aluminum layer inside or with an aluminum base, in order to prevent hot spots and distribute the heat evenly. Such cookware tends to be expensive, so if you are looking for cheaper cookware, choose titanium cookware that has a thicker base. This will ensure better distribution of heat and prevent warping, making it suitable even for ceramic top or glass top stoves.
2. Titanium cookware with glass or terra cotta lids has aesthetic value. While glass allows the food being cooked to be seen, terra cotta is ideal for serving on the dining table. Oven-proof lids enable you to use your cookware in the oven.
3. Selecting the right handles is very important. Cleaning becomes easier with cast handles, while detachable handles allow easy storage and enable you to use your titanium pan in the oven. Oven-proof handles and knobs would enable you to move your titanium cookware from the stove directly to the oven without having to transfer the contents into another container.
4. Some manufacturers such as Anolon subject the outer surface to additional processing whereby the outer surface is coated with a non-porous composite titanium layer, and the inner surface with a DuPont-certified non-stick coating. This increases the durability as well as the performance of titanium cookware.
5. Look for a 'solid and liberal' warranty given by the manufacturer. This means that if the titanium cookware breaks over a specified period of time, you will get a replacement for the same. Be careful to adhere to the manufacturer's guidelines on using and cleaning the cookware to make the warranty effective.
6. Titanium cookware sets may come cheaper, but all the items included may not suit your cooking needs. You may end up with a piece or two that you may never use. On the other hand, putting together a set on your own may be expensive. The solution to this is to buy a basic set that comprises of useful items of daily use such as a saucepan, a sauté pan, roasting pan and a stock pot. Now, you can add the titanium cookware item of your choice to this set according to your budget, cooking requirements and lifestyle.
Using and maintaining titanium cookware
Avoid the build-up of fatty residue on the pan by washing it with warm soapy water while the pan is still warm. While most titanium cookware is dishwasher safe do not use the dishwasher to clean it unless specifically allowed by the manufacturer. Avoid the use of strong household solvents, steel wool or scouring pads.
Click here for the best deals on titanium cookware
#CommissionsEarned