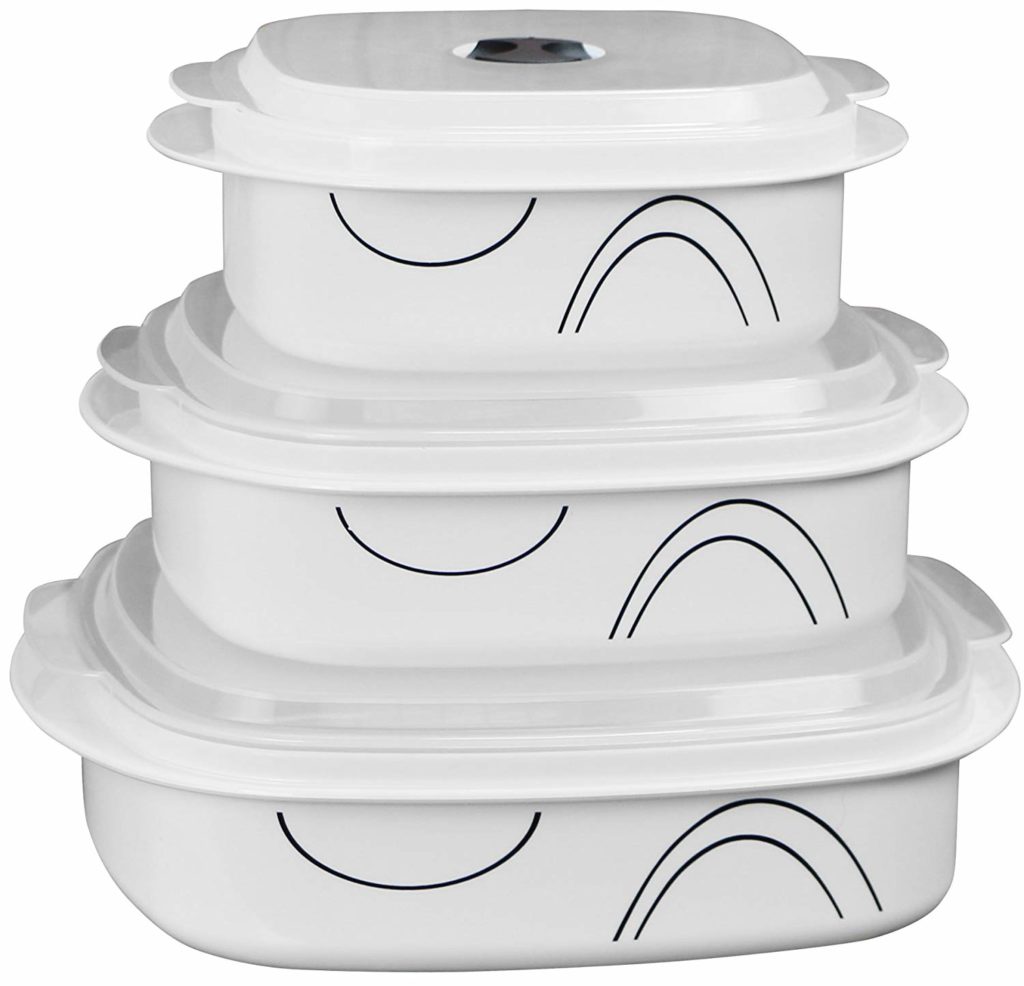 It is essential to make use of microwave-safe cookware while cooking in a microwave. This type of cookware is made of materials such as glass, china clay, tough plastic or ceramic. These materials resist heat, and their composition does not affect the performance of the microwave. Microwave cookware may also be ideal for use in regular ovens, freezers, and refrigerators, apart from being useful to cook and serve meals.
Microwave Cookware Buying Tips
1. Never compromise on quality. Genuine microwave cookware can endure severe temperatures as well as rough handling, while they serve you for years together. Although many products carry a "microwave-safe" label, they do not stand up to the test of being frequently used. Always go in for microwave cookware manufactured by Tupperware or Pampered Chef. Other reliable manufacturers are LaCuisine, Progressive Technologies, Micro-Mac, Rubbermaid, Camco and Nordic Ware.
2. Most cookware such as glass bowls that are used in traditional ovens can be used in a microwave, but metal cookware, aluminum foil and metal-trimmed dishes can cause fires and also damage the microwave mechanism. Disposable microwave cookware should only be used for reheating and never for extended use, as the material may melt and even release chemicals into the food. Wraps and bags made out of wax paper and parchment paper, paper cups and plates, and even microwave paper towels may be used as instructed.
3. Microwave cookware should be purchased keeping in mind the size and working of your microwave. Since most microwaves have turntables, avoid buying oversized microwave cookware or cookware with huge handles that may hit the sides while rotating on the turntable.
4. Shallow microwave cookware that is oval or round in shape enables uniform and quicker distribution of heat whereas rectangular or square containers can cause hot spots resulting in drying or hardening of foods.
5. Buying microwave cookware sets may be cheaper and they may also come with recipe booklets demonstrating how the cookware can be used to cook various dishes. There is a huge variety of microwave cookware in the market which include popcorn makers, egg poachers, brownie pans, batter bowls, omelet pans, bacon cookers, soup makers and rice cookers, just to mention a few.
Other Helpful Hints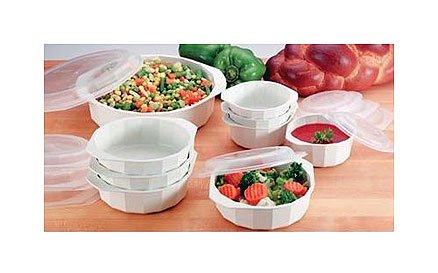 1. As microwaves cook the insides first, the container may be cooler while the food may be extremely hot. So allow the cookware to sit in there for some time and remove it only when the simmer fades away.
2. Using oven mitts or pot holders can prevent burns while removing heated cookware immediately after cooking, as they can become extremely hot. Moreover, the steam may catch you unawares, causing burns. So, in order to avoid steam burns, you must lift the lid in such a way that your fingers or arm is not caught up in the steam.
3. Lids retain steam and shorten the time taken to cook. Moreover, they keep foods from drying and also prevent foods from being splattered or splashed around the insides of the microwave. But be careful to avoid air tight containers or containers with screw lids. Also avoid vacuum insulated containers, as they may explode due to the increased pressure inside them.
4. While making soups and other liquids, always use vented lids which allow steam to escape and prevent spilling.
5. Always read the manufacturer's instructions on the cookware labels as well as the microwave instruction manual. This will give you a good idea of what kind of cookware you can use in your microwave.
6. While most microwave cookware sets are dishwasher safe, do not put them in the dishwasher unless the manufacturer has specifically mentioned it on the label.
7. Put smaller quantities of food at a time as larger quantities take longer to cook.
8. Larger chunks take longer time to cook whereas smaller pieces cook in comparatively less time.
9. Arrange foods in such a way that they are uniformly cooked. Therefore place thinner parts in the center and thicker parts around the rim. Since every microwave may differ in function, always follow the instruction manual.
10. Always pierce the outer skins of potatoes and whole vegetables with a knife or a fork before cooking, as the buildup of pressure can make them explode.
11. When you stir food, the heat is spread evenly and the food cooks faster. Foods such as potatoes, meat or chicken should be turned over and rearranged in order to enable them to cook evenly, as stirring is not possible.
Click here for the best deals on microwave cookware
#CommissionsEarned