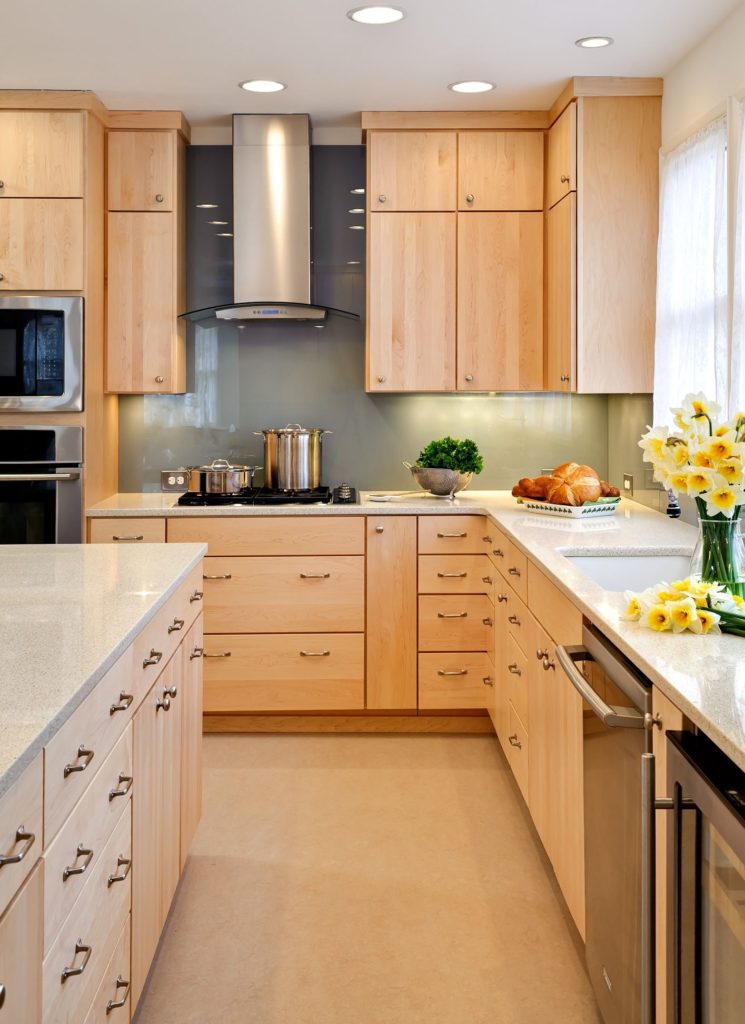 Of all of the woods to choose from, maple remains a very popular choice for kitchen cabinets. Solid and durable, maple is the hardwood that many people turn to not only for its good looks but also for its high resistance to wear and tear. Think of all of the abuse that your kitchen cabinets must endure: hot and steamy conditions, grease, water and constant opening and closing; maple can take everything that you dish out to it.
Characteristics of maple kitchen cabinets
Maple cabinets can be one of the best investments that you can make in your kitchen not only because they will last practically forever, but because they are so versatile. Because maple kitchen cabinets will not wear out before you get sick of your kitchen's decorating scheme, you can sand them down and repaint or refinish to suit your new look without harming the finish of your cabinets at all.
For something that is lighter than oak, maple is perfect. It gives a feel of brightness and extra spaciousness. Maple tends toward a lighter color and can be almost white in appearance in its natural state. Some maple can be a little darker in appearance and the wood is easy to paint or stain to match any decorating scheme that you choose.
The grains and patterns of maple tend to be more subtle, so painting your maple kitchen cabinetry will not cost you any natural wood appearance.
Like oak, maple is not as expensive as other real wood cabinets. This is mainly due to its availability. Considering its versatility, strength and affordability, you will find that maple kitchen cabinets are a worthwhile investment. In fact, this is one of the reasons that maple kitchen cabinets are so popular.
A typical 10 x 10 kitchen set up with maple cabinets would be around $3,000 or less unless you have to upgrade or opt for additional features.
Buying maple kitchen cabinets – few tips to keep in mind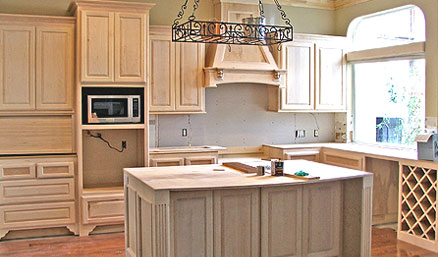 1. Solid maple kitchen cabinets are an investment in your home and will increase the property values. Maple veneer kitchen cabinets tend to be of lesser quality and may not last long enough to be considered a bargain at all.
2. Ready Made vs. Custom Built Cabinets – If your kitchen is oddly shaped or an unusual size, your best and possibly only bet is to go with custom built maple kitchen cabinets. It is important to note that while this may drive the cost up, it will be better than dealing with cabinets that do not fit correctly in the long run.
3. To save some money on your choice, select ready to assemble maple kitchen cabinets (also known as RTA) instead of pre-made. Not only does this reduce the cost, but it reduces the chance of damage during shipping. Moreover, if you are a do-it-yourself type of person, then you can enjoy the installation work. If you are not handy, though, you can have your cabinets installed by professionals and still be ahead. It must be noted that, in addition to the lower cabinet price of RTA cabinets, their shipping cost will also be lower.
4. Extra Elements vs. Basic Cabinets – The more additions you make to your maple kitchen cabinets, the more the cost will go up, however if it is worth it to you to have them, they can be considered a good investment. Some options to consider are bins and baskets that make storage and organization much easier and Lazy Susans or carousel cabinets can make it easier to find what you are looking for. (Or to hide the snacks.)
5. Hardware Options – The hardware you choose for your maple kitchen cupboards will also increase the price that you are paying. The fancier the knobs, pulls or hinges, the more the cost will go up.
6. Merillat, Aristokraft, Kraftmaid, and Thomasville are some of the well-known manufacturers of wood kitchen cabinets.
7. Opt for a color that will complement the overall appearance of your kitchen. Look at samples and showrooms before you decide on a color for your kitchen. It should be noted that maple tends to get yellow in time, a buttery, almost pale yellow color, when exposed to direct sunlight. So it is advisable to talk it over with an interior designer when you are looking for maple kitchen cabinets.
Caring for your maple kitchen cabinets
Care for your maple kitchen cabinets correctly and they will last practically forever.
Once a week, you should polish the cabinets with a soft cloth and furniture polish.
As needed, you should wash the maple cabinets with warm water and mild soap; however make sure that you do not overly wet them while doing so.
Avoid using any harsh chemicals on your maple cabinets, especially acetone as it will discolor and cause damage to your cabinets.
Always follow the manufacturer's instructions on how to care and maintain your maple kitchen cabinets.