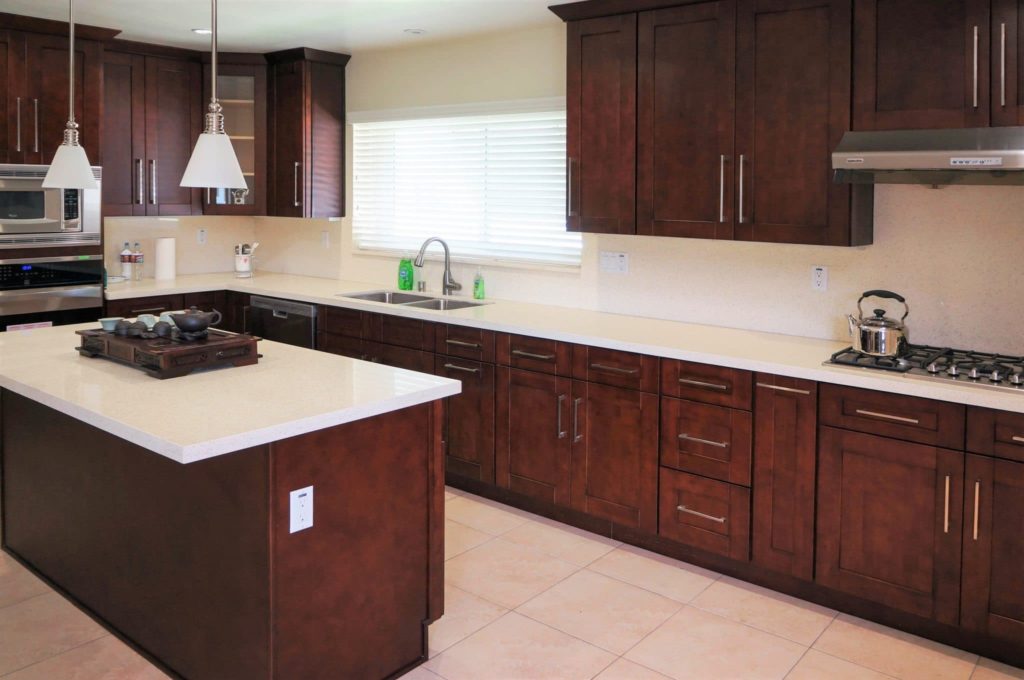 If there is anything more luxurious to use in your kitchen than cherry kitchen cabinets, you probably could not afford it anyway. It is one of the richest looking of all of the wood choices and is durable despite its semi-soft nature. With proper care and maintenance, your cherry kitchen cabinets will last a long time and will continue to be gorgeous despite the abuse they are going to endure during their lifetime.
The kitchen is one of the busiest rooms of the house, and the cabinets will see different types of conditions including steam, heat, grease and water as well as almost constant use. The cabinetry that you choose and install will see cooking, opening and closing and various near disasters and will have to endure these without being destroyed.
Characteristics of cherry kitchen cabinets
Cherry tends to have a more subtle grain with a very smooth, almost silky texture to it.
New cherry kitchen cabinets tend to be a lighter color, almost a light golden color, in fact. This color will darken to the rich, reddish brown that is most often associated with cherry in time, mainly as a result of sunlight exposure. (Think of it as a tan for your cabinets.)
In some cherry woods, there might be streaks of other colors that can range from very light yellow to green and sometimes even pink.
There can also be small blemishes such as small knots and pinholes, however if you opt for a higher grade of wood, you can eliminate the majority of these. It will raise the price of your cherry kitchen cabinets considerably.
Cherry, even at the lower grades, can be an expensive choice but it is a worthwhile investment to your home.
Tips for buying cherry kitchen cabinets
1. You may paint cherry, however, if you are not going to allow it to remain at its natural color, you might ask yourself if you can justify the additional expense. Also, painting cherry kitchen cabinets hides the natural beauty of the wood.
2. Cherry kitchen cabinets will darken with time and with exposure to sunlight, so you should plan for this change while considering your color scheme. Be sure to consult with a professional designer when planning your project.
3. Cherry is a dramatic choice and can look good with many color combinations and other materials, however, black granite countertops paired with cherry cupboards is a timeless classic that will never go out of style.
4. Beautiful, well-made cherry kitchen cabinets are sturdy and will increase the property value of your home as well. While they are cheaper, the lesser quality cabinets that feature cherry veneer over top of particle board, fiber board or other wood-like products are not as durable and will need to be replaced fairly quickly.
5. Opting for custom built cherry cabinets may increase the overall cost, but might be necessary if your kitchen is not standard in size or shape.
6. The price of your cherry kitchen cabinets might be increased by additional features that you might like to have included such as Lazy Susans, bins, baskets or others.
7. The hardware that you choose for your cherry kitchen cabinets will not only increase their beauty and functionality, but will also influence the overall cost as well.
8. To save some money on your choice, select ready to assemble cherry cabinets (also known as RTA) instead of pre-assembled. Not only does this reduce the cost, but it reduces the chance of damage during shipping. Moreover, if you are a do-it-yourself type of person, then you can enjoy the installation work. If you are not handy, though, you can have your cabinets installed by professionals and still be ahead. It must be noted that, in addition to the lower cabinet price of RTA cabinets, their shipping cost will also be lower.
9. Some of the big manufacturers of wooden kitchen cabinets are Kraftmaid, Merillat, Thomasville and Aristokraft.
Caring for your cherry kitchen cabinets
Care for your cherry kitchen cabinets correctly and they will last practically forever.
Follow the manufacturer's instructions properly.
Wash your cherry kitchen cabinets with a soft cloth, mild soap and warm water but make sure that you do not soak them and dry thoroughly.
Between washings, use a mild furniture polish to keep your cherry cabinets gleaming like brand new.
Do not use any abrasive cleaning agents, especially those that contain acetone as it will discolor and damage your cherry kitchen cabinets.