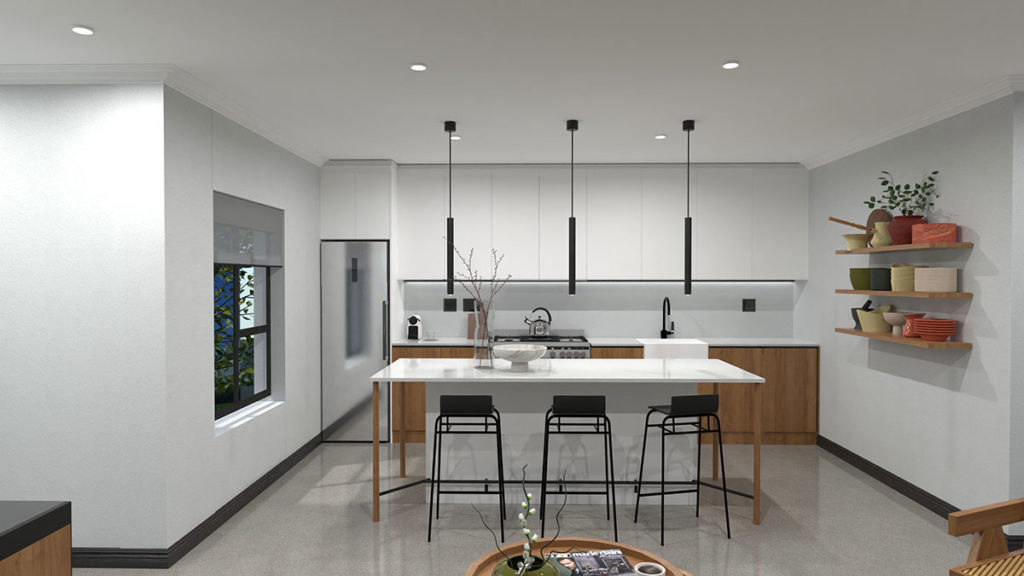 A remodeled kitchen can add tremendous value to your home, not to mention providing you and your family with a great gathering place.
Planner 5D is a cross-platform tool for interior design used by more than 65 million users worldwide. They use machine learning, AI and other advanced technological solutions to make interior design planning an easy and entertaining process for users with no experience in design.
So, if you have a kitchen design project in mind, this online kitchen planner includes all the tools you need to design your kitchen. Just add cabinets, dishwashers, countertops, cook tops and refrigerators and rearrange them until you get exactly what you want. Choose from a lot of wood finishes, tiles, paints, wallpapers, and trims to get a look that is just right.
Key benefits of using Planner 5D
A constantly updated furniture catalog with over 6500 items already available.
The project preview is available in 2D and 3D, AR on iOS. So, before purchasing your cabinets, flooring, appliances or whatever else, see it in realistic 3D format, so that you know how it will look and feel.
High-quality images of the project due to the 'Rendering' option that you could later publish on social networks, on thematic sites or in your portfolio.
An ability to add your own structures. Textures like fabrics, bricks, cement, wood and tiles that you can apply to furniture, walls, floors, etc.
AI plan recognition – an option for making a plan into a digital copy using their intelligent neural-network in one click.
If I am not wrong, Planner 5D is available on the web version in 11 languages, and on a mobile device in 30.
A cross-platform tool available on any platform: Web, iOS, Android, Windows 10 and macOs. You can start your project on one platform and finish it on another.
They own a Design school and will give you a certificate upon completion.
There is a weekly Design battle among users.
Pricing
The free version has a limited amount of elements and if you need to build a real kitchen/home you will end up looking at their premium plans ($20 per month or $60 per year, if we understood everything correctly).
Planner 5D Homeplans
Planner 5D Homeplans is an option offered separately, regardless of whether you have a Planner 5D subscription or not. It is a possibility to choose a ready-made apartment style and layout to get started. They have created a library of different floor plans and designs for you to choose from to make the process easier.
The price here is about $10, which gives you an unlimited access. You can work with the free elements there but if you are interested in the paid ones, you will have to buy a Planner 5D subscription.
Conclusion
As I mentioned above, if you have a kitchen design project in mind (or any other home design plans), Planner 5D will help you to create and visualize it in realistic 3D format. The software includes all the tools you need to design your kitchen.
You can start creating your dream kitchen below or go directly to the editor on their website at Planner 5D – Floor plans and interior design.