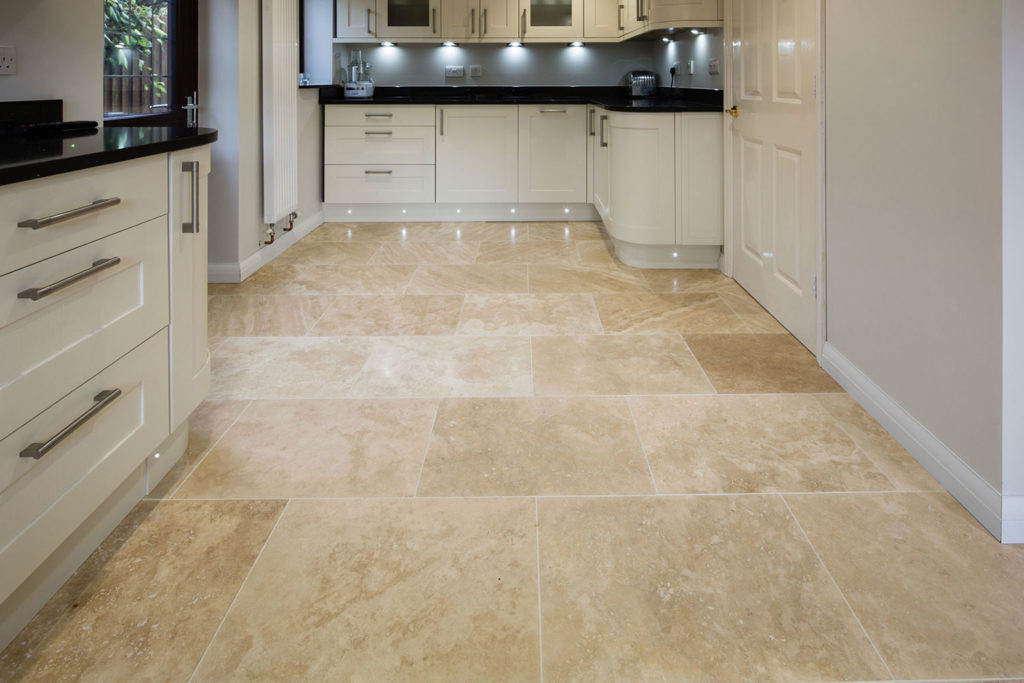 As you scan the various possibilities for your kitchen flooring, and your eyes rest on a matte surfaced natural stone with conflicting color shades, you are looking at travertine stone. Travertine flooring appeals to many modern homeowners due to its unique appearance that stands out from other natural stones.
Travertine is commonly found in Turkey, Italy, Mexico and Peru. This stone forms from geothermal springs. In its natural form, often algae, macrophytes, and other organisms can be found living on the service, which is what also causes the holes or "porosity" of the rock (don't worry, if you're not a fan of the "hole"-like appearance, installers will often fill these with grout. You will find travertine in "filled" and "unfilled" forms).
Advantages of travertine flooring
Travertine is a sedimentary rock by nature and has been formed by years of deposition. Therefore travertine flooring is extremely tough, and can last for generations even under rugged and moist conditions such as those in kitchens.
Travertine flooring comes in various earthy colors that include beige, walnut, gold, cream and ivory, and can give your kitchen a classy look. These natural colors are the result of the addition of various minerals during its formation. Red travertine is due to the iron content and can give your kitchen floor an exclusive look.
Due to the inconsistencies in coloring and texture, every travertine floor looks different. Travertine is nature's work of art, and will add value to your home.
Disadvantages of travertine flooring
Travertine flooring, though comfortable during summers, can get uncomfortably cold during winters. Under floor heating systems could keep the floor at a soothing temperature during winters.
Travertine flooring, being hard, does not absorb impact of walking around during long cooking hours and can tend to get uncomfortable. A few floor rugs placed at certain areas such as around sinks and countertops could give a more comfortable working experience.
Cost of travertine flooring
It would cost you anything from $2 to $3 or more to buy travertine floor tiles. Installation charges would add to the total cost. Every tile contractor sets a different price depending on where the stone was imported from. Larger and thicker tiles would obviously cost more. The richer the color variations, the higher would the cost be. Remember that your cost would also depend on the total area of your kitchen floor.
Good grade travertine flooring is always worth the investment, since apart from serving you for many years it will give your kitchen a richer feel.
Tips for buying travertine floor tiles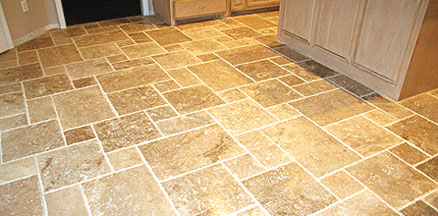 1. Since travertine could break during installation and later, it is recommended to buy a few extra boxes of tiles. Tiles that are bought separately at a later time could look out of place and will definitely be more expensive to buy.
2. Travertine can come filled or unfilled. Some prefer it unfilled as it looks rustic and distinct. However, filled travertine flooring, even though on the expensive side, will require less maintenance than unfilled one.
3. You will also have to decide on whether you want your travertine flooring polished or honed; brushed or tumbled. Polished or honed travertine exudes a modern look, whereas brushed or tumbled one gives a more rugged appearance. While polished travertine is easier to clean, bear in mind that a polished floor can be very slippery.
4. Choose travertine floor tiles in keeping with the type of tiling used on your countertops and backsplashes. Your travertine floor tiles must also blend with the rest of your kitchen décor. If you cannot find the same type of tiles, you can buy tiles with similar shades that complement each other and bring in a uniform look.
5. If your kitchen is small, you can give it a spacious look by installing lighter and larger travertine floor tiles. This would also mean less grouting and more hygiene.
Installation of travertine flooring
Besides proper preparation of the surface, travertine flooring also requires careful sealing, and therefore doing it all by yourself could lead to a lot of breaking and a shabby finish. For travertine to look its best, it needs to be installed by a professional installer.
Along with proper fixing of the tiles, an experienced and licensed contractor will also take care of the aesthetics. They know how to make the required markings and run the travertine floor tiles along walls and corners. They also know how to use tiles from different boxes, rather than just from one box, to prevent color climaxing in a particular place. After aligning and leveling the tiles with minimum gaps in between, a professional installer will fill in the grout and apply a sealant to the entire travertine surface.
Maintenance of travertine flooring
In order to keep your travertine flooring in good condition, always follow the manufacturer's instructions provided on the box.
With time, the sealant and grout can get eroded, leaving your travertine flooring vulnerable to seepage and discoloration. You would therefore have to redo the grouting and sealing every once in a while to protect your travertine tiles.
Citric juices and corrosive cleaning agents must be avoided as they can eat into the sealing and grout lines.
Never scrub your travertine tile flooring. Gentle sweeping or vacuuming followed by damp mopping is all that is required to keep it clean.
How to get the best price on a travertine flooring
Amazon and BuildDirect appear to be some of the best places to buy the travertine flooring from (sponsored links). Besides the best prices, their customer friendly policies make buying from them a pleasure.