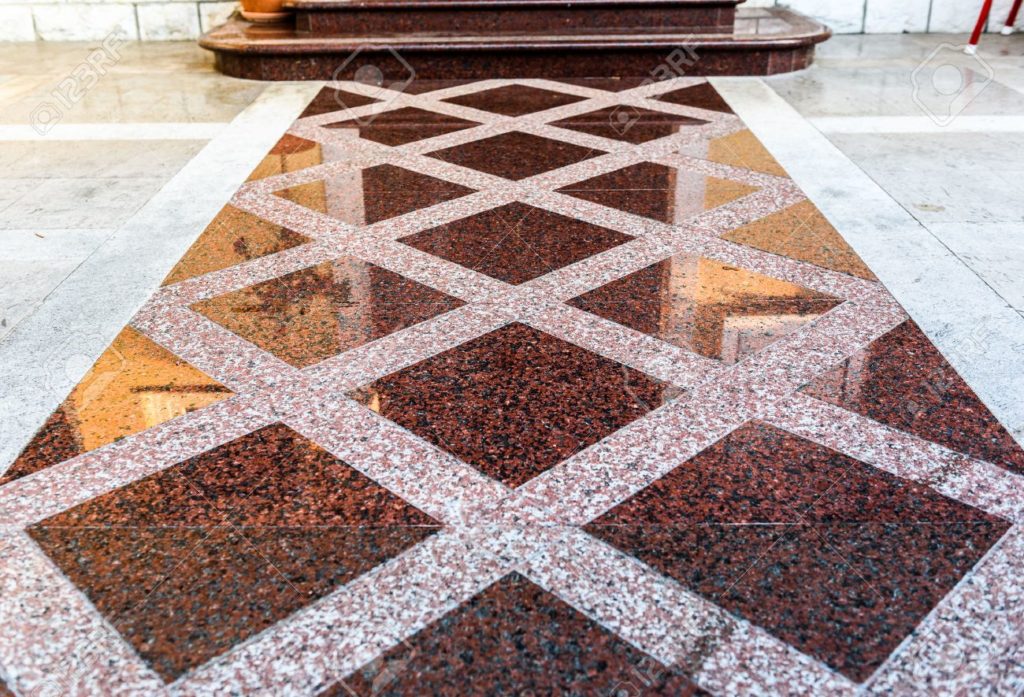 If you are looking for natural stone flooring that is harder and more durable than marble, granite flooring is the one to go in for.
Advantages of granite flooring
Granite is very hard as it is formed when volcanic magma solidifies naturally. Therefore it is also highly durable and best suited for areas such as kitchen floors, where there is high action and humidity.
Granite flooring is easy to maintain, and with a little maintenance will last till the next generation.
Granite is not as porous as marble and other natural stones. Hence it does not get corroded, stained or scratched easily. It can also withstand high kitchen temperatures and does not get cracked. If sealed properly, granite does not require resealing as often as other natural stones.
Granite flooring is usually dark colored, and therefore looks grand. It can therefore change the ambience of your home and fetch a higher resale value.
Since the colors and patterns on granite floor tiles are formed naturally, every granite piece will look different and yet blend so well with other pieces, that together they can increase the aesthetics of your kitchen floor. Also the color variations are so many that granite floor tiles can fit into just any interior design style.
Due to its almost non porous surface, granite flooring does not accumulate bacteria, mold and allergens, thus keeping your kitchen in top hygienic condition.
In order to further blend with your kitchen interior design and furnishings, granite tile flooring comes in various man made finishes. You can have a high gloss finish, in which the granite crystals can be clearly seen, or you can go in for a matte finish, which is also known as the honed finish. A satin finish or leather finish is an intermediate between high gloss and honed finish. Then there is also the flamed and brushed finish.
Disadvantages of granite flooring
Granite flooring gets cold and uncomfortable during winter. This limitation can be dealt with by using modern home heating systems.
Due to the hardness of granite flooring, it does not absorb the impact of walking, like wood. Therefore standing for long hours in the kitchen can be rather uncomfortable. Rugs can be placed on these action areas, especially around countertops and sinks, in order to dampen the impact and provide comfort to the soles of feet and joints.
Cost of granite flooring
Granite flooring comes in the price range of $3 to $4 plus for a square foot. You will have to pay separately for installation. There are certain factors upon which the price depends, such as the manufacturing company and the country from which it originates. Other obvious factors include size of the tiles, thickness, color, natural patterns and the square footage of your kitchen floor.
Granite flooring could be an expensive deal. However it is a onetime investment that can last a lifetime.
Tips for buying granite floor tiles
1. It's a good idea to purchase some extra boxes of tiles for replacing broken tiles in the future. You may never find the same design and pattern at a later time. Even if you do, they may be comparatively expensive.
2. Good grade granite flooring is beveled and calibrated at the workshop to give it a sophisticated and elegant look.
3. If you have installed a granite countertop or a granite backsplash in your kitchen, you can choose the same type of granite floor tile to maintain uniformity.
4. No matter how beautiful your granite floor tiles may be, if you do not match them well with the rest of your kitchen interior design, they may look odd. An experienced interior designer can use granite pieces of different shapes and colors to form a unique pattern that stands out.
5. You can also use the color and size of your granite floor tiles to give your kitchen a spacious look. For this you will have to choose a lighter color shade and a tile size that is slightly larger.
6. If you ever go in for the polished finish, you must understand that a wet floor may lead to accidents due to slipping, especially if you have young children around the house. If you are concerned about this, you can always go in for honed finished granite flooring.
7. If you want to reduce the seams and grout lines, you should go in for tiles of a larger size. This will also make the granite floor easier to clean.
Installation of granite flooring
Installing granite flooring is a lot of hard and dirty work. As a do-it-yourself project, it may take a long time and not bring in the best results. Therefore let a professional installer do the job for you. Professionals will not only do the job accurately, they also know how many tiles will be required and how to fit the tiles along walls and cabinets in an aesthetic manner. They know how to prepare the floor surface with the right underlayment in order to keep the tiles leveled and aligned. Since your granite flooring will represent your style for a long time, it is best to let a skilled person do the job.
A skilled person knows how to make the required markings and arrange the various patterned tiles uniformly. By using pallets from different boxes rather than from one box, an experienced installer can avoid odd spots in the granite flooring.
Maintenance of granite flooring
The most relevant maintenance instructions will be provided by the manufacturer. So you must follow those instructions.
Over the years, your granite flooring may have to endure spillage of beverages and food products. This could lead to staining. In addition, corrosive cleaning liquids may dissolve the grout lines, making them look dark and prominent. You therefore may have to arrange for regular resealing, depending on the level of work conducted.
As a daily cleaning measure you may sweep the granite floor or vacuum clean it. Thereafter using a damp soapy mop will be sufficient. Never use phenyls or corrosive cleaning agents. They may eat into the sealant and expose grout lines.
Although granite is very solid, do not take any chances. If at all there is a spillage of acidic organic liquids such as lemon juice, vinegar or tomato juice, wipe it off immediately to prevent etching.
How to get the best price on a granite flooring
Amazon and BuildDirect appear to be some of the best places to buy the granite flooring from (sponsored links). Besides the best prices, their customer friendly policies make buying from them a pleasure.