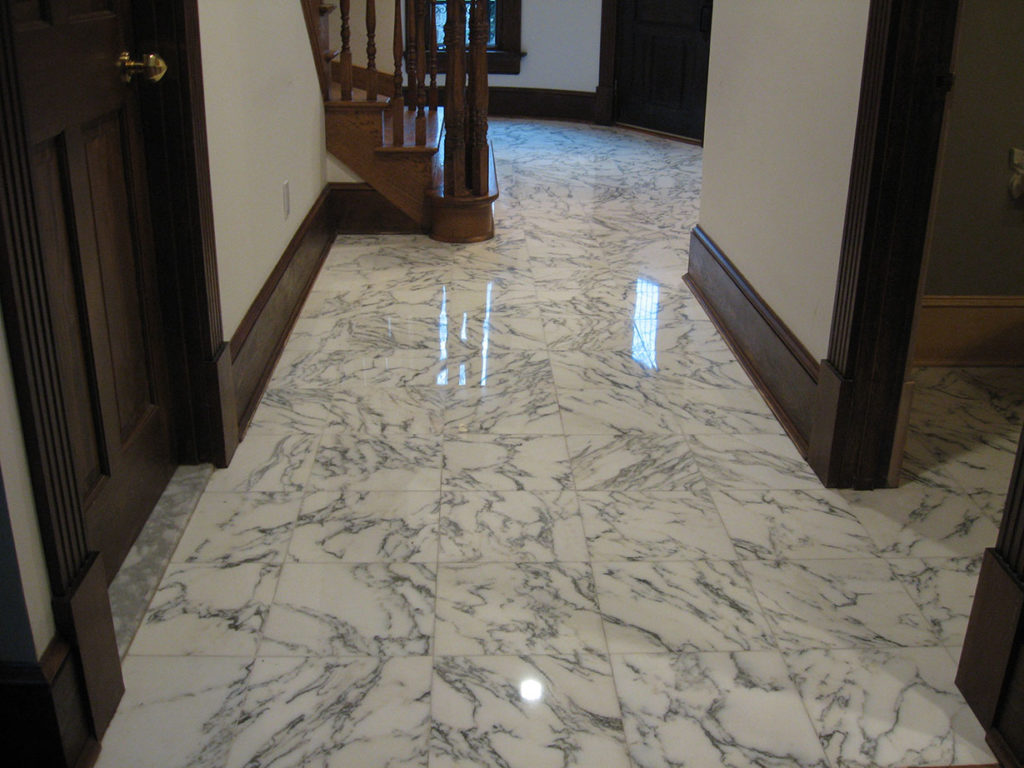 Marble has been used since ages for flooring and for the most sophisticated architecture. It is a natural stone that is associated with palaces and luxurious places. You can bring that same elegance into your kitchen in the form of marble flooring.
Advantages of marble flooring
Marble is a metamorphic rock that is dense and hard. It is therefore known for its extreme durability, and can serve you for a lifetime.
Marble flooring brings to your kitchen a beautiful and luxurious feel that nature has to offer. It is one of the most aesthetically appealing natural stones available for flooring.
Marble is associated with affluence and prestige, and will create a great impression if you ever need to sell your home.
Marble offers a solid surface through which crystal grains are visible along with colored veins that run into unique pattern of white, green, gold, pink, purple, blue, brown and black. Marble flooring can therefore blend with any color scheme and kitchen interior design and style.
Marble flooring offers a unique mix of crystal grains intermingled with colored veins that run in distinct patterns. Therefore your marble floor will look different from any other floor.
Marble flooring can be finished to suit your desires and designs. You could either polish it like glass so that the crystals are clearly visible, or you could have it honed to a matte finish.
Good quality marble can be polished to an almost non porous surface leaving no room for bacteria and allergens to collect. This makes the marble floor hygienic, especially for children, and also easy to clean.
Disadvantages of marble flooring
Standing barefoot on marble flooring during winter could be very uncomfortable, as marble gets really cold. However, with proper heating arrangement, this limitation can be overcome.
Marble flooring, being hard, does not absorb impact. It could therefore be uncomfortable on your soles and joints if you have to work for long hours in the kitchen. In such a case it is advisable to place a few floor rugs for a comfortable working spell.
It is important to keep the marble floor clear off tomatoes, vinegar, lemon juice and other such acidic foods, as they can leave mark on the surface.
Cost of marble flooring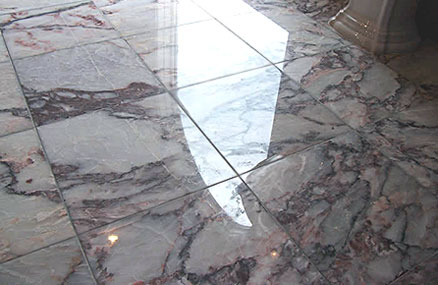 Marble floor tiles would cost you anywhere from $3 to $4 and upwards for a square foot, similar to granite. While preparing your budget, remember that your installation cost will add up to the total cost. Every manufacturer charges a different rate, as rates could depend on the overhead costs and the cost of importing the marble. Other factors include the size of the tile, its thickness and its color. Tiles with veins that appear more dramatic would cost higher. Remember that your cost would also depend on the total area of your kitchen floor.
Marble flooring is, no doubt, a costly affair. However, it is worth the cost, as it could be a "once in a lifetime" investment.
Tips for buying marble floor tiles
1. Since marble could break during installation and later, it is recommended to buy a few extra boxes of marble tiles. Tiles that are bought separately at a later time could look out of place and will definitely be more expensive to buy.
2. Good grade marble flooring is beveled and calibrated at the workshop to give it a sophisticated and elegant look.
3. Never choose colors that are in contrast to your kitchen color scheme. Rather see to it that your marble tiles blend well with your kitchen interiors. Only an experienced interior designer knows how to use contrasting colors to create a unique visual effect.
4. Always maintain uniformity by choosing the same type of marble as your countertop and backsplash.
5. Look at marble floor tiles with different finishes and decide which ones would suit your kitchen floor best. Polished marble could look almost glassy, but tends to get slippery, especially in wet kitchen areas.
6. You can give your kitchen a spacious look by buying larger and light colored marble tiles. This would also mean less grouting and more hygiene.
Installation of marble flooring
Unless you are experienced in flooring installations, do not attempt to install your marble flooring yourself to save on the cost. You could end up with a number of broken tiles and an uneven floor surface. Also, your marble floor can get cracked at a later time.
A skilled installer knows how to place the underlayment. They also know how much pressure to apply on each tile, and how to level and align it so that there are minimum gaps between two tiles. They can also fill in the grout and sealant in such a way that there is a seamless appearance.
It must be noted that the tiles are not factory manufactured, and therefore each tile naturally looks different. An experienced installer knows how to make the required markings and lay tile after tile patiently to form a uniform pattern across the floor.
Maintenance of marble flooring
Always follow the cleaning and maintenance instructions printed by the manufacturer on the box.
Marble may have some soft spots that can get easily etched, corroded or stained with organic juices such as lime juice or with commercial cleaning liquids. The corrosive liquids can eat into the veins and create rough spots on your marble flooring. It is therefore recommended that you reseal your marble flooring regularly.
As a daily cleaning measure, sweeping or vacuuming is fine. Mopping your marble floor tiles with warm sudsy water would be sufficient to keep it sparkling clean.
Although marble is hard, it is not as hard as granite and can be scratched. Therefore do not drag heavy objects across its surface.
How to get the best price on a marble flooring
Amazon and BuildDirect appear to be some of the best places to buy the marble flooring from (sponsored links). Besides the best prices, their customer friendly policies make buying from them a pleasure.