Slate is a very popular flooring medium among modern homes, and is preferred for its fine grained appearance and its textured surface. Although slate is comparatively cheaper than most natural stones, it can give your flooring all the desired effects that range from rustic to elegant.
Advantages of slate flooring
Slate is a natural stone that is formed under great pressure under the ocean floor. Therefore it is very tough and long lasting, and is well suited for daily kitchen activities.
Slate flooring can endure harsh kitchen temperatures, spillage and humidity. Therefore it does not absorb liquids and does not get stained easily.
Slate flooring is preferred over other natural stones because it is slip resistant and ideal for wet kitchen areas.
Slate flooring offers a unique pattern of color shades, texture variations and spots that can make your kitchen appealing to look at.
It comes in a wide range of natural color shades which include grays, blues, greens and browns. Slate flooring can therefore fit into any interior design style and color scheme. Slate floor tiles of one or more colors can be used to create an interesting mosaic across the kitchen floor.
Due to the unique patterns and textures found on slate floor tiles, no two slate floors will look the same. This can give your home a unique look and increase its resale value.
Disadvantages of slate flooring
Slate flooring reflects the surrounding temperatures. Therefore in winter it can get very cold, making barefoot walking very uncomfortable. However, with a proper heating system, this limitation can be eliminated.
As in the case of any natural stone flooring, slate flooring can be a bit hard on your knee and ankle joints due to its hardness. If you have to spend long hours cooking, you can create soft standing spots by placing rugs in key areas.
Also, do not leave acidic foods on the surface at any time. Foods such as tomatoes, lemon juice or vinegar if left on the surface can spoil the surface.
Cost of slate flooring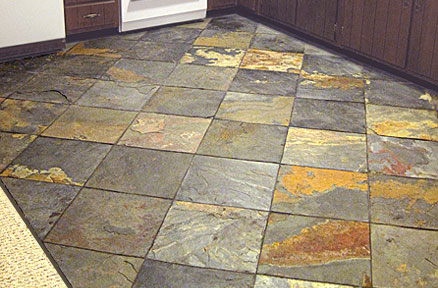 Slate is quarried in places such as Vermont in the US and is also imported from Asian countries. Therefore every manufacturer will place a different price tag on slate floor tiles. On average, slate flooring will be available for about $2 to $3 or more for each square foot, apart from installation charges. Prices can rise as you go in for larger or thicker tiles. Colors and patterns that give a dramatic effect will cost higher; however they are worth the investment. The total price will be directly proportional to your kitchen area.
Tips for buying slate floor tiles
1. Slate has a natural cleavage along its grains, and therefore it is prone to breaking during installation. Therefore, it is recommended to buy a few extra boxes of tiles. They can always come handy for future repairs when finding similar tiles would be nearly impossible.
2. Check out if factory treated tiles are in your budget. These types of tiles are calibrated and beveled to change their appearance from rustic to sophisticated.
3. Whichever type of slate floor tiles you choose, see to it that they suit your current kitchen interior décor and style. If not, they may look out of place. An experienced interior designer can use a combination of different colored slate tiles to form a unique pattern across the kitchen floor.
4. If your kitchen countertop and backsplash are made of slate you must choose slate floor tiles of the same color and pattern. This will bring in a uniform look.
5. You can give your kitchen a spacious look by buying larger and light colored slate tiles. This would also mean less grouting and more hygiene.
6. Slate flooring that is polished is easy to clean. However it can be slippery, especially when walking over a wet floor with certain footwear.
Installation of slate flooring
It is worth spending extra for getting professional installers to install your slate flooring. This is because slate has the tendency to crack, and therefore the tiles must be fixed on a solid substrate. Improper installation may also lead to cracking of the tiles in the future. A professional installer will see to it that the slate tiles are properly leveled, aligned and grouted at the edges, and the entire flooring is properly sealed.
A professional installer will also ensure that the color is uniform and does not climax in a particular corner. Before installing the tiles, proper markings are to be made to ensure proper tiling along the walls and cabinet edges.
Maintenance of slate flooring
Always follow the instructions printed by the manufacturer in order to keep your slate flooring in optimum condition.
As time passes, you may notice the grout lines getting darker. You may also notice some porosity at certain areas. This may result in staining and corrosion due to the action of acidic substances such as tomatoes or lemon juice. Daily cleaning action may also wear the sealing off. In such a case you may have to do some grouting and sealing to restore the original sheen of your slate flooring.
Never use corrosive cleaning liquids on your slate flooring. For daily cleaning, you can sweep or vacuum away the dust and thereafter swab your slate flooring with a mop dipped in mild soapy water.
How to get the best price on a slate flooring
Amazon appears to be the best place to buy the slate flooring from (sponsored link). Besides the best prices, Amazon's customer friendly policies make buying from them a pleasure.