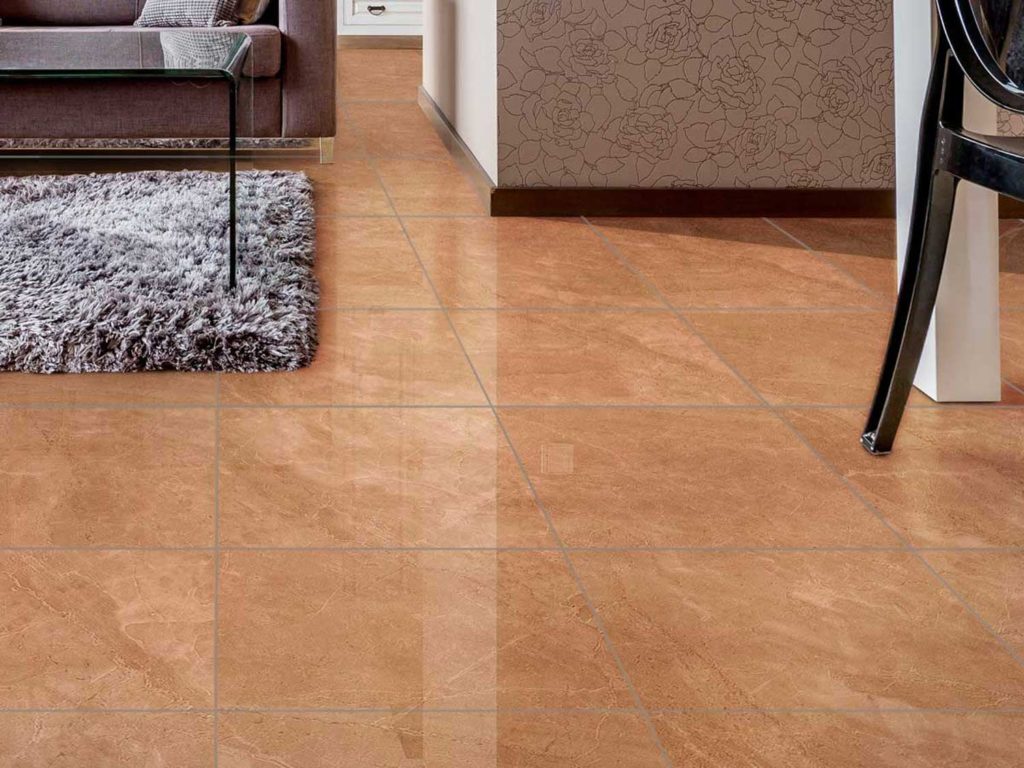 Ceramic flooring is becoming the popular choice among homeowners today. This is because although it is cheap, ceramic tile flooring gives an upscale look, and is easy to maintain.
Advantages of ceramic flooring
Ceramic flooring is affordable and best suited for modern kitchen environments.
Ceramic flooring looks aesthetically appealing and can blend with any interior design and style.
Ceramic floor tiles are easy to clean and maintain.
Ceramic floor tiles are strong and long lasting, as they are baked under high temperatures.
They can withstand very high temperatures and are unaffected by the action of corrosive and acidic substances.
Ceramic flooring is well suited for rugged kitchen environments and cannot be easily scratched (even by pets).
Ceramic floor tiles are versatile and come in various shapes, colors, patterns and textures to create a desired interior design style or to complement an existing one.
Ceramic flooring can come in various finishes that can be made to look like expensive marble flooring or travertine flooring, giving your home a high-class feel at a much lower cost.
Ceramic floor tiles can be polished to a non porous surface leaving no room for bacteria and allergens to collect. This makes the surface hygienic, especially for children.
Disadvantages of ceramic flooring
If not properly installed, ceramic floor tiles can develop cracks in a couple of years since the tiles are brittle.
Unless you install a modern heating system, ceramic floor tiles can get quite cold and uncomfortable during winter.
Ceramic tiles are hard, and therefore they feel very rigid under the feet, especially if you are working in the kitchen for long hours. In order to lessen the impact, you may put a few rugs in the action areas.
Cost of ceramic flooring
Apart from the installation cost, you can buy ceramic floor tiles for about $3 per square foot and upwards. The price varies depending on a number of factors such as size of the tile, color and design. Prices also vary from manufacturer to manufacturer. Ceramic flooring can come in customized designs, but these are comparatively very expensive.
Tips for buying ceramic floor tiles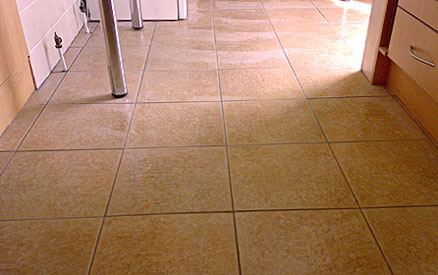 1. Always keep some extra tiles handy, as you will need them if your ceramic floor tiles crack or break as a result of daily wear and tear. If you do not have some extra tiles, you will find it difficult to get tiles with the same color and design.
2. Always check the PEI rating of the ceramic floor tile. The PEI rating denotes the tile hardness, its ability to stand up to wear and the percentage of water absorbed. PEI III and PEI IV are good for kitchen floors. Although there are other factors, if you get a good PEI rating, you can be rest assured that your ceramic flooring will last longer.
3. Always buy ceramic floor tiles that match up to your existing color scheme and design. If not, your new and beautiful tiles will look out of place.
4. If your kitchen countertop and backsplash are made of ceramic tiles you must choose ceramic floor tiles of the same color and pattern. This will bring in a uniform look.
5. You can also create an entirely different scheme by using various colors and sizes to make your kitchen look bigger and warmer. You can do this by using lighter colored and larger tiles to give your kitchen a wider look.
6. You can choose from various designs from simple to rustic to classic, and patterns from terracotta to checkerboard to mosaic.
7. Ceramic flooring that is glazed is easy to clean. However it can be slippery, especially when walking over a wet floor with certain footwear.
8. If you want to reduce the seams and grout lines, you should go in for tiles of a larger size. This will also make the ceramic floor easier to clean.
Installation of ceramic flooring
If you have installed floor tiles before, installing ceramic flooring could be a DIY job for you. However, most people would require an experienced mason or a professional installer. You must know that a professional knows how to do the underlayment and also how to lay the tiles so that they are properly leveled and aligned. Improper underlayment would result in the tiles getting cracked at a later time. A professional will also do the grout work and sealing in such a way that it is least visible.
In order to get an idea of how your new ceramic floor tiles would look once installed, you can lay them across the floor beforehand. Notice how they fit along walls and cabinets. A professional installer will see to it that the most visible parts of your floor will receive full tiles without cutting.
Maintenance of ceramic flooring
Always adhere to the instructions provided by the manufacturer.
Unglazed or Quarry ceramic tiles are usually porous, since they are made from a mixture of unglazed clays. These types of tiles may get stained if kept unsealed. Once sealed, the sealing would have to be repeated on a regular basis depending on how ruggedly the tiles are being used. It is also a good idea to seal grout lines, since they get corroded with time and collect dirt and germs. Furthermore they make your entire kitchen flooring look shabby.
Although ceramic flooring is hardened in the kiln and can withstand corrosive cleaning liquids, it is better not to take a chance. Abrasive substances can dissolve the grout, thus marring the appearance of your beautiful ceramic tile flooring. So you may first sweep or vacuum your ceramic floor and then mop it with warm sudsy water. That's all that is required to keep it clean.
Dragging heavy furniture along your ceramic flooring will not only make it crack, but may also leave dark unsightly marks on the glazed surface. So, instruct your movers about this beforehand.
How to get the best price on a ceramic flooring
Amazon appears to be one of the best places to buy the ceramic flooring from (sponsored link). Besides the best prices, their customer friendly policies make buying from them a pleasure.