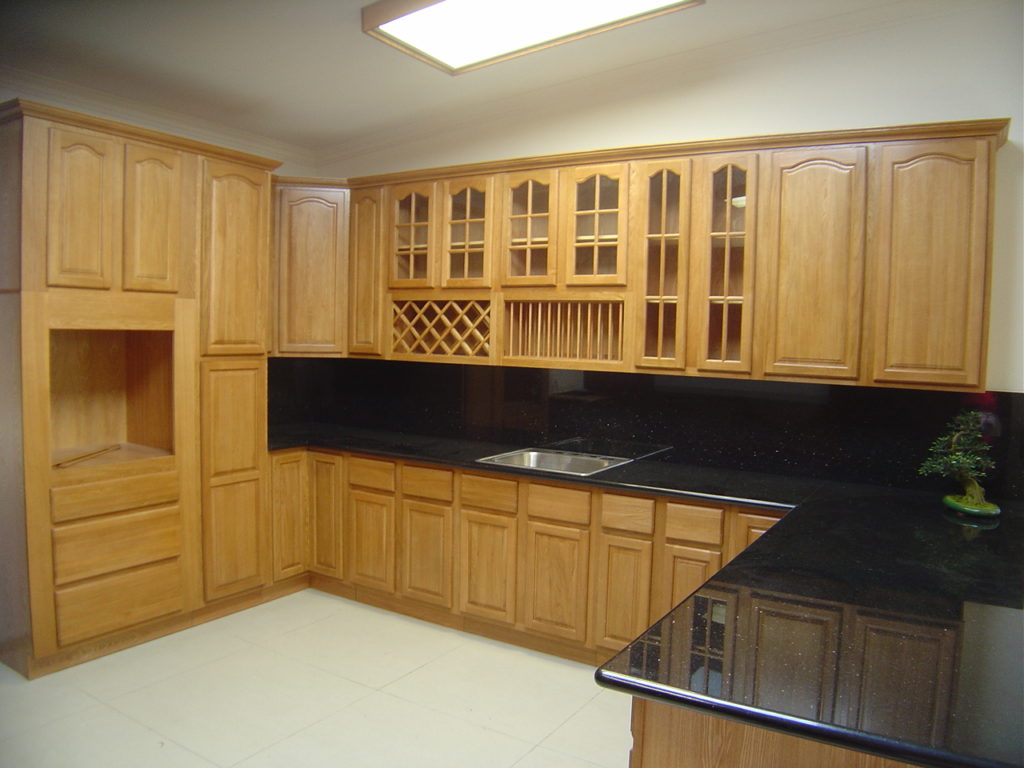 Oak is one of the most solid and beautiful of all of the wood cabinet choices, as well as one of the most long-lasting. This is extremely important when it comes to the kitchen, as the cabinets in the kitchen are subjected to extreme conditions such as water and steam, and of course continuous use. If sealed properly, oak kitchen cabinets will withstand all possible conditions, and yet maintain their integrity.
Typically found in two natural colors, a reddish-brown and a very light, almost white color, oak also tends to have a very distinctive grain pattern as well. The red oak cabinets are best used in kitchens that are trying for a warm and cozy feel while the lighter white oak kitchen cabinets are good to make the room appear to be larger and brighter than it actually is.
White oak kitchen cabinets are great for customization. They can be stained to match the interior of any kitchen – from country to traditional and contemporary kitchen styles, white oak cabinets are perfect. Moreover, as kitchen styles change, you can sand and stain your white oak cabinets a different color, giving it a completely different feel.
Due to its availability, oak is less expensive compared to other wood used for kitchen cabinets. In fact, for just under $3,000, you could set up an entire 10 by 10 kitchen. This is rather affordable considering the amount you would have to pay for other types of wood. Oak kitchen cabinets are also extremely popular in the market, mostly this is due to its multiple benefits: sturdiness, versatility, durability and low cost.
Oak kitchen cabinets can last practically forever, so they are a very good investment for your kitchen and your home. The downside to this choice though is the fact that oak is not considered to be a sustainable material and is therefore not a green choice at all. Oak cabinets can be made from reclaimed wood; however they are often created from trees that are cut down. Oak trees take a very long time to grow back so they will not replenish the supplies quickly.
Tips for buying oak kitchen cabinets
1. Kitchen cupboards of solid oak are recommended because of their durability and style, and also because they will raise the property value of your home. It is to be noted that most MDF products which includes engineered wood, particle board and fiber board that have an oak veneer are not able to withstand the normal kitchen environment easily.
2. Pre-made oak kitchen cabinets are typically cheaper, however if you have a kitchen that is oddly shaped or a nonstandard size you may be in for trouble. In this case, you may have to go with the additional expense of a custom made oak cabinet set so that they will actually fit into the room correctly, look good and function properly.
3. In addition to getting the right size for your oak kitchen cabinets, you should also make sure that you get the right features and additions so that your kitchen is not just another room in your home, but one of your favorites. Some of the special touches that you can consider adding to your oak kitchen cabinets include baskets or bins for additional storage and organization, rotating cabinets that allow you quick access to items, and pull out drawers that can more than double your space without taking up floor space. However, these additional features mean that the price of your oak kitchen cabinets will go up.
4. Another option to consider with your oak kitchen cabinets is ready to assemble. Not only will you save money, you will also save on the shipping and handling fees as well. Oak kitchen cabinets that come in pieces rather than already made may sustain less damage during transit as well. You can save additional money by building and installing the RTA oak cabinets yourself. If you are not handy, though, you can have your cabinets installed by professionals and still be ahead.
5. Major manufacturers of wood kitchen cabinetry are Thomasville, Kraftmaid, Merillat and Aristokraft.
6. Make sure to choose oak color that will complement the overall appearance of your kitchen. Before finalizing a color, have a look at samples, to make sure you choose a color that matches your kitchen. Also, keep in mind that oak darkens over time.
Caring for your oak kitchen cabinets
Because it is so durable, you can have oak kitchen cabinets for practically forever. As your tastes and needs change, you can opt to paint or stain the cabinets to fit in with new décor.
You should make sure that you are caring for and cleaning your oak kitchen cabinets properly, including the occasional washing with warm water and mild soap. Otherwise, you can just wipe them off with a damp cloth or with a soft cloth and furniture polish.
Do not use too much of water, and make sure that all water is completely dried off or else it can damage the finish.
Avoid harsh liquids and chemicals while cleaning your oak kitchen cabinets or there could be chances of discoloration.
It is best to follow the manufacturer's specific instructions when it comes to taking care of your oak kitchen cabinets.