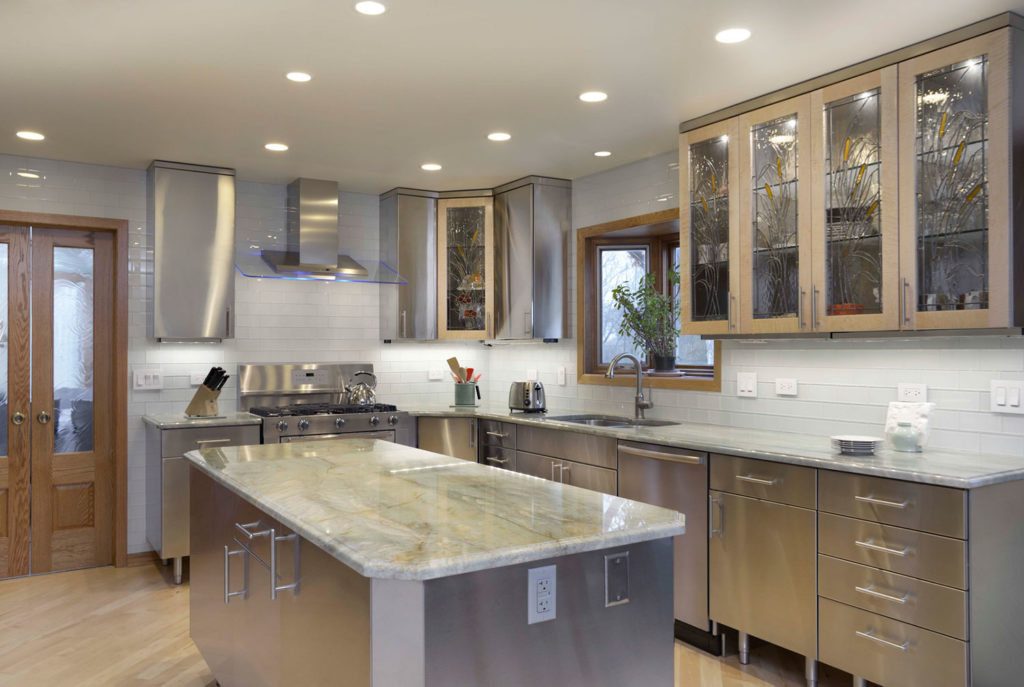 Metal kitchen cabinets can be one of the most unique and versatile choices that you can make. There are various metals that can be used with stainless steel being one of the most common and most popular. Other metal cabinet options such as copper can be a good choice as well. Cabinets made of metal can be painted to suit the décor of the room and can be great to work with.
The greatest features of metal kitchen cabinets
Some of the best features of metal kitchen cabinets include:
High resistance to corrosion and staining.
Highly durable. Metal kitchen cabinets are typically used in food service and industrial settings because of their durability.
Metal kitchen cabinets are extremely easy to maintain and to clean as well. They are also hygienic because of their non-porous surface, which does not allow bacteria to get deep into it.
Metal kitchen cabinets can be recycled when they have reached the end of their useful life.
Metal cabinets are very modifiable. They can be painted to fit in any type of décor, and can also be modified in other ways as well.
Stainless steel is a very shiny metal that reflects light very well, which can make a kitchen seem brighter and bigger.
Drawbacks of metal kitchen cabinets
There are some drawbacks of metal kitchen cabinets as well, however. These include:
Metal kitchen cabinets can be noisy, especially when coupled with other "noisy" kitchen materials, such as tile or stone floors.
Metal, especially stainless steel cabinets can be cold and industrial in appearance. While pairing them with warmer materials in the room can help, it is important to note that the cabinets are typically the first thing that people notice when they walk in the room.
The shinier the metal choice, the harder they will be to keep looking good; shiny metal kitchen cabinetry will eventually show off every fingerprint, every scratch and every dirt that they get through daily use.
Metal kitchen cabinets can be susceptible to dents and scratches that ruin the finish, over time.
Metal kitchen cabinets cost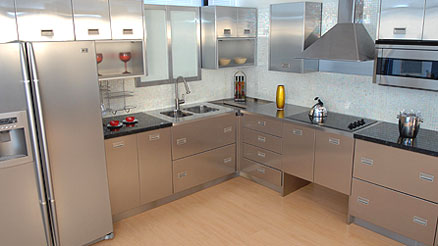 Metal kitchen cabinets are rather expensive. Of course, the price depends on several factors, such as cabinet quality, design, thickness of the metal, manufacturer and the size of your kitchen.
Additional features such as drawers, baskets, storage above your stove, a Lazy Susan will end up costing more. Furthermore, hardware options such as knobs, pulls, door handles also affect the price of your metal kitchen cupboards.
Tips for buying metal kitchen cabinets
1. Stainless steel is the most common and popular metal for kitchen cabinets. Such cabinets are well-suited in a contemporary kitchen due to its industrial and sleek look.
2. Cabinets made of copper are a good choice for a warmer, cozier feel that is perfect for country and rustic kitchen decors.
3. Pre-fabricated metal kitchen cabinets are available for purchase as are cabinets manufactured to certain sizes. Another option is custom cabinets. You may find more design choices with the custom variety, but the cost is also higher.
4. The quality of your cabinets is higher, when the metal is thicker. The highest quality of stainless steel is usually 18 gauge (though 16 gauge is better) and marked as 304. This type of stainless steel has great corrosion and stain resistance features, in addition to minimizing noise.
5. Many manufacturers sell metal kitchen cabinets with sheet metal that is overlaid on base material. This base material could be particle board, plywood or medium density fiberboard (MDF). While this certainly minimizes the noise, the longevity and durability of the cabinets depend on the quality of material underneath. Moreover, fiberboard and particle board tend to sag, if not supported appropriately. Another point to be noted is that both fiberboard and particle board do not hold screws as tightly as plywood or wood, and this may cause the hinges becoming loose and a big pain to deal with. Fiberboard and particle board also warp and swell, if they get wet. Essentially, plywood or wood base is recommended, though they are more expensive.
6. Metal kitchen cabinets with satin, matte, or textured with different patterns and grains finish, help in concealing fingerprints and scratches.
7. Consult with a professional designer during the planning stages as they can be a great resource in helping you fulfill your dream of the perfect kitchen.
Caring for metal kitchen cabinets
Cleaning your metal kitchen cabinets is quite simple. All you need is mild soap and some water. When you finish washing, make sure to rinse and wipe completely dry to get rid of any water stains.
At times, you may need a cleaner of some sort to help get rid of tough grease and grime marks. While all-purpose do a good job, avoid using any abrasive substances as it will scratch the surface. In addition, do not use scrub brushes or steel wool for cleaning your metal kitchen cabinets as these too can damage the cabinets.
Do make sure to check with your installer for specific instructions on your metal cabinets.