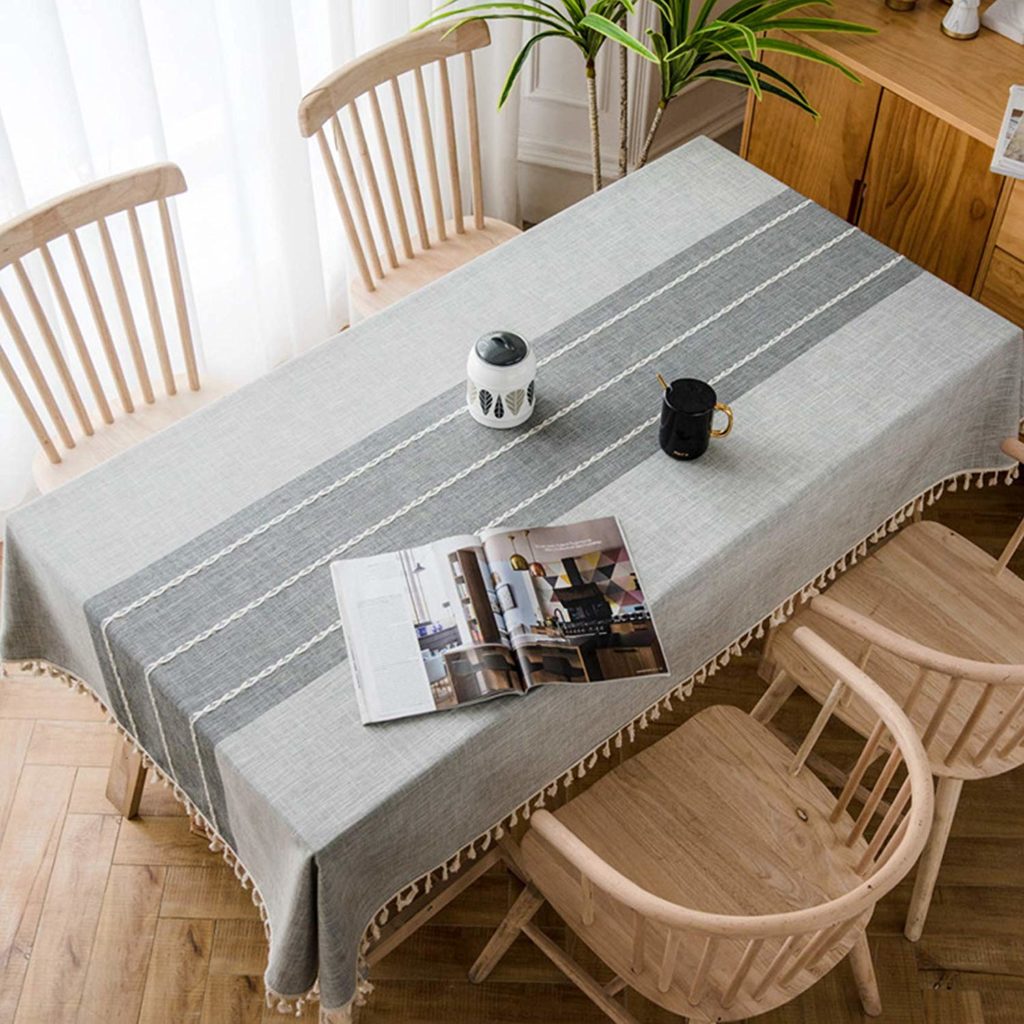 One of the most difficult jobs a housewife (or househusband) has is in keeping the home clean and tidy, and this includes things like bed linen, towels and tablecloths. Tablecloths get a hammering from all sorts of messy substances, including Jams, ink, vinegar, wine, food colorings and more so it takes some very special treatment in order to keep your tablecloths looking like new. Here I have listed some tips that should help you keep yours in spick and span condition.
Fabric tablecloths
Fabric tablecloths are really the hardest to keep stain free. The reason for this is because they have none of the protection that some of the other, oil based tablecloths have. They are made of fabric and so stains can easily become noticeable on them. One thing that I always do with my fabric tablecloths to keep them stain free is I wash them regularly. If I spill something on it I immediately clean it off with hot soapy water and give it a good scrub. If necessary, you can also use something like 'no-more-stains' as this can often be a life saver, especially if the stain has been in there for some time already.
Oil tablecloths
Oil Based tablecloths are amongst the easiest to keep clean as they have their own oil based protector, built-in. This oil based protector will stop stains from appearing on them and all you are required to do to keep them clean and in prime condition, is wash them regularly with hot, soapy water and a clean, white cloth. Try not to place hot pots or pans on any of your oil-based table cloths as this would make quite some mess.
Vinyl tablecloths
Vinyl tablecloths are fairly easy to keep clean and looking like new. Again, it's very important that you don't place any hot surface onto this type of tablecloth as it will melt the surface and make a permanent mess. Again, the vinyl cloths can be kept looking great with using good old soap and hot, clean water and a sponge.
Paper table covers
These are probably one of the simplest types of tablecloths available and they are really easy to keep clean, too. Simply scrunch the paper up into a small ball in your hand and throw into the waste paper basket. Then simply replace with a new one. Of course paper cloths can be used for festive celebrations and parties and that kind of thing so it makes sense that you don't want a pile of washing afterwards, so you can use these instead to help minimize the fuss.
Extras
If you have a big pile of ironing to do after you have washed a large pile of tablecloths, you need to take care that you do not burn then during ironing. Place the iron on as low a heat as possible to minimize the risk of scorching your tablecloths.
Keep in mind
One thing to keep in mind when it comes time to replace your old tablecloths is that there are a variety of online stores that offer big discounts when you buy them online. Stores that operate online don't have the cost of rent and rates of a brick and mortar shop, so you can often get massive reductions on items when purchasing on the World Wide Web. Try places like EBay and the Online Fabric Shop as these places are amongst the top online retailers for tablecloths and the quality of their products is usually top class.
Steve Mac wrote this article. Steve writes and blogs for www.tableclothshop.co.uk on a regular basis and enjoys all things online.