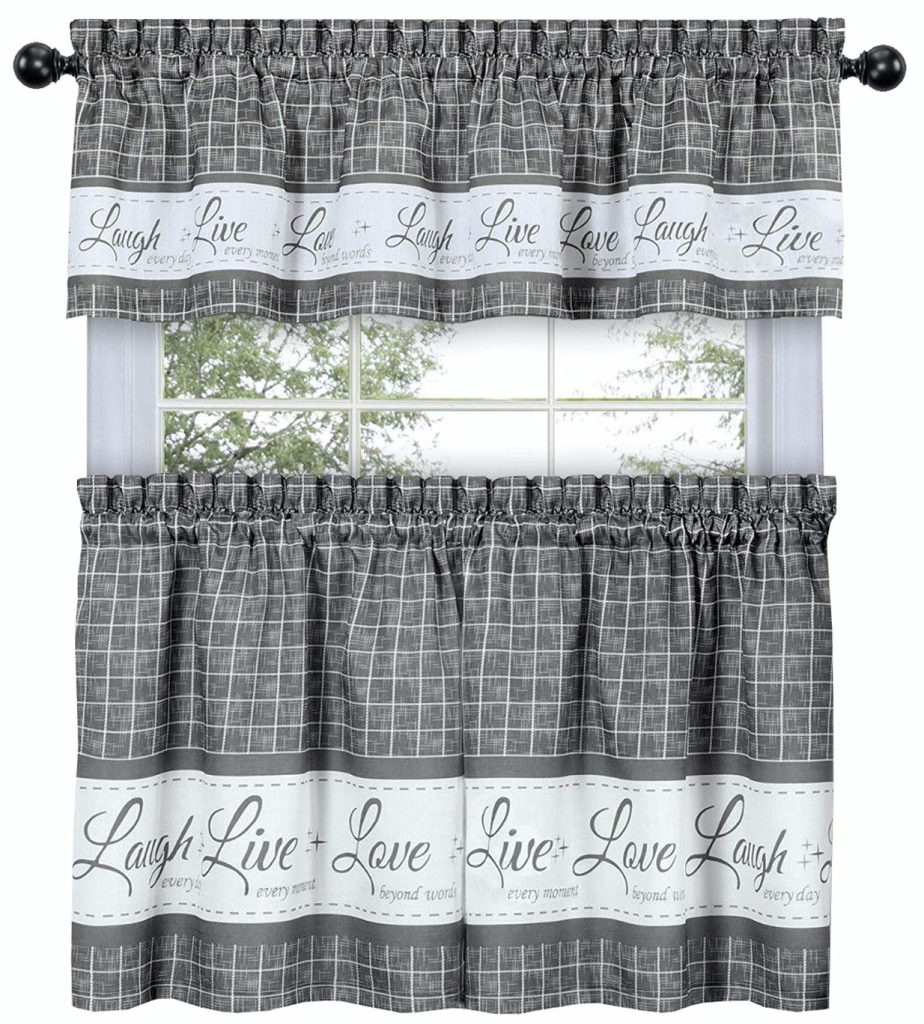 The kitchen is undoubtedly the heart of the home. It's where your food is stored and prepared, and is probably the room in your house where you work the hardest. Therefore your windows should allow you to feel comfortable and at home while you toil away. Your window treatments need to complement the space and reflect your style, but at the same time they need to be durable and easy to clean.
The three main considerations for choosing your kitchen window treatments should be sunlight exposure, privacy, and decoration.
Sunlight exposure can be desirable in your kitchen, but also a pain. It's nice to have some sunlight coming into the kitchen to warm up the space in winter, but in summer the heat may become unbearable. UV rays from direct sunlight can also cause damage, such as fading of finishes, drying of wood, and washing out of fabric colors. If material protection is important to you, the most cost effective way to combat the harmful effects of the sun is to apply an adhesive UV film to your windows. If possible, it would be better to install windows with a UV protective layer right from the start. Beyond that, shutters and blinds can be very effective in reducing the amount of light coming in through the windows, or block it out completely.
Privacy can be a big concern if your kitchen windows are visible from the outside. In an apartment building, this is probably a given. This can also be the case if your kitchen windows face a neighbor's house or the street. To see if you might be visible to the outside world in your kitchen, switch the lights on at night and go outside. If you are concerned about how much passers-by can see from the outside, you need to add something that can obscure the view. During the day, you would ideally use something that allows some light in while blocking the view from outside, like lace shades or a type of one way mirror privacy film. You could also choose to install frosted glass, as you might choose for your bathroom.
Practical considerations aside, you would ideally want to find a good balance between form and function. The practical home improvement enthusiast in your life may be a wiz at taking care of the functionality of your window treatments, but it's up to you or your interior designer to make sure that the perfect kitchen windows also look stylish. If the functionality is already taken care of, everything else you add can be decorative. But even here it's helpful to keep it as simple as possible, so that nothing is needlessly in your way when you use the space. Opening and closing curtains, blinds or shades should be as easy as pie; bonus points if you can easily do it with one hand.
With all of the above in mind, you can go about choosing the ideal window treatment for your kitchen. Here are a few options, and their attributes:
Bamboo blinds: Bamboo blinds are good at reducing light from the outside, but they don't give complete privacy. They also don't block UV.
Venetian blinds: Venetian blinds come in a variety of materials and colors. They are highly adjustable, and can provide complete light and UV blocking when closed, and can still provide privacy when slightly open.
Fabric shades: Fabric shades are good at providing privacy and blocking sunlight, while still allowing some warm ambient light through in case of a light color. Dark or thick shades can block light completely. The downside is that they completely obscure your view when closed.
About the Author
This guest post was written by Apex Window Werks, a company which does house and commercial window and door repairs (wood only). AWWW is rated with A+ by the BBB, it is accepted to the Angie's list and has more than 9 years of experience behind the belt. Cost estimation is free, get in touch today.