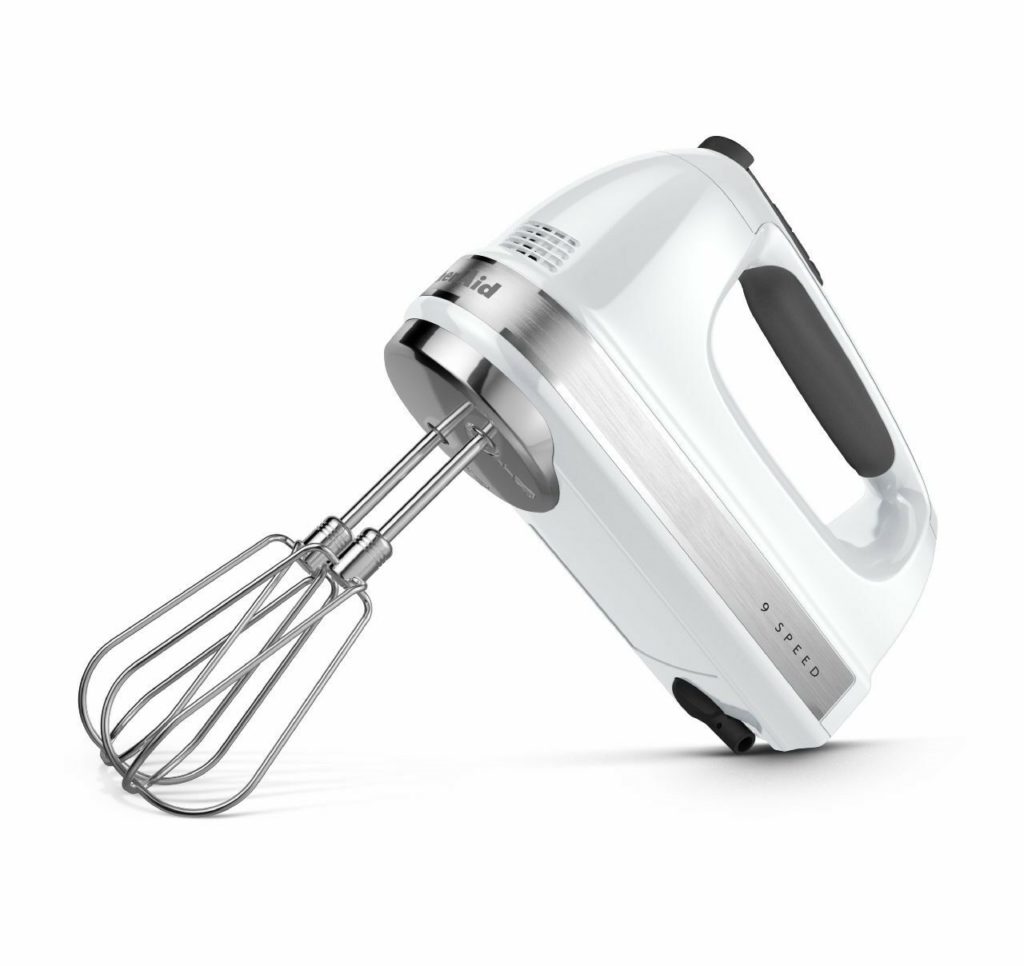 Every kitchen has a hand mixer. And since the basic design and looks are all the same, people often think that one hand mixer is the same as another. This is not true – all hand mixers have their own unique qualities. Let's have a look at what the KitchenAid KHM9PWH Professional hand mixer has to offer and what makes it different from other makes and models.
First of all, the KitchenAid KHM9PWH is easy to use. One reason for this is that unlike most mixers which have handles parallel to their bodies; this one's ergonomically designed handle is bent towards the back. This makes gripping and maneuvering the unit very easy and reduces the stress on the hand.
The KitchenAid KHM9PWH has 9 digitally controlled speed operations – the most of all the KitchenAid hand mixers. The soft start option ensures that there is no sudden movement that may cause batter to jump out of the mixing bowl. The first 3 slow speeds also ensure that there is no chance of the mixture splattering all over the countertop while the top speed is more than enough to create the air volume you need for fluffy egg whites or whipped cream.
There is a digital display of the speed selected so you are always certain of what you are doing.
The motor is powerful, quiet and designed to last a long time.
The mixer comes with 2 standard stainless steel beaters and a stainless steel pro whisk attachment which is great for whipping really fluffy puddings, whipped cream and egg whites.
The mixer is very easy to clean. The smooth surface of the body has no grooves or seams to trap dirt. The same applies to the beaters and the cord is round and designed for easy wiping clean.
With dimensions of 6-2/5 ins. in height, 3-1/2 ins. in width and 7-1/2 ins. in depth, the KitchenAid KHM9PWH doesn't take up much space. It is also designed to sit nicely on its end when not in use so that counter space is freed up.
With a plastic body and weighing in at about 3 lbs., the KitchenAid KHM9PWH is relatively light.
Is KitchenAid KHM9PWH Professional the mixer you have been looking for?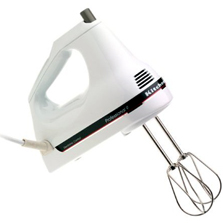 Now you know a bit about the KitchenAid KHM9PWH Professional hand mixer and what it has to offer, let's look at whether or not this is the right mixer for you.
This mixer is perfect for small to medium sized jobs. But if your cooking involves making bread dough or mixing in large volumes, then you should go in for a larger stand mixer. Also if you have physical problems that may make holding the mixer difficult, a stand mixer will be a better option. However, if these are not concerns, the KitchenAid KHM9PWH is light, mobile and easy to use for simple jobs.
The mixer is ideal for normal kitchen tasks like beating and whipping and is great for making cakes, pastries, fillings, cookies and just about every normal kitchen operation where mixing and beating is required.
The small size of the mixer makes it perfect for small kitchens where counter space is limited.
Left handed people may have a problem with the placement of the cord which may get in the way when the mixer is being used. This is something to think about when buying the mixer, though most often it does not pose any issues as such with most people.
The KitchenAid KHM9PWH Professional hand mixer is a little more expensive than other comparable models, but because of the features and convenience it offers, it is definitely worth the price.
Let's put it this way – the KitchenAid KHM9PWH is a great mixer for normal everyday use when cooking for small and medium sized families. But if you are going to be doing large volumes of heavy beating and mixing, a stand mixer would be a better option for you. But even if you have a stand mixer, supplementing it with the KitchenAid KHM9PWH for smaller jobs will save you both time and energy.
Always read the manufacturers operating and maintenance instructions carefully to get the best results from the mixer and to ensure that the one year warranty is not voided by misuse of the unit.
Keep in mind that the KitchenAid KHM9PWH mixer makes a wonderful gift for anyone who spends time in the kitchen.
How to get the best price on a KitchenAid Professional hand mixer
When looking to buy, Amazon not only seems to have the best prices (sponsored link), their customer friendly policies make buying from them a pleasure.