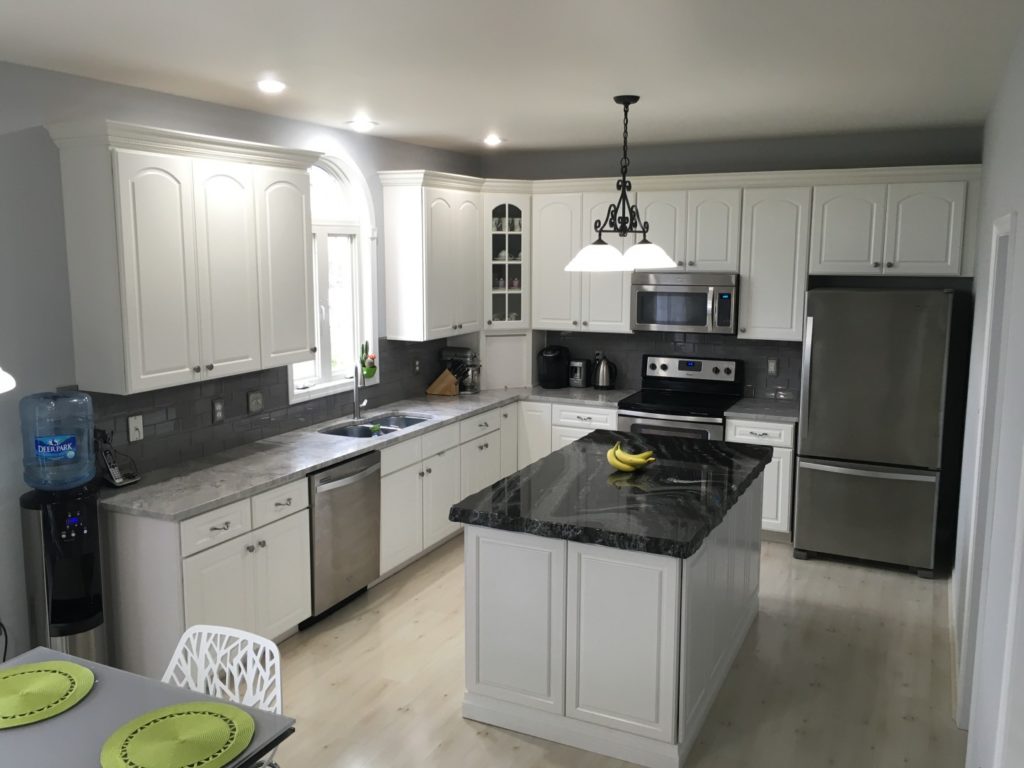 Granite is a natural stone and can bring the vibrancy and energy of nature into your kitchen when carefully carved into countertops. Granite is found in various shades of natural colors that range from white to reds, browns, blues, greens and black. These colors make granite countertops blend with no effort with the rest of your wooden kitchen cabinetry and decor.
Each slab of granite consists of a unique natural design pattern that cannot be found on other granite countertops. This helps to make your kitchen countertop elegant and different from any other countertop.
Granite is next to diamonds in hardness and is therefore highly durable. Granite countertops can withstand rugged handling, but can be kept clean and beautiful with minimal care. They can serve you for a lifetime.
Granite adds radiance to your new kitchen. Your old kitchen can be remodeled using beautiful granite countertops with your choice of design, color and finish. Granite will add world-class value to your kitchen and give your home a great re-sale value. Home buyers are particularly impressed with granite countertops rather than ceramics, plastics or laminates, and don't mind paying more for granite.
Granite countertops withstand high temperatures and moisture, and do not get stained, making them ideal for rugged kitchen tasks. They also resist scratches and cracks and are therefore long lasting if sealed properly.
The surface of polished granite is ideal for pastry dough to be rolled out on.
Granite countertops pricing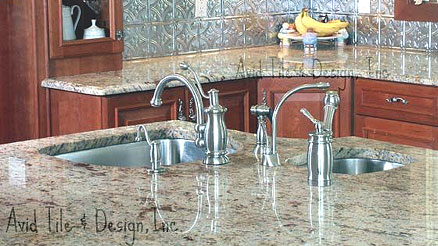 Granite is a very expensive material when it comes to countertops, and each square foot of granite can cost you anything from $50 upwards, inclusive or non-inclusive of installation charges. Nevertheless, most people prefer granite countertops to any other material, whether it is for their new home or for their remodeled home.
The pricing depends on various criteria including the color, patterns or veins, the country of origin and the latest trends. Some dimensions and properties that also affect the pricing are the thickness, size of the slab and the soft mineral content of the stone. Granite countertops with a unique unrepeated pattern of colors, which is known as "movement", are usually on the costlier side.
If you are looking for a cost effective deal, you can go in for a countertop made of granite tiles. Tiles do not differ in properties, and come cheaper than slabs. The only difference is that the borders are visible and a little difficult to clean inspite of filling them with grout. Also, care should be taken that all the tiles are of uniform pattern and color.
Buying tips for granite countertops
1. While choosing a granite countertop, remember to consider the cabinetry in the kitchen, as you want to make sure that your countertop complements the rest of the décor.
2. Choose contrasting colors. A dark colored countertop looks great on a light colored cabinet, and vice versa.
3. Check out some magazines or take help from a professional interior designer in order to choose a color that blends with the color scheme or theme of your kitchen.
Installing granite countertops
Installing a granite countertop is not a do-it-yourself job and is best left to a professional. A professional will take the exact measurements of your countertop and create templates, after taking into consideration the position of your power outlets, sink and faucets. Thereafter the granite is cut with a diamond edged saw to fit the templates.
The installation must be well leveled and virtually seamless. In order to achieve this, the workman will create a strong base with plywood and metal rods. This keeps the granite from developing cracks or breaking during daily use. The granite slabs will be fitted, the seams will be sealed and the edges will be smoothened. Thereafter a sealant will be applied to the surface and the slab will be polished to give it a glossy finish.
Maintaining granite countertops
Always ask the supplier what type of sealant to use and how often the stone has to be sealed and polished. Also find out which cleaning liquid can be used on the surface.
Acidic liquids such as vinegar and lemon juice can etch the granite surface, and therefore should be used with care.
The surface should never be used as a substitute for a cutting board.
Don't drag heavy appliances or utensils across the surface.
Warm soapy water is the best for cleaning granite countertops. Avoid harsh cleaning liquids as they may erode into the surface making it rough.