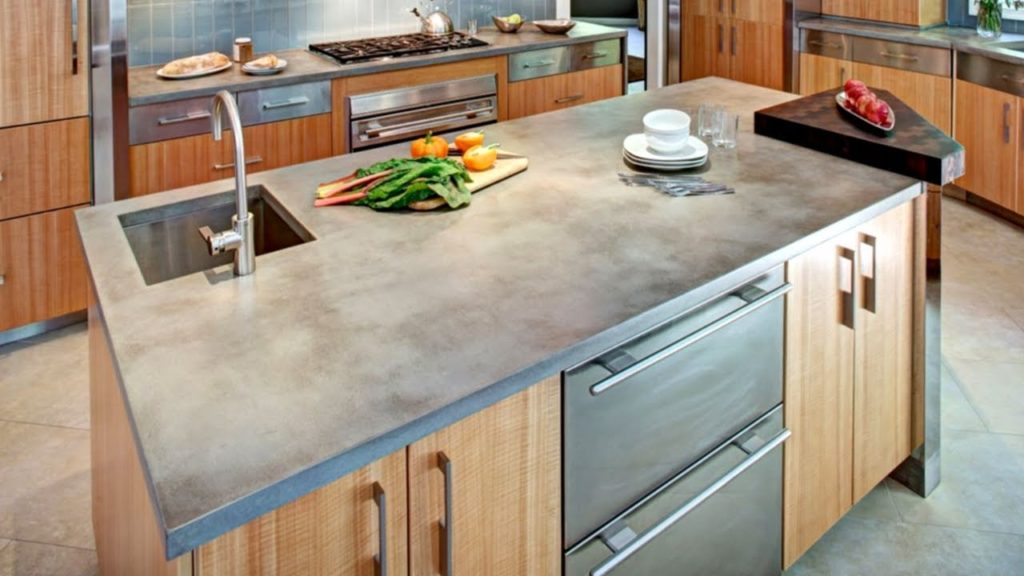 Concrete is versatile and can be customized according to your needs and desires. It is possible to have V shape, L shape or various other shapes of concrete countertops.
Being durable and strong, concrete countertops can serve you for decades if you maintain them well.
Apart from being able to have it customized, concrete countertops can also be easily stained with the color that you choose. You can finish the top surface as you like and even embed objects such as porcelain or ceramic tiles for hot pots to be kept. You can add a traditional touch by elegantly carving the edges. Or how about a personal touch with stainless steel or brass inlays?
The color of concrete countertops does not fade or wear off because the color pigments are actually introduced into concrete at the time of mixing. Therefore they become part of every grain.
You can polish concrete to a smooth gloss or work up a texture on its surface.
Unlike most countertops, it is possible to cast sinks and other fixtures directly into the concrete countertop, making it seamless. This prevents seepage into the seams and makes the whole countertop easy to clean.
Every section of the concrete countertop can be personalized according to your needs by adding a cutting board or a few trivets at strategic points, thus increasing its utility value.
Pricing of concrete countertops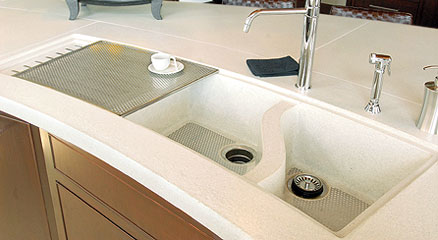 Concrete countertops are on the expensive side. Starting at $50 upwards for a square foot, concrete prices are on par with natural stone prices. This price may be inclusive or exclusive of installation cost.
The price depends on the size of the countertop, the surface finish, the embedded objects and how complex the form is.
Tips for buying concrete countertops
1. While choosing the design and color of concrete countertops, the design and color of the kitchen cabinets must be taken into consideration. Your countertop must actually stand out and yet complement the interiors of your kitchen.
2. Dark colored concrete looks great with light cabinetry and light colored concrete countertops brighten the look of dark colored cabinets. The key is to use contrasting colors.
3. If you browse through some magazines or the Internet, you will get an idea of how to choose the right size, design and color. An interior designer would be the best to help you find the right concrete countertop according to the setup of your kitchen.
Installation of concrete countertops
Installation of concrete countertops is a specialized job. It requires a high skilled professional and intensive skilled labor. Look for a reputed professional who has done the work for someone you know. Before giving the contract, ask for photographs of samples so that you can get an idea of what kind of work has been undertaken before. The professional must be able to incorporate your likes and desires and at the same time customize the countertop to your needs.
Most contractors work as a team and will consult interior designers or architects in order to arrive at the design. They also have their own team of skilled workmen. You must interact with and convey your feedback to the person in charge.
Since this is a tedious task and requires space and equipment the countertop is best formed at the manufacturing unit.
Before installing the concrete countertop, the workman will create a strong base over your cabinets. This is important to keep the countertop sturdy and from vibrating. The countertop, which is already reinforced with structural steel or a wire grid, will then be fixed in place, and sealed.
Maintenance of concrete countertops
The contractor must be able to guide you about how to maintain the countertop.
The countertop surface should never be used for cutting purposes; a cutting board must always be used.
Natural or synthetic acids that are found in tomatoes, lemons, vinegar and liquid cleaners should be avoided as they will eat into the concrete and make it rough and porous.
Concrete is prone to scratches and therefore heavy utensils or appliances should never be dragged along its surface.
Although concrete countertops are sturdy, they can form huge cracks with sudden blows of heavy objects.
Placing hot utensils on the surface can mar the finish; so you may want to embed some porcelain tiles for hot utensils to be placed.
A warm soap water solution is the best for cleaning concrete. Harsh cleaning liquid can erode the sealant and make the surface rough.