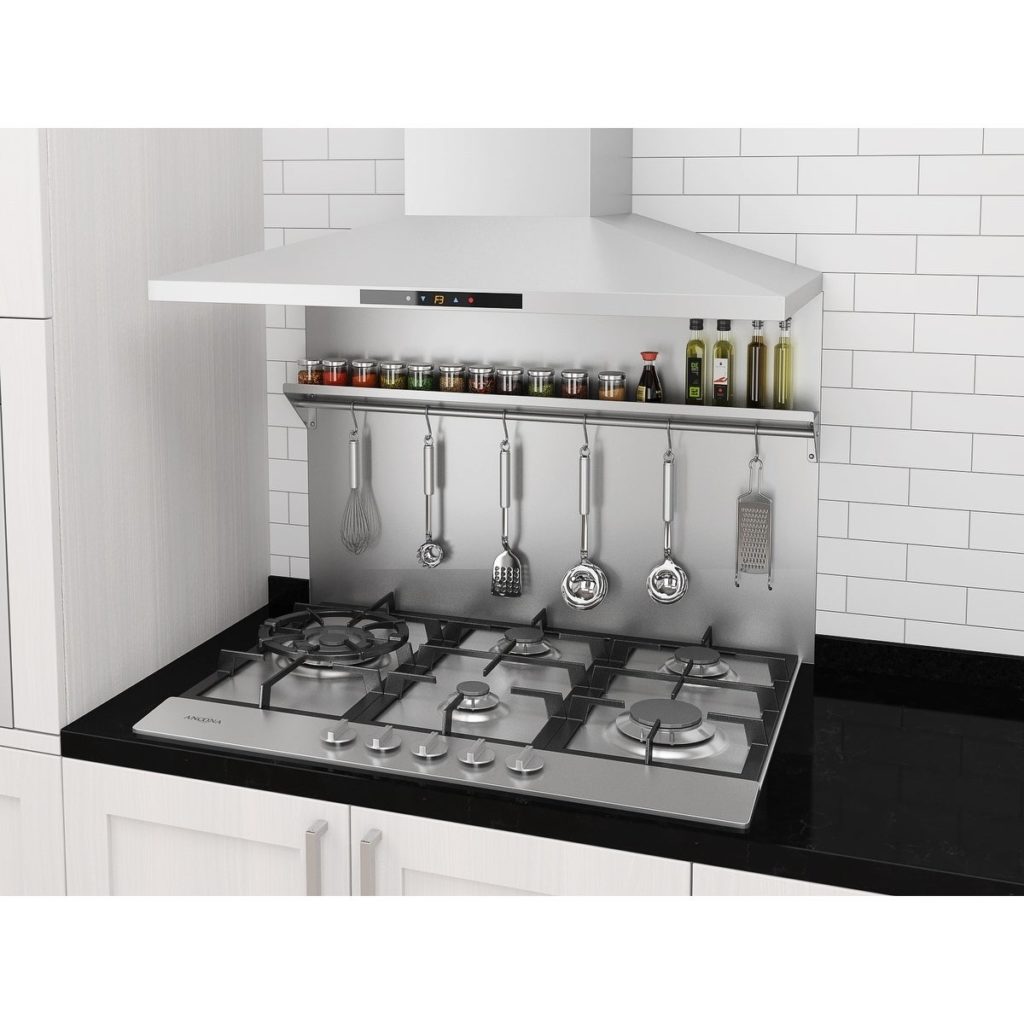 If you are craving the ultra-modern, hip, post-industrial look that is ever so popular in many large cities around the world, a stainless steel backsplash may just be the thing for you. Steel is relatively untraditional as a decorating material, but in recent years it has become very popular in a sleek, contemporary way. A stainless steel backsplash can add the touch of modern industrial flare to your loft, apartment, or home at very little cost to you.
Because stainless steel is commonly used as a building material and must withstand the tests of time, it will never rust, fade, chip, crack or stain. This makes it a very practical material for a backsplash in a kitchen, as well as a stylish one. It is durable, heat resistant, waterproof, and cleans up in a snap, though you do have to make sure to use only certain types of cleaning products made for steel so as not to tarnish it. Stainless steel is also a nonporous material, so it will not get bacteria and germs deep down inside it like tile and grout does.
A shiny stainless steel backsplash will reflect a lot of light, which can maximize a very small kitchen space. It is especially good for apartment or condo living, where the kitchen sizes are usually smaller. Steel makes the room look bright and very sizeable, even if it is small, so a stainless steel backsplash is well suited for a kitchen of any size.
Unless it is painted, stainless steel only comes in one color: silver. Silver is a very neutral color, so it complements just about any color scheme in a kitchen. Stainless steel appliances are a great match, but many appliances have exposed chrome or steel trim, so a steel backsplash will fit into your décor seamlessly. No matter what your decorative style, stainless steel will likely complement it well.
Stainless steel backsplashes come in a variety of finishes, such as polished (very shiny), matte (dull), or Satin (for a "brushed" look). Different patterns can be imprinted on the steel, like diamond plating, harlequin, and checkerboard imprinting. Steel can also be etched for a very sophisticated, elegant, and breathtakingly beautiful look that will add style, flair, and creativity to your kitchen space. It is also possible to have the entire counter, sink, and backsplash molded from one solid piece of metal. This adds continuity to the room and makes it easier to keep clean and hygienic because there are no gaps for water and germs to get into.
Cost of stainless steel backsplash
Stainless steel is, however, rather expensive. It can start as high as $50 per square foot and goes upward from there. Installation is also usually not included in the price, so make sure you ask first. The price depends on many different factors, like design and size of the pieces of tile, the quality of the metal and amount of alloy, and the manufacturer. If you are looking to cut down the cost, stainless steel can be integrated with ceramic or porcelain tile, making a unique and more cost-effective look. Also, instead of one solid piece of steel, tiles will be less costly, though they require more work and maintenance to keep clean. There will be gaps, no matter how closely the tiles fit together, and water, food, and bacteria can get into these gaps, making them difficult to clean.
Tips for buying stainless steel backsplash
In order to get your money's worth, make sure to buy high quality stainless steel for your backsplash product. Quality pieces are lower gauge and higher grade. The better the grade of the piece you buy, the higher the resistance to staining and corrosion. The good quality pieces of steel are generally 18 gauge or smaller, and have a grade of 304 or higher. Your stainless steel backsplash can be bought in pre-fabricated pieces that have been manufactured in certain sizes, or you can order a custom piece that is made just for your kitchen. With custom pieces, you can choose your own style and design, but this option is significantly more expensive.
The last thing to keep in mind when looking for your materials for your stainless steel backsplash is that plain polished steel (without any patterns) will show even the smallest smudges, splashes, water or oil marks. So, choosing a patterned/etched design will reduce this problem. Otherwise you will find that you have to constantly wipe up your backsplash in order to keep it clean.
Installation of stainless steel backsplash
It would be wise to hire a contractor who has installed stainless steel backsplashes before. It would be best if the contractor use a sturdy base to which to attach the stainless steel pieces. Such an arrangement prevents denting and also minimizes noise made by objects coming into contact with the steel. People generally prefer using plywood for the base.
A stainless steel backsplash made of tiles is easy to install. However, the average homeowner who has never laid tile before may also want to consider hiring a professional to help with the project. Many people prefer this option for installing their stainless steel tile backsplashes as they are not familiar with how to lay tile.
Maintenance of stainless steel backsplash
Don't use harsh chemicals to clean the backsplash. You just need mild soap and warm water. Wipe the backsplash dry with a soft cloth. Thus, cleaning stainless steel backsplashes is easy and simple.
You can always ask the manufacturer for tips on how you could maintain your stainless steel backsplash and enhance its life.