A "mosaic" is a picture created from many very small colored tiles. The tiles can be made from ceramic, glass, natural stone, brick, granite, marble, slate, pebbles, metals, and a very large variety of other materials. They are unique, creative, and offer a sophisticated and artistic touch to any room.
Many people prefer to have a backsplash in their kitchen to keep their wall coverings from being damaged by water, food spills, and other dirty kitchen accidents. Many times the backsplash is made of tile, and people looking to add a creative spin to their kitchen décor should look into adding a mosaic tile backsplash to their kitchen. It can be simply a decorative touch to blend in or the main focal point of the room, but a mosaic backsplash will liven up any drab or dull kitchen area and add a unique flair in a creative and beautiful way.
Types of mosaic backsplash
There are three main types of a mosaic backsplash. The first style, a standard mosaic, is made by fitting small – square, rectangular, or circular pieces of tile together. The effect of this type of mosaic backsplash is in the pattern the small tiles create – brick, herringbone and other varied patterns. With regards to the tile colors, they are most often in one color but with different shades, or in very similar colors.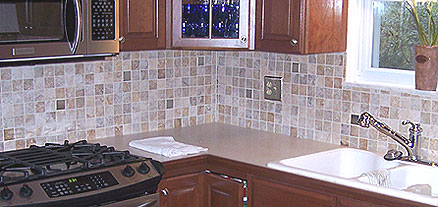 The second type of mosaic is known as a mural mosaic. This is a mosaic that is first put together on the wall, and then painted as one unit into a picture. Alternately, different colored tiles can be fitted together like a puzzle to make an interesting mural without painting the tile. This type of mosaic tile backsplash takes an amazing amount of skill and creativity, but the results can be breathtakingly beautiful and add a large amount of class and sophistication to your kitchen. Be prepared to spend a lot on this type of mosaic backsplash though, as you need a tile layer who is also a talented artist. Mosaic tile backsplashes can also be purchased as a pre-made mural as well and laid into the wall as one ready-made unit, but this will be a less unique piece.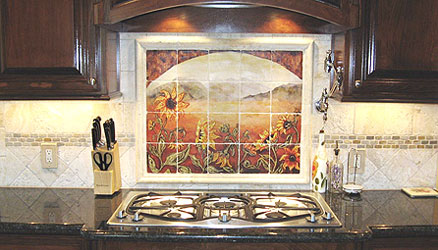 The third type is made by mixing and matching varying materials of different sizes, shapes, colors, textures, and finishes. This creates a mosaic that is completely unique and 100% original. This one-of-a-kind mosaic tile backsplash is sure to delight any visitor to see it, and it is something you will be proud to show off to friends, neighbors, and relatives.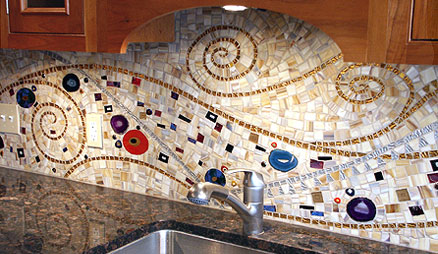 Cost of mosaic backsplash
As I am sure you can imagine, pricing varies widely for a mosaic backsplash. If you have spare materials and interesting objects around your house and you know how to lay tile, you could make your own for free or relatively cheap. Purchasing a mosaic backsplash as a ready-made mural can vary quite a bit depending on the uniqueness of the piece and the popularity of the artist, among other factors. A hand-painted mosaic tile backsplash will likely be the most expensive of the varieties, since the person installing it must be a tile layer as well as an artist, but if done correctly it can be well worth every penny and add a huge amount of beauty and appeal to your kitchen.
Installation of mosaic backsplash
Installing mosaic backsplash takes a lot of expertise as each piece of tile has to be properly laid and leveled. The average homeowner who has never laid tile before may want to consider hiring a professional to help with the project. Many people prefer this option for installing their mosaic backsplashes as they are not familiar with how to lay tile.
Knowing where your layout is going is also important and the size and placing of the cuts are crucial to the look and strength of the finished mosaic backsplash.
Maintenance of mosaic backsplash
Follow the manufacturer's maintenance instructions.
Warm soapy water is the best for cleaning mosaic backsplash. Be cautious about using any abrasive materials since this can scratch and damage the tiles.
Natural stone and unglazed ceramic tiles are porous and will need to be resealed on a regular basis. Sealing prevents water and other liquids from entering the pores, as this can lead to staining or roughening of the surface.
A few tips to remember
If you intend to create your own mosaic backsplash, make sure to measure the entire surface at least twice before you purchase any materials or cut or grout anything. After measuring, make sure to also take into account the style of the tile mosaic you will be installing versus the space you have to install it, the lighting available (after all, you do want people to be able to see it!) and how much you want to spend on the project. Sometimes hiring an interior decorator can help with the planning stages, but it will add an extra expense to the project. Finally, remember to purchase extra materials in case some of your tiles are broken or scratched during installation.
A mosaic backsplash may be just what you need if you are looking for an artistic and beautiful piece to make your kitchen really stand out among the rest, just make sure to research your project before buying anything or you could be disappointed in the end.