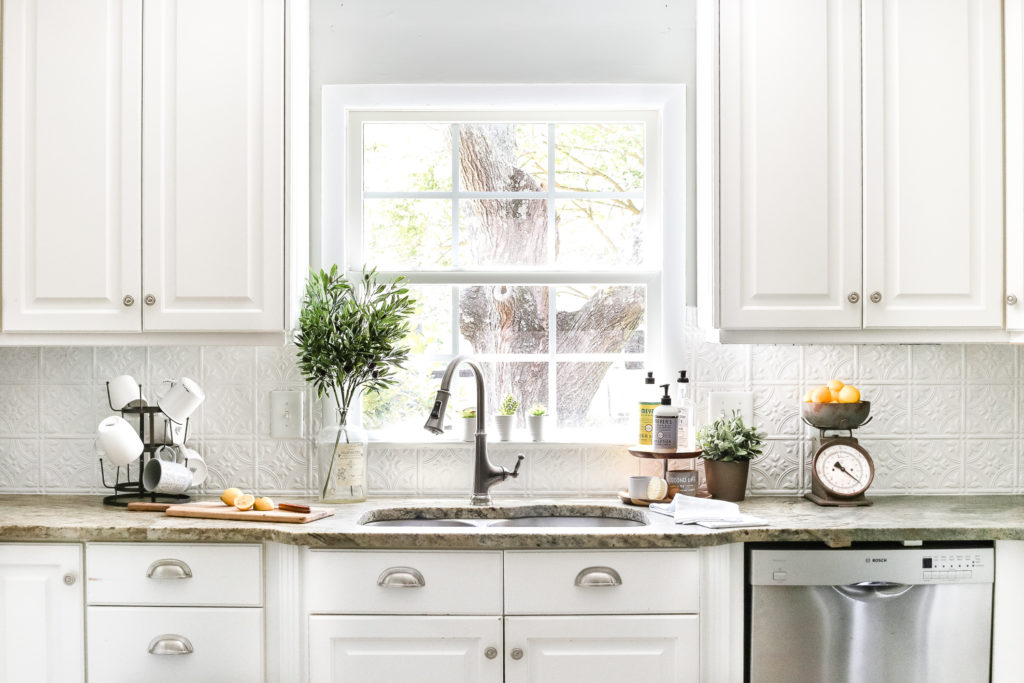 Home owners may not have any greater joy than renovating and redesigning their home. The kitchen is usually the first room in the house that goes under the microscope and is changed to suit the owners' likes and desires. After all, the kitchen is typically the busiest and most social room of the entire house!
When looking into redecorating your home, have you considered installing a backsplash? Though there are several kinds available, tin backsplashes are affordable and easy on both the eyes and the wallet. A tin backsplash is particularly attractive if you are going for the "stainless steel" look in your kitchen.
What is tin
Tin is considered to be a "semi-metal", and has been used for ages upon ages to make tools, weapons and other useful items that were needed. Tin was used even by the late stone-age metal workers to help create "bronze", which completely revolutionized human civilization back in that time.
Tin mines can be found in Turkey, Great Britain, and also in Asian countries such as China and Malaysia.
What are the benefits of having a tin backsplash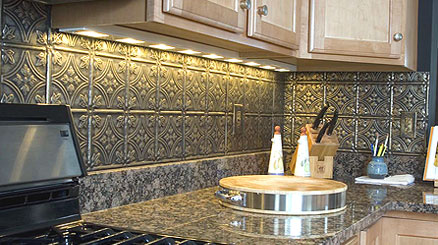 Tin backsplashes are incredibly diverse and can make your kitchen look chic and modern to rustic and country, all depending on the pattern that you choose. There are numerous designed available, and many tin backsplashes are also brushed with stains that change the color to copper or pewter, or even powder and paint colors!
One common misconception is that the tin backsplash will rust or chip. You should have no problems with this whatsoever if you are to take proper care of your tin backsplash.
How much does a tin backsplash cost
The cost of a tin backsplash is somewhat dependent on the size. You can usually find tin tiles and panels in three sizes:
6×6 inches
12×12 inches
24×24 inches
These can usually run up to $50 each, depending on the color, design, finish and the manufacturer of the tiles or panels.
If you would like to put in an entire sheet, these typically come in two sizes:
This can go anywhere from $50 to $150, based on the same variables as outlined above.
Tin backsplash buying tips
1. Make sure you pick a color and style of tin that matches your kitchen décor, so that it accents your kitchen instead of standing out from it. The colors should be vibrant enough to be noticeable but not so bright that they overwhelm the current colors of the countertops, floors, and cabinets.
2. Tin backsplash can be used for the entire wall. Or if you want a more causal appearance, you can combine the tin backsplash with tiles – ceramic tiles make a good combination.
3. You can also paint your tin if you want to, or you can leave it unfinished – it's all up to you. If you do decide to paint the backsplash, you should be aware that you need to apply bonding primer on your tin backsplash. This primer would need to be the one that is used on metals.
4. Also, when buying your tin backsplash, keep in mind that lighter shades will reflect more light on the work surfaces – such as your sink, cooking range and countertops. If you have a large and open kitchen, only then would dark colors be more apt.
How to install a tin backsplash
Installing a tin backsplash is considerably easy compared to other backsplashes (such as marble or granite). If you are a handy type of person, all you will need to do is follow the supplied instructions and have a few tools handy. Some choose to install the tin backsplash with easy, standard adhesive while others may use small brads (this will help increase the "rustic look" of your kitchen, if that is the look you are going for).
Be sure that, before installation, to put on a pair of gloves to be sure that you will not be cut by the rather sharp edges. It will also help to have another pair of hands around to help you handle it with care – tin backsplashes are very easy to dent and scratch! If your walls have any bumps, consider sanding it down beforehand; otherwise, the tin may become dented by the bump. You can also add a sheet of plywood to the existing walls to ensure a flat surface.
Don't trust yourself to be able to install your tin backsplash properly? Not a problem. There are many professionals around who you can call to help you with the installation process.
How to maintain your tin backsplash
It is important to read the manufacturer's instructions on how to keep your tin backsplash clean, as each manufacturer may have included a special sort of "treatment" that may affect the whole cleaning process. Generally, some hot water, or a neutral pH cleaner, with soap will definitely do the trick. Just be sure not to use any abrasive cleansers or cleaning products, as this will damage the finish and may lead to oxidization of the tin.