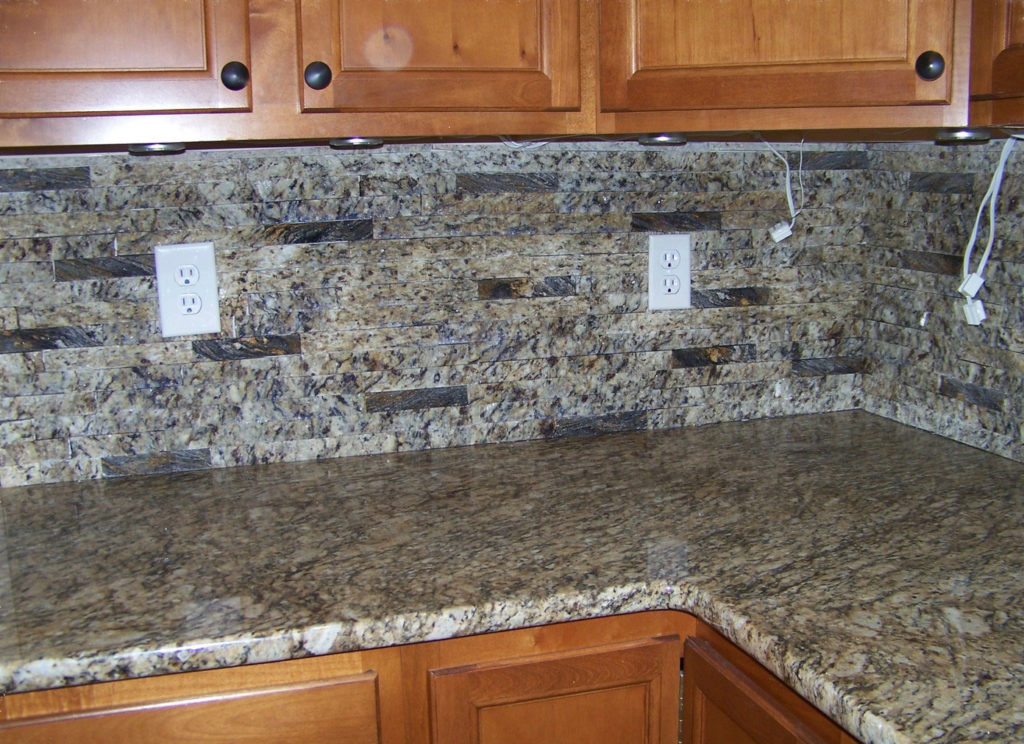 There is nothing like the feeling of pride you have when looking around at your beautiful, well put together home. Granite backsplashes are one of these elements that will bring joy and luxury to any kitchen area.
Why a granite backsplash is right for you
Anyone who has a kitchen with an attractive backsplash will immediately begin to receive comments on just how elegant and sophisticated the room looks. Granite not only gives those qualities, but it also brings a sort of warmth and earthiness to your kitchen as well.
Granite, being rock, is a very durable material (some say that only diamonds are harder than granite) so you can be sure that your granite backsplash will certainly last!
Not convinced? Consider just how easy it is to clean granite (warm water and soap – easy enough, right?). They also can be brought to an outstanding shine in no time. Granite backsplashes also:
Resist heat
Do not collect moisture
Resist scratches
Will not crack
Resists stains
Consider just how unique each granite backsplash is. No rock is the same, so the granite backsplash you install into your kitchen cannot be duplicated by anyone. You also have your choice from a number of colors: White, Reds, Blues, Greens, Browns and Black.
Due to the large color selection available, there is probably a granite backsplash that would complement your existing kitchen fixtures and designs.
How much does a granite backsplash cost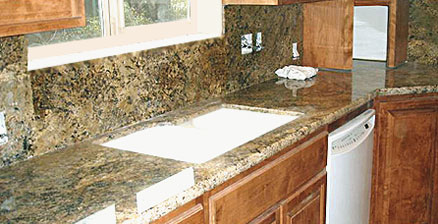 Granite backsplashes do not necessarily come cheap, often costing $50 per square foot or more plus the installation cost. But before you settle for a cheaper type of backsplash, consider how your granite backsplash will stay with you for your entire life. Consider how it also increases the value of your home. It is a great, low maintenance investment.
The price of your granite backsplash will depend on a couple of factors:
The current home fashion trends
Where the granite originates from
Color choice
Pattern choice
Size of area covered
Thickness of the slab
Can't afford $50 per square foot? What many budget conscious home owners do is purchase granite tiles rather than a large stone. These can be anywhere from about $3 upwards per square foot, which is considerably cheaper than $50. The only real difference between the two is, of course, the grouting is apparent between the tiles and around the edges. For some, however, this look may very well go with their current kitchen decor.
Granite backsplash buying tips
1. In case, you already have granite floor, you may want to choose the same granite as your backsplash (probably, a smaller size). Or maybe, if you have granite countertop, just continue the counter up the wall, with the same backsplash – making it consistent in appearance.
2. When you're buying granite tiles, ensure that you pick up a couple of extra boxes, as you might need them. Make sure to check the lot numbers, as you want to make sure that they are the same color and patterns.
3. Make sure to buy only the finest grade tile. These granite tiles are calibrated and beveled.
4. If you use large tiles, you will have less to clean as it reduces the number of grout lines.
5. You will find that polished granite is the easiest to maintain and clean.
6. If you want a casual appearance, keep a rough finish. For an elegant and chic look, go for a shiny appearance.
7. Dark shades of granite backsplash are good for large and open kitchens. For smaller kitchens, lighter shades are better.
How to install granite backsplashes
I strongly recommend that, if you are paying $50 per square foot for a backsplash, to have it installed by a professional. Professionals will know the correct adhesive, will be able to take accurate measurements and make templates that will help them in cutting the size of the granite. They will also know how to handle the granite appropriately so no cracking or breaking occurs.
If you have decided to go with granite tile backsplash, a professional will be able to arrange the tiles beforehand in such a way that they will be most attractive and as straight as possible. He or she will also apply as little grout and sealant as possible, so as to reduce the spacing between the tiles and try to give the effect of a solid slab of granite.
How to keep your granite backsplash clean
When you have a granite backsplash installed, you will receive instructions on its maintenance and care. As mentioned above, you will only need warm, soapy water to clean it every so often (be sure to avoid abrasive chemicals and cleansers, as this may erode the granite backsplash and diminish the shine). You will probably also be advised of the appropriate sealant to use. Sealing the granite will keep out moisture and other harmful elements that may damage the rock.