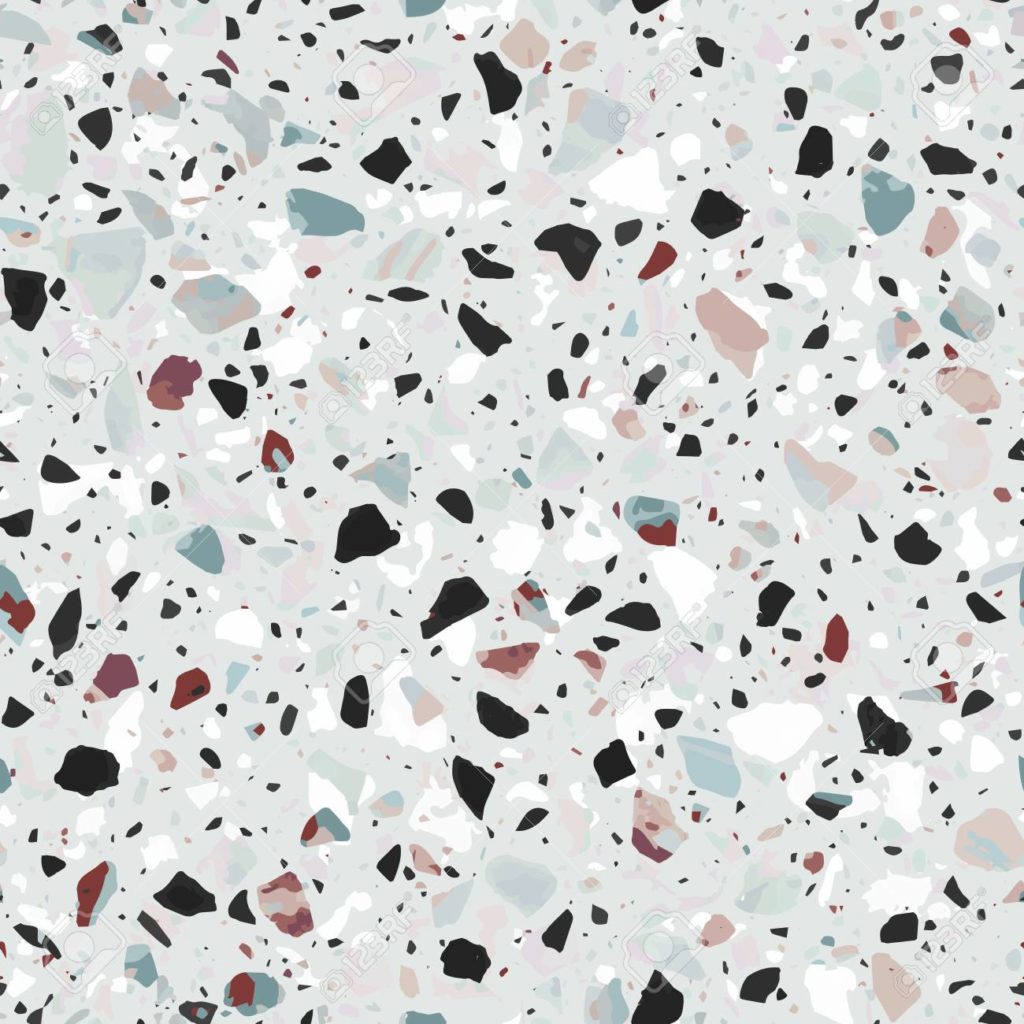 Terrazzo flooring is a conglomeration of stone, marble and glass mixed into a resinous matrix. The terrazzo is poured, left to dry completely and then ground and polished. It is typically seen on walls, stairways and floors. Terrazzo floor can be poured into a designated room and it also comes in tiles.
This beautiful mixture originated in Italy a long time ago and has gone through enough changes to make it as good a choice now as then.
Benefits of terrazzo flooring
Terrazzo flooring is very strong and easily resists damage. It resists fire and nearly always is non-slip. This is a great choice for a kitchen where wear and tear is common.
One of the significant pluses is that terrazzo floor is very low maintenance. After the designated sealer has been applied and dried, this mosaic floor is also waterproof. Cleaning calls for merely a broom and a swish of a mop.
Versatility is always appealing and terrazzo fits the bill. There are numerous versions of color, texture and finish and designs. Terrazzo flooring gives you the freedom to create intricate and multicolored designs such as graphics and a myriad of geometric shapes. It would be impossible for any two terrazzo floors to look identical.
Terrazzo flooring is especially appealing due to its being "green". Its material components are all natural, there are no volatile organic compounds (VOC's) in terrazzo and it has a great deal of recycled material. This will only become more appealing as time goes by.
This product is perfect for people with environmental allergies. Because terrazzo flooring is so hard and dense, no mold or allergens can penetrate it. It is also good for pet owners.
Limitations of terrazzo flooring
Something to keep in mind is that if you have terrazzo flooring in your kitchen and you spend a lot of time on your feet, you might want to lay rugs down in key areas of the room to soften it up for your feet and knees.
Due to the nature of the product, terrazzo flooring is very heavy. It would behoove you to get a professional to assess your home to see if its structure can withstand such substantial flooring.
Temperature can be both a problem and a blessing. During the hot months, terrazzo floor is refreshingly cool. When the weather cools it also holds the temperature. Installing radiant floor heating would make the environment perfect.
Price of terrazzo flooring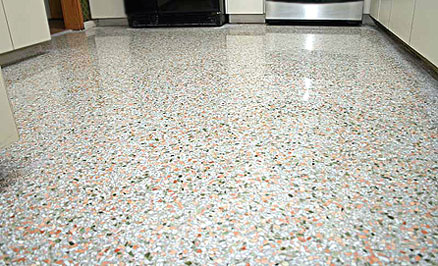 Uniqueness usually means higher costs, and this is no exception. If you decide to hire a terrazzo artisan, you will be paying for his skill, attention to detail and creativity. If you are diligent in finding a talented artist, your terrazzo floor will be a showpiece and it will give you a high return should you decide to sell your house.
If you need to stick to a budget and an artist doesn't fit into it, there are always the less expensive pre-made terrazzo tiles. The one thing you give up is the lack of design choices.
Buying tips for terrazzo flooring
You have likely been thinking often about your new terrazzo floor and you know what you like, but it doesn't hurt to ask for references and pictures of completed projects. You also might read architecture books and interior design literature to see if anything probes your imagination.
Keep in mind that large designs make your kitchen look more spacious. Your design should keep in tune with the size of the room. On the other hand, a detailed design might get lost in a lofty room.
Terrazzo flooring installation
Installing terrazzo flooring is a serious project. Not only is it labor intensive, it is bulky, heavy and requires skilled professionals to do it properly. Make certain that you check out everything about the process before you sign anything. If you must see more finished products before proceeding, then do so – it is your right and good sense.
Terrazzo flooring maintenance
Make certain that the workmen explain exactly how you are to care for your terrazzo floor.
A standby that always works well is re-sealing. It keeps the pores tightly closed so no liquid can seep through and discolor the terrazzo flooring. Once the sealing is complete, all that you will need to do is sweep when necessary and run a mop over it once.
If you should unfortunately need a repair, consult a professional. This is not for the do-it-yourself method.
If the terrazzo floor is in the kitchen, be aware of spilling acidic foods on the floor. If they are left there for any length of time, the acid in them can etch the floor.