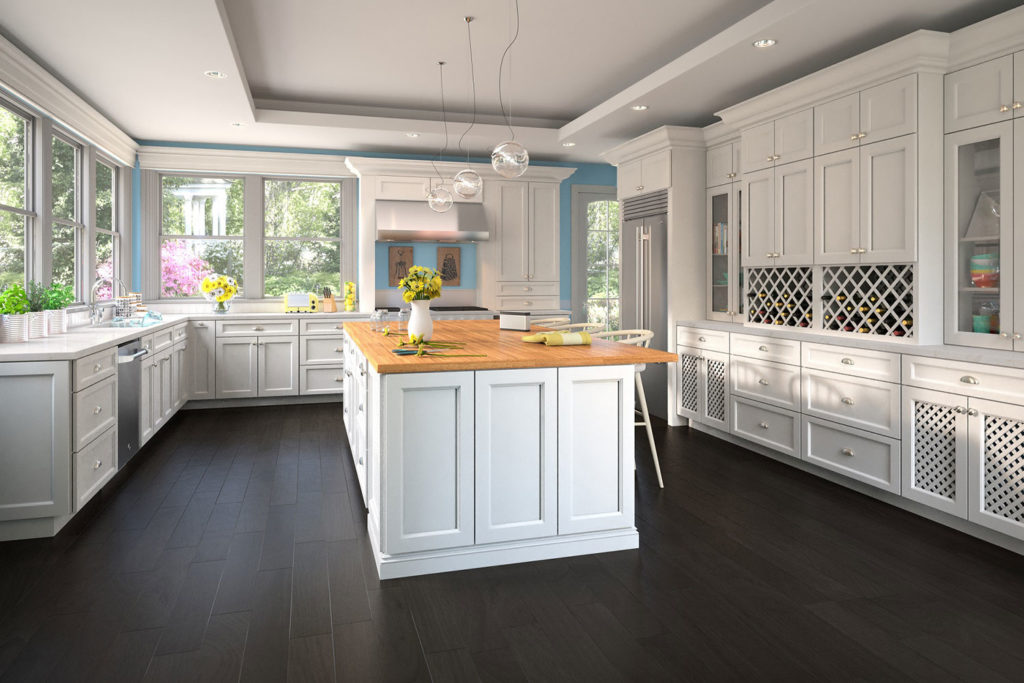 Ready to assemble or RTA kitchen cabinets are nearly always made of wood. They might be the answer to someone who would love custom cabinetry but can't quite pay for it. These RTA's save you a good deal of money as you do the assembly and hanging. The pain of paying for shipping is considerably less because the pieces fit in smaller boxes, which also don't get banged around as much in transit.
These RTA kitchen cabinets are quite simple to assemble. Everything is where it should be, and you might only need a screwdriver.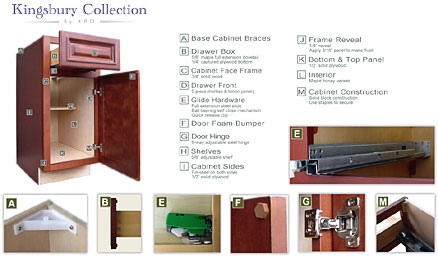 Advantages of buying RTA kitchen cabinets
RTA kitchen cabinets have a wide assortment of standard industry sizes.
RTA kitchen cabinets will almost always come with every single thing in them. This includes the knobs, clips for the shelves, frames, cabinet doors, drawers for base cabinets and cabinet boxes. Even the holes are drilled to specifications.
RTA kitchen cabinets come in a wide assortment of colors and finishes. The colors might be Honey Maple, Windsor Maple, Natural Oak, Marquise Cinnamon, Richmond, Autumn Shaker and Cherryville. These nice hardwood finishes look classic, and you don't have to take out a loan to pay for them.
Because you can do the work above, you can take pride in your work when you're done. It's very satisfying to upgrade your home.
Cost of RTA kitchen cabinets
The costs of RTA kitchen cabinets vary. This depends on several factors such as complexity and degree of completion, finish and materials. Each little thing will cost a bit more so you will want to prioritize if you don't want to pay full price. Maybe you want crown molding or extra drawers. This will cost extra. Moreover, ready to assemble kitchen cabinets with features such as expensive hardware, baskets, bins, a Lazy Susan will cost more. Maple and oak are moderately priced. Walnut and cherry will set you back some.
Buying tips for RTA kitchen cabinets
1. When you purchase your RTA kitchen cabinets, keep in mind the décor and look of your kitchen. More importantly make sure you know the exact dimensions. There is a myriad of choice when it comes to buying RTA cabinets. So whether you are looking for lighter colored ready to assemble kitchen cabinets to brighten your kitchen or a darker shade for a more traditional look, rest assured they are available.
2. You can pick up RTA kitchen cabinets in large building stores like Home Depot, IKEA, Lowe's. You want to look for the ones with solid wood frames and doors. It's OK to have plywood on the sides because plywood is strong. Dovetailing is always a plus, but it's not always done. And you might want an easy-to-assemble cam lock set-up. These are the same things you'll find in the high end cabinetry so they can handle the heat and moisture generated from cooking. MDF products with particle board and the like will not give you years of enjoyment. Try to avoid them.
3. Solid wood RTA kitchen cabinets are great because they are strong and last for many years, but they also raise the property value of your home.
4. While buying RTA kitchen cabinets, another thing that you need to consider is whether you will be opting for hardwood or softwood. It is advisable that for kitchen cabinets, you opt for hardwood. Oak, maple and other hardwoods offer longevity and durability.
5. Perhaps, the easiest to assemble cabinets are that that come with simple assembly instructions with all of the pieces in a single box.
6. If you are not comfortable or confident of installing your RTA kitchen cabinets yourself, you can always consider having the contractor install them for you.
Maintenance tips for your RTA kitchen cabinets
As with everything, follow the manufacturer's specifications on the care of your new cupboards.
Wash them with mild soap, a soft cloth and warm water. Be certain you don't leave any water on the surface or you can damage the finish.
Every now and then, it is advisable to clean your modular cabinets with a trusted furniture polish.
Abrasive chemicals or any liquids that have acetone should be avoided at all costs as it can cause excessive damage and even discolor your cabinets.