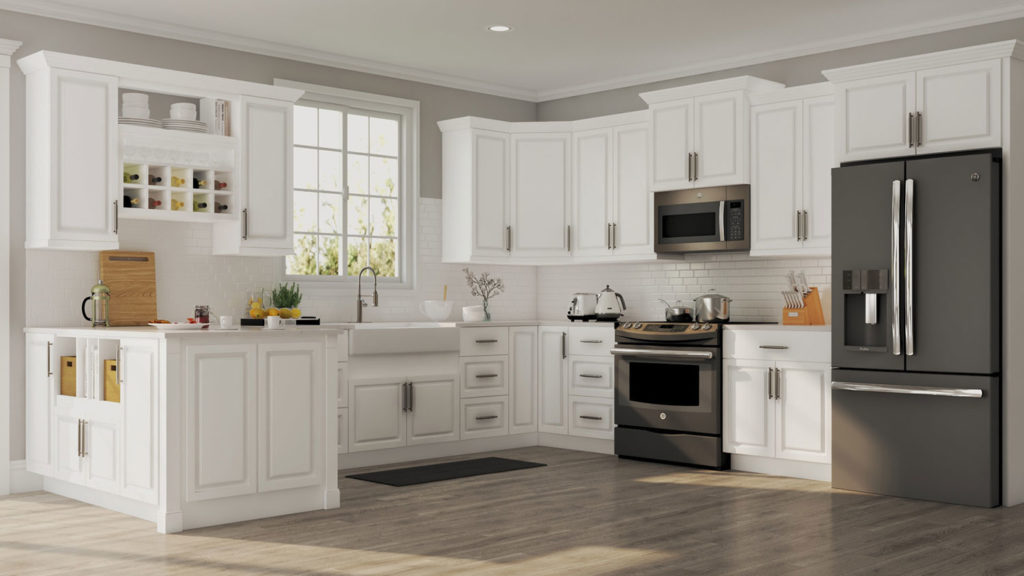 White kitchen cabinets are perhaps the preferred color when most people think of remodeling their kitchen. Right off the bat, white is a distinguishing color and it gives a nice look to your kitchen.
The style of the kitchen cabinets also complements the white color and modifications in the door style can also make a difference in the way white cabinets look. There are several styles that go together with white kitchen cabinets: French, Country, Traditional, English, Contemporary and Shaker models. Additionally, materials used for kitchen cabinets include laminate, plastic, white painted wood, vinyl foil, high gloss lacquer, white washed finish and white stain. These can be used together with your white kitchen cabinet to make a design statement and to suit your personality and style.
Advantages of using white kitchen cabinets
Using white kitchen cabinets makes choosing accessories and countertops very easy, since most accessories also come in white.
It is also easy to accent the color theme in the kitchen and surrounding areas with white kitchen cabinets.
The use of white kitchen cabinets is striking since it creates a timeless style that can stay in vogue for many years. While most other styles and colors used in kitchen cabinetry may be obsolete, this is one color that is bound to stay for a long time.
The overall feel is a very clean look that is also sleek and elegant – most people want their kitchens to look like this.
Styling with white kitchen cabinetry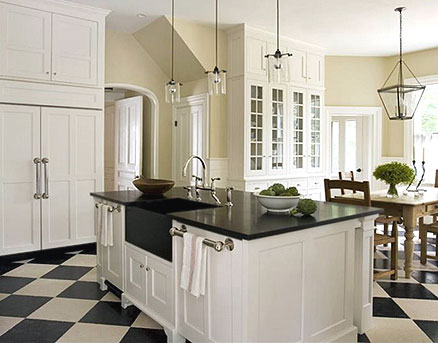 1. If you're looking for a contemporary style, you may want to add white gloss finish to your white kitchen cabinet. This gives it a sleek and modern appearance. On the other hand, using a style that has white painted wood, raised panel doors gives the impression of a more traditional kitchen. You can also create various moods and themes for your kitchen by altering the countertops and flooring to match your kitchen cabinetry.
2. A white kitchen cabinet with a traditional style can be created with wood flooring and this is a very popular style among homemakers. This gives the kitchen a very inviting feel to it and this warm design can be supplemented by other interior decorations – for example a white dining table in the kitchen, which is used for breakfast.
3. A black granite countertop adds contrast to the white kitchen cabinetry and makes a distinct statement of style. You can alter the mood of the kitchen by changing the texture of the countertop. The smoothness of the cabinets is utilized to contrast with the granite countertops. This is a look that is grand and works well together.
4. You might not have thought of this, but the color of appliances you buy are also quite important in terms of determining the feel of your kitchen. If you want a kitchen that looks very traditional, try matching white wood front panels on the front of your refrigerator and dishwasher. This will enhance the appearance of your kitchen and you can opt for black or stainless steel cooking tops, sinks, and ovens. Conversely, if you would like to create a contemporary kitchen, you would want to use appliances with colors that contrast each other, adding a dramatic feel to the kitchen.
Some people have the false notion that white kitchen cabinets require a lot of work to maintain because they are mostly found in showrooms. However, that is not true. With the kind of finishes and polishes available in the market along with synthetic wood finishes, white kitchen cabinets are just as easy to maintain as those in any other color.
White kitchen cabinets have been around for a long time – at least 20 years – and there is no sign that this style will become obsolete. In fact, you have so many options to choose from in terms of modifying your color themes in your kitchen from window treatments, countertop accessories and place mats that white kitchen cupboards are more likely to stay than disappear.
Where to buy white kitchen cabinets
The Internet is a great place to find manufacturers and supplier of white kitchen cabinets. For example, TheRTAStore.com is one of the sites offering white kitchen cabinets online (sponsored link). You should also check the Yellow Pages for cabinet makers and retailer who sell white cabinets. You can also contact wholesalers of such cabinets. The prices here are normally considerably lower than those you will find in retail outlets.
Compare quality, durability and price (including shipping charges).