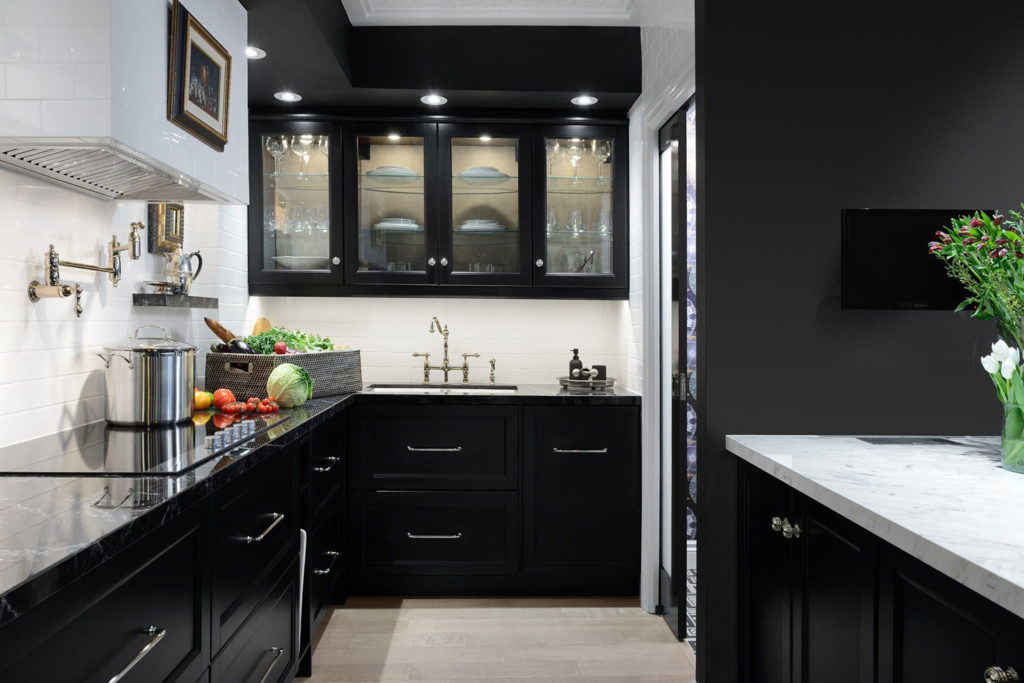 Black kitchen cabinets stand apart and offer a sophisticated look to the kitchen. Due to their stylish and rustic look, black kitchen cabinets are now the favorite of many homes. They are unique and offer a great foundation for a contemporary style.
Why black kitchen cabinets?
While people have all sorts of reasons for choosing (or not choosing) black kitchen cabinets, the most common reason for choosing them is that they blend with all types of arrangements in the kitchen. Kitchen cabinets in black can mix with steel kitchen appliances such as fridges and ovens.
What types of black kitchen cabinets are available?
There are black kitchen cabinets made of woods, stainless steel and polymer. Woods can be oak, maple, hickory and cherry. Cabinets with glass-fitted doors are also available.
There are various interiors options you will have. Black kitchen cabinets have drawers and shelves in different sizes for storage of mixer, coffeemaker, toaster and other appliances. Cabinets also have cookie sheet holders, towel racks and trashcan holders.
Black kitchen cabinets have matching handles, pulls and knobs made of steel, brass, plastic and natural stone. They add greatly to the look of the black kitchen cabinetry.
Cabinets of different length and width are available. You need to know which is suitable for your kitchen.
How to choose black kitchen cabinets?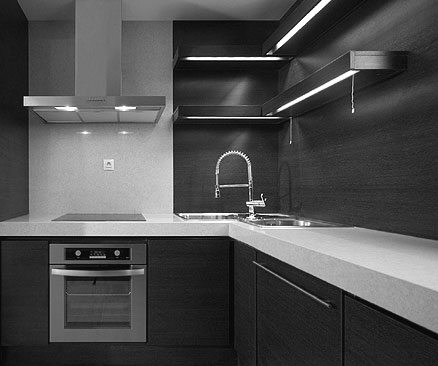 Cabinets can account for more than 50 percent of your kitchen costs and you should research your options for the best return on your investment.
1. Make a plan starting with the layout of your kitchen to cooking habit and your lifestyle. Know what accessories and appliances you want to store in your black kitchen cabinets.
2. You can take the help of an architect, a designer, on the Internet or at a store in your locality to know about your requirement of black kitchen cupboards' size to make the best use of your kitchen space.
3. Investigate on cabinet finishes such as burnishing, laminate and thermo foil. Know if they are easy to clean or not. You should also know about the repairs and what the warranty covers in your black kitchen cabinets.
4. Select black kitchen cabinets that can support heavy kitchen appliances. Go for cabinets that have drawers with dovetailed joints, as they are stronger than the drawers with stapled joints. Also opt for cabinets with doors that have mortised corners, as they are more robust than doors that have no interlocking joints.
5. Focus on the details of the black kitchen cabinets. Check hinges, drawer glides and dividers as they are vital in the user friendliness and durability of cabinets. Make sure hardware used in the cabinets work smoothly. Check the bottoms of the drawers – they should be secured enough to hold things.
6. Compare the cost of some black kitchen cabinets. The prices will differ depending on the materials and size of the cabinets.
Custom black kitchen cabinets
If you do not find suitable black kitchen cabinets of your choice, you may also ask for custom black kitchen cabinets. In case you order black cabinets of your choice, it will be designed as per your needs. But while ordering kitchen cabinets, you have to keep in mind the following things:
Kitchen layout and how you want to fix your cabinets at your home.
The materials – woods, steel or polymer, since it will influence the price very much. Wooden cabinet may cost little more than steel and polymer ones.
Cabinet accessories such as hinges, handles, pulls and knobs – they are significant parts of kitchen cabinets.
Most people believe that custom black kitchen cabinets will be very expensive, but this is not necessarily true. The cost of the cabinets will depend on what you want. Cost-effective materials can be engineered as per your requirements so that you have a custom cabinet at probably half the cost of stock cabinets.