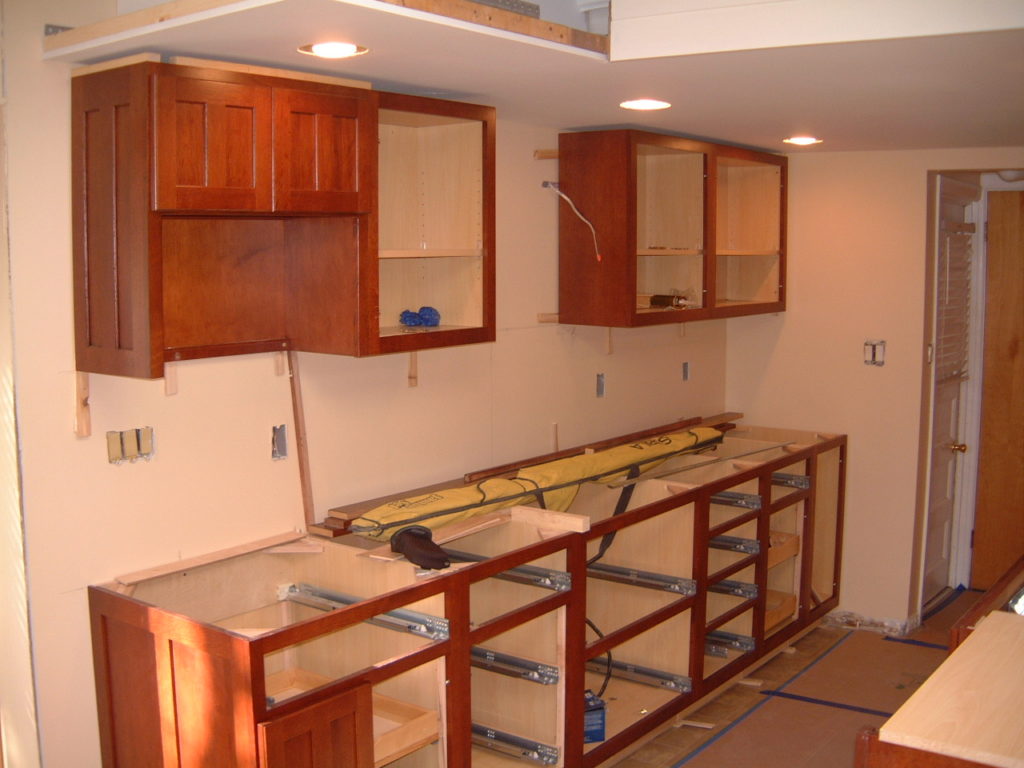 In case you're wondering about how to install kitchen cabinets by yourself, installing kitchen cabinets has become easier than ever with modular cabinet sets. Modular kitchen cabinets are, in essence, self-contained. So, all you really need is some time to hang them on your kitchen wall using some simple tools – you would also need a friend to assist you to hold the cabinets in place.
With a bit of creativity, you should be able to install your kitchen cabinets yourself, and save yourself some money doing it. You might actually enjoy the process of installing kitchen cabinets because it will give you the satisfaction that you have accomplished a magnificent task without relying on a professional.
How to install kitchen cabinets?
Getting yourself ready
Here is how you can get yourself ready:
Some of the materials and tools that are required for installing kitchen cabinets include drill along with drill bits, screwdriver, caulk, screws, countertop, new cabinets, level – either laser or carpenter type, cabinet jack, circular saw and a jigsaw.
You might also want to invest in an apron and rubber gloves to protect your clothes and your hands.
You can also use newspapers to cover the floor to prevent it from getting dirty.
You will also need to be careful while handling the kitchen cabinets so that they are not damaged in the process.
Ahead of kitchen cabinets installation
Before you go ahead and install your brand new kitchen cabinets, you need to take accurate measurements, so they fit correctly. If you don't do a good job of measuring, you're likely to end up with really bad looking kitchen cabinets. In case you're not replacing your cabinets with new ones, you can refinish and repaint them and install them back into their grooves.
When you're installing kitchen cabinets, you will want to remove all the appliances in your kitchen that take up a lot of space – for instance, your refrigerator, stove or dishwasher, etc. You will need all the space you can get to install kitchen cabinets successfully in your remodeled kitchen.
This is also a good time to give your kitchen a good clean up. Most of us usually clean our kitchens thoroughly during spring clean up and some of us don't get a chance to do even that. So, use this opportunity wisely to get rid of anything you have not used in the last year or two. It will make your kitchen more attractive and give you more storage space as well.
Putting your kitchen cabinets together
The best thing to do when installing kitchen cabinets is to read the instructions that come with your installation kit. Here are some tips:
1. Before installing kitchen cabinets you need to make sure that you put in the doors and other hardware last. You can put the doors in after the cabinets are fully placed in their appropriate positions.
2. Begin by doing the upper kitchen cabinets first. This is to lessen the chance of doing harm to your new countertops that may need to be installed along with your cabinets in case you're doing a complete remodel of your kitchen. If you do have a new countertop that needs to go in, make sure that it fits correctly before you start assembling the kitchen cabinetry.
3. Ahead of mounting them, ensure that the kitchen cabinets fit correctly in their corresponding slots. You will need a friend to hold the cabinets in place to check the correct positioning.
The actual kitchen cabinets installation itself
When all your measurements are matched up, then you can start mounting the kitchen cabinets. When installing kitchen cabinets, ensure that they are secured to the studs placed on the wall so they hang properly. Here you would need to use the stud finder and the level to ensure that everything is evenly leveled. Following that, you can finalize your installing process.
When the kitchen cabinets have been hung on the walls and leveled, you can then move your kitchen appliances back into the kitchen. If your measurements are accurate, this should look like a professional job. If not, you should see some cupboards that are misaligned. You will need to correct this by making slight adjustments, which means it will take a bit more time and effort on your part.