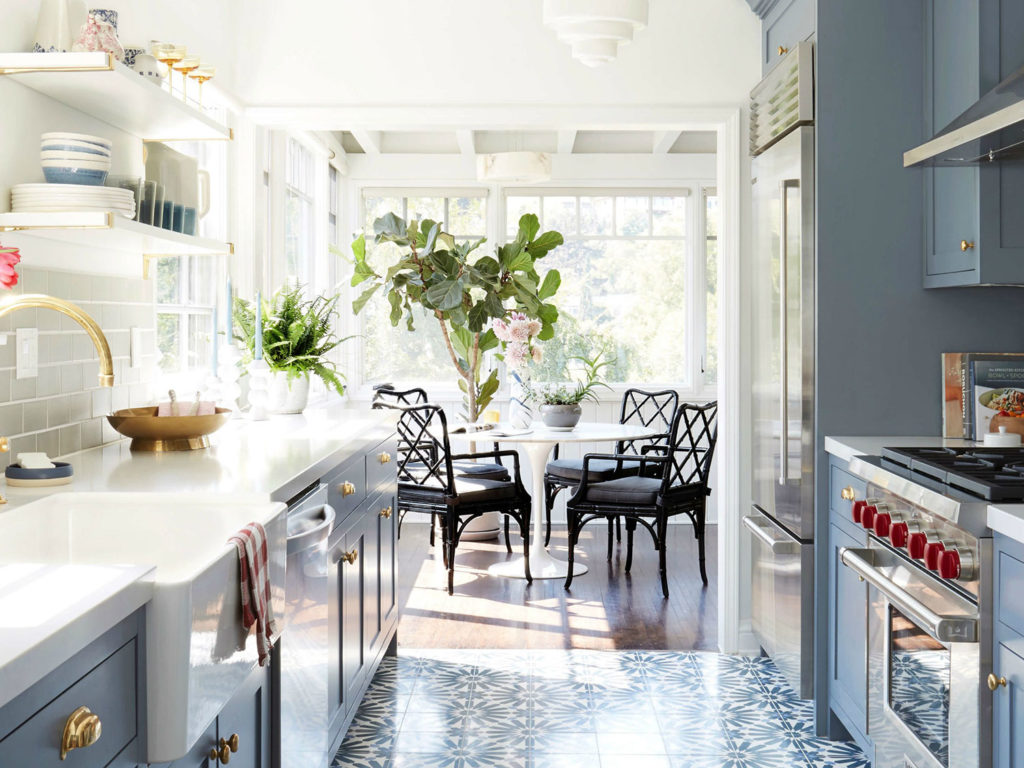 What makes a dream kitchen? Is it simply a style of kitchen that you have personally dreamed of owning for years but have never found the funds for? Is it a functional kitchen that has everything you need at the touch of a button? Or is it a nice, homely place where people gather and share the happenings of their day? The idea of a dream kitchen means something to all of us and we either have a plan of how we are going to achieve that dream kitchen, or we, at least, have a plan of what to do if we were ever to build that dream kitchen.
But have you ever really thought about it in any detail? Sometimes we get so caught up in the idea that we don't stop to think about the execution of our ideas. Read on for our 7 top tips on what you should think about and keep in mind when starting the design process for your dream kitchen.
1. What kind of chef are you?
It is important to bear in mind what type of dishes you like to make when cooking in the kitchen. This will determine the layout and the different priorities certain workbenches will have within your kitchen. For example, as a baker, you may prefer a longer counter so that you can prepare large batches of dough without having to move a lot of things around. Taking into account your cooking style and how you work should give you a good idea of the layout of your kitchen.
2. A professional eye
There may be some instances where we simply cannot picture our perfect kitchen. We don't know what will work with space, we don't know how to make the best use of the light available or we have no idea where to start when planning a kitchen. On these occasions it is a good idea to get in touch with a professional interior designer or renovator, to see what input they may have about your available space.
Remember that while they have experience in designing and implementing state of the art solutions, you also need to be able to feel comfortable in the kitchen. So going for something you would never have normally chosen just because it is recommended isn't a good option. Follow your heart and take into account the advice given, but don't take it as gospel.
3. Space for socializing
If you are a sociable person, or if you have a large family, you will want to provide space for socializing. The modernization of the kitchen has seen it wheedle its way into our social group quite nicely and people can easily chat while cooking a meal at the same time. If you don't want to be slaving away all day in a separate room with nobody to talk to, you will want to save some space for a seating area so that you can be sociable with your guests.
4. Where is your dining room?
If your dining room is on the other side of the house, you might want to rethink the structure of your kitchen. You want to create a kitchen that is easily traversable in order to prevent spills from occurring when transferring your dishes to the dining room. Every little helps when you are organizing a full three-course meal for business associates at your home! Then again not everyone has a dining room, so this might be a non-issue in your household.
5. Designing for longevity
Gimmick and gadget kitchens will only do so well, so if you're really looking for a kitchen that is worth the money, go for longevity. Choose designs that are well known for their timeless allure and see whether or not those designs will still look as good in five and even ten years' time. If you can afford to spend the extra money in order to avoid having to renovate the kitchen again in a couple of years, certainly go for it. It will save you a lot of time, effort and money in the long run. Plus then you'll have a beautiful kitchen you can enjoy for far longer.
6. Making room for the future
It has been predicted that in the very near future we will be able to charge phones, music players, tablets and other handheld devices through wireless sensors on kitchen counters. Smart 'homes' are now in the works, with ovens that can be switched on or off through text message, or steamers that can be programmed to cook the meal just right. It is important that you leave room for the future of kitchen design when planning your own kitchen. Try not to make everything too set in stone, as something that works well now might now work so well in the future. If you leave space for improvements, then you don't have to worry about re-working everything to fit in the newest appliance when it comes around.
7. Small changes; big differences
Sometimes a kitchen redesign can occur with something as little as a change in the color palette of a room. If you step back and think about what can be changed about your current kitchen design, instead of potentially scrapping the whole thing, you might see a few small changes that could mean a big difference. For example, if there are no natural sources of light within your kitchen, switching to high-powered light bulbs will really help to brighten things up. A few carefully placed lamps underneath your cabinetry will help to light up your counter top space, and that is just what lighting can do. Look at what you have and set about making small changes to see the effect it has.
We all have a different thing in mind when it comes to our dream kitchen and for some people, those dreams are closer to reality. However, it is possible to create your dream kitchen if you combine a good knowledge of space with longevity. It may seem a bit expensive as it stands but in the long run, you will be glad that you spent the extra money in order to have a kitchen that is beautiful and built to last.
Article provided by Mike James, an independent content writer working together with Kent-based kitchen specialist David Haugh, who were consulted over this post.