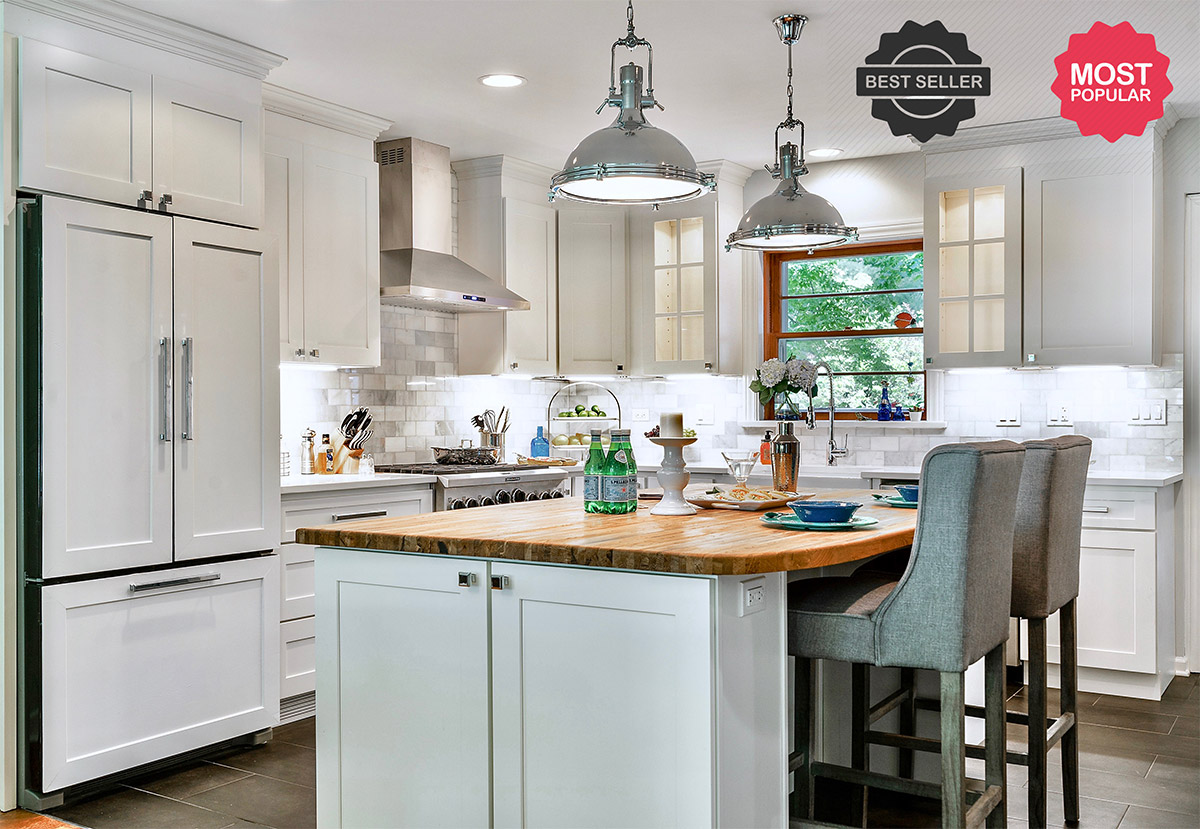 Shaker kitchens were originally conceived in the 1700's and are one of the most popular kitchen designs available today. They have endured for their simplicity and flexibility and thus, having been around for such a long time, have developed a varied range of styles, from traditional country and rustic farmhouse to classic period townhouse kitchens. Currently shaker kitchens are taking on a new contemporary edge. But how do you achieve that gorgeous magazine modern shaker kitchen look in your own home? We are going to take you through five ideas for creating an on-trend contemporary shaker kitchen.
A practical and modern kitchen island
If you are starting your kitchen design from scratch, consider incorporating a kitchen island. They have become incredibly popular in recent years, not least because of the host of practical benefits they offer, and while they can look gorgeous traditionally styled, they can also look fantastically modern too. The kitchen island makes a stunning centrepiece and broadens your options when it comes to designing your kitchen. Elevate your island with a luxurious natural stone worktop or a fantastic two-tone colour scheme. Kitchen islands are a great location for casual dining. This informal concept epitomises modern living and the option for accessorising with trendy bar stools will give a fantastic contemporary edge to your shaker style kitchen.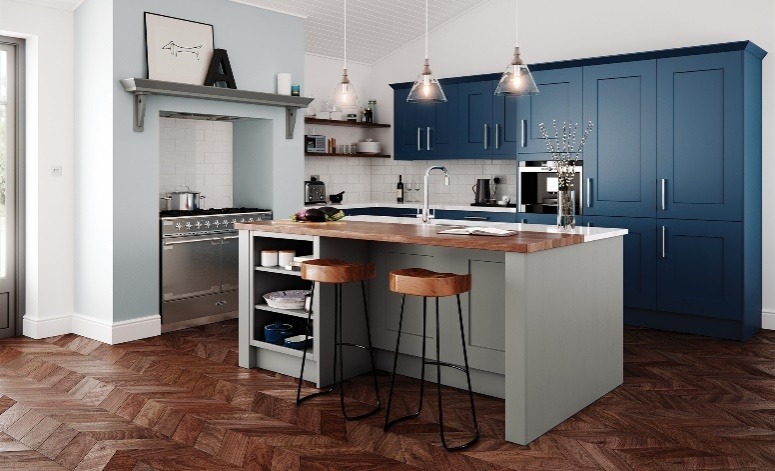 On-trend finishing touches
Alternatively, if you are updating your already existing shaker kitchen and you want to give your space a fresh and on-trend new look, there are some simple features that will transform your kitchen. It's certainly true that the devil is in the detail, and more often than not it's these little details and finishing touches that really set the tone of your space. Consider creating a bold contrast with ultra-modern, sleek metallic handles. Gold and brass work stunningly with any cabinet colour whilst a copper finish looks great paired with a dark green or navy blue scheme. Match the finish of your fittings with a stylish contemporary tap for a cohesive and contemporary look. If metallics aren't your thing, consider bringing an industrial edge to your design with cool black handles and taps, this looks great in a monochromatic kitchen with white or grey cabinetry. Giving your shaker style kitchen an urban vibe will make for a truly unique and stylish space.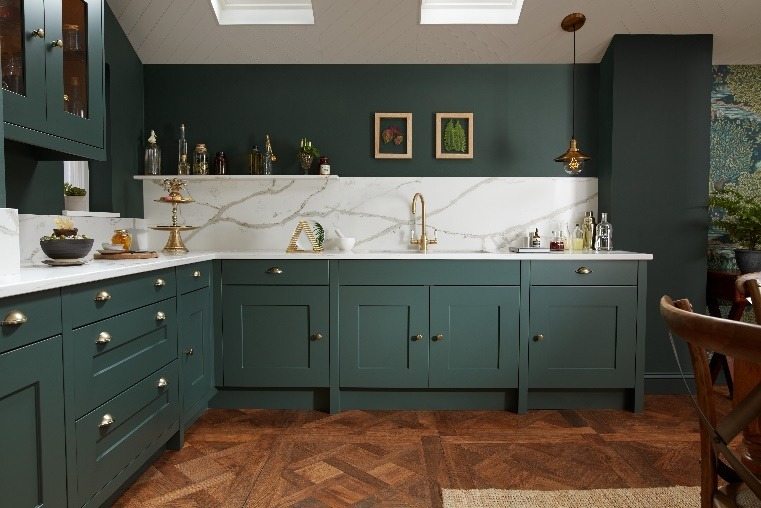 The all-important colour scheme
Of course, at the top of everyone's list of things to consider when choosing a new kitchen is the colour scheme. When looking to create a contemporary style you have the freedom to be as adventurous or as subtle as you like. Dark forest green is on-trend in 2020 and navy blue was hugely popular in 2019, these rich hues can create a dramatic impact for a stylish and sophisticated kitchen. Alternatively, more neutral and pale shades such as cream, grey and dusky pinks can be accessorised beautifully for an understated and luxurious contemporary feel. Vibrant or pastel colour accents can create a quirky and characterful design which looks wonderful alongside retro appliances for a playful modern twist on a shaker style. Don't be afraid to experiment with colour and opt for something that communicates your individual taste.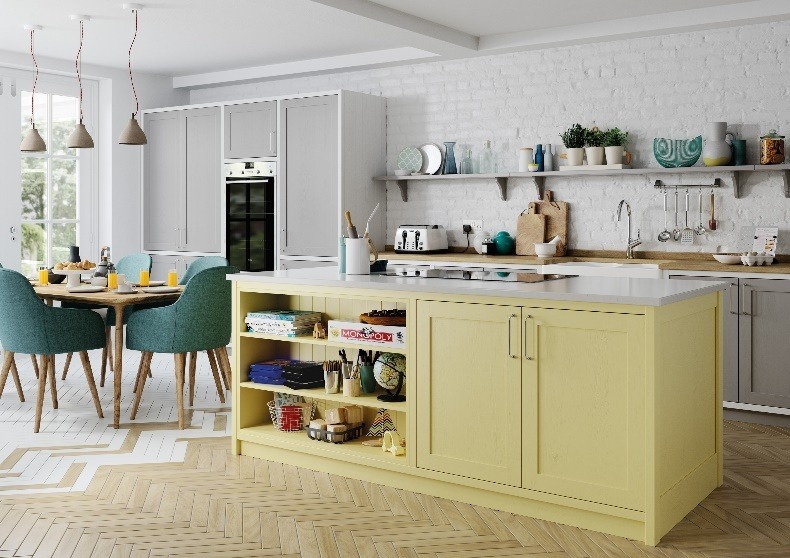 Stylish tiling
A fantastic and simple way to transform your shaker kitchen design is with stylish contemporary tiling. While metro tiles actually originate from the Edwardian era, they can bring an up-to-date and fashionable look when used effectively. For a modern twist we recommend exploring a range of beautiful colours and laying them in a decorative or vertical pattern. Take a look at the latest flat matt metro tiles for a gorgeous innovative take on the traditional style. For a more detailed design consider beautiful geometric shaped or mosaic patterned tiles. Choosing a fabulous finish for your splashbacks is a superb way to add personality to your design.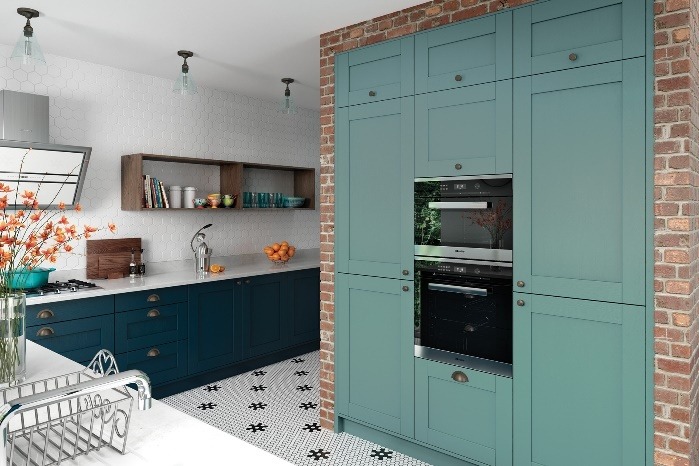 Perfect pendant lights
And now, for the final finishing touch, lights please! Lighting is something we often overlook, particularly in a kitchen, where choosing the right type and correct positioning can seem like a minefield. However, experimenting with contemporary lighting styles can add another dimension to your kitchen design. There are a huge range of stylish modern pendant lights to choose from, whether you opt for an exposed bulb to create an industrial vibe or a sleek ceramic design for a Scandi twist, there's a beautiful pendant light style to suit every taste. Pendant lights look fantastic positioned over a kitchen island or dining area. If your kitchen doesn't feature either of these elements, consider quirky wall mounted lights above your sink area or worktops. Getting creative with lighting fixtures is a fantastic way to accessorise and elevate your contemporary shaker design.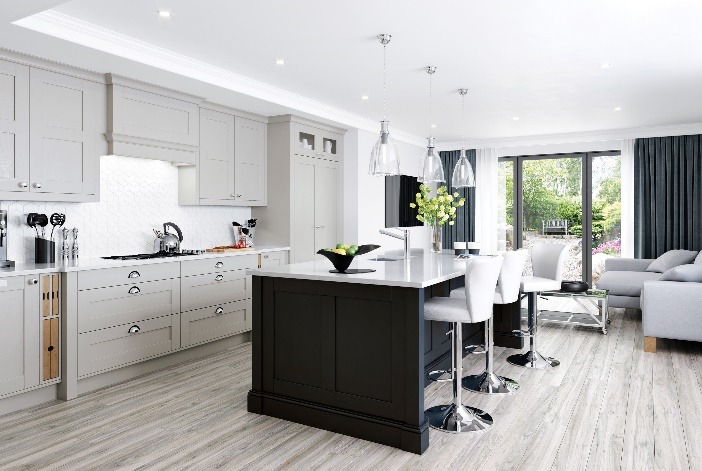 Shaker kitchens are a perfect canvas for experimenting with colour and accessories to create a stunning and unique look. With a brilliant range of ideas at your fingertips, you should be able to enjoy getting to grips with creating a fabulous contemporary shaker kitchen to suit your individual style. Hopefully these suggestions have given you the inspiration you need to get started crafting your bespoke kitchen design.
To find out more about how we can help design your dream kitchen, contact Ream Interiors today.