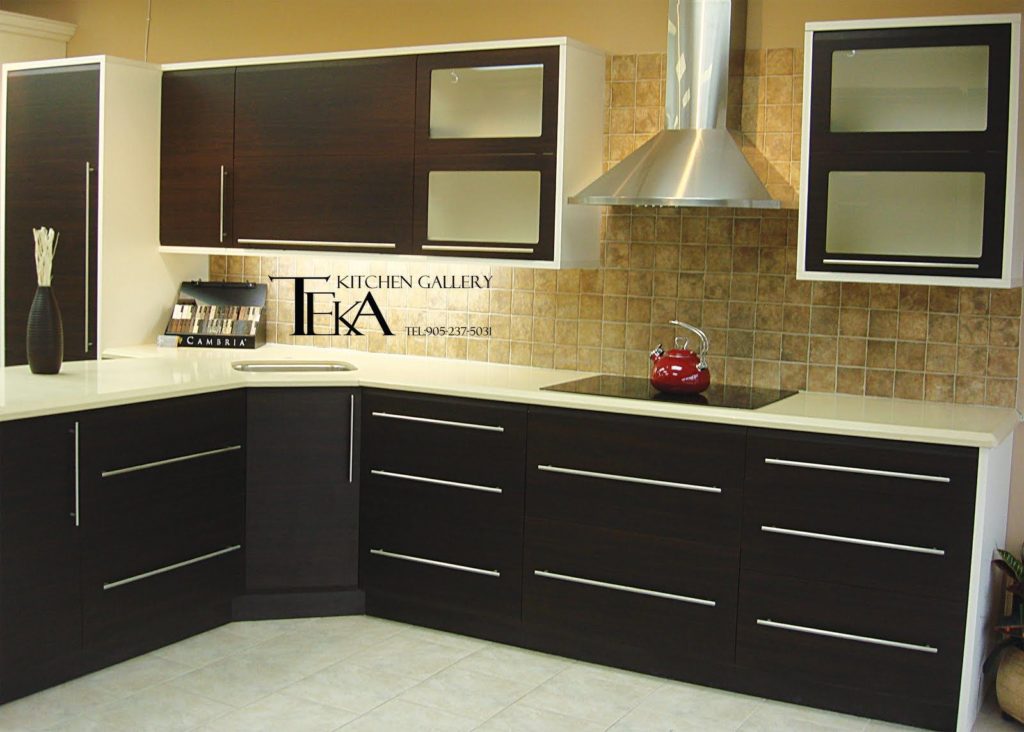 The design of your kitchen cabinets dictates both how much and what kind of storage space you will have as well as how your kitchen will look.
There are a huge variety of kitchen cabinet designs to choose from and the things you need to keep in mind when making your selection are:
Efficient utilization of space, both in the layout of the cabinets as well as in regard to their storage capacity.
Durability.
The type of wood, the color and the appearance of the cabinets.
Does the hardware – the handles and pulls etc. match the rest of your kitchen?
You will be spending a lot of time in the kitchen and the right kind of cabinets can make it a warm attractive place that invites you in.
Before you start remodeling, have a budget in mind.
Kitchen cabinet types
There are three basic types of cabinets to choose from.
Stock cabinets
These are built in standardized sizes and shapes. Since no changes or modifications are possible, take measurements carefully to ensure that what you buy fits in your kitchen.
Only a limited number of style and color option are available.
Since the choices are limited, inspecting and comparing what is available is easy.
You can save money by buying unfinished cabinets and finishing them yourself.
Semi custom cabinets
This type provides a greater range of designs and finishes.
Cabinets using the standard designs can made to order in the sizes you want.
Build quality is normally better than with stock cabinets.
These are the most popular type of kitchen cabinets, although they are more expensive than the stock ones.
Custom cabinets
These are designed and built specifically for your kitchen.
You have an unlimited choice of designs, colors and finishes.
The interior can be made specifically for your requirements to store exactly what you want.
The type and quality of the wood and materials used depends on the buyer's preferences.
This is the best option when matching new cabinets to preexisting ones or when unusual spaces make stock or semi custom cabinets unviable.
These are the most expensive types of kitchen cabinets.
Kitchen cabinet construction and materials
Kitchen cabinets are made in 2 ways:
What is called face frame construction involved using a front facing frame. This allows for flexibility in the design but the frame reduces interior space.
Frameless construction requires no frame and so greater interior space is available. This type of kitchen cabinet is more suitable for contemporary looking kitchens.
Wood is the material of choice for kitchen cabinets and various types of wood including pine, hickory, cherry, birch, oak and maple, to name a few, are often used. The type of wood is important not just for appearance but also for durability. Woods like hickory and oak are hard and heavy, while pine is lighter and softer and so more prone to scratches and dents. Most cabinets are made from a combination of woods and also often use plywood and particle board.
Kitchen cabinet hardware
Hardware is a small component of the cabinets but the type and finish of the handles and pulls used will affect the final appearance of the cabinets. The hardware you choose should not only enhance the appeal of the cabinets, but also fit in with the rest of the kitchen décor.
Kitchen cabinet design ideas
Define the style you want. For example:
Do you want raised panel doors for a traditional look?
Or would using knotty pine and less detail for a rustic look be better?
Would slab panel doors for a contemporary look be the best?
Other things to keep in mind while choosing kitchen cabinets are:
Look through design magazines and visit furniture stores to get ideas. You could even try using kitchen cabinet design software.
Measure the cabinet areas carefully. A sketch of the whole kitchen showing where all the plumbing, appliances, doors and windows are will give you a good perspective what the final appearance will be.
Generally, cabinets should match the floor or wall color.
Lighter colors create a more open impression.
Glass doors will create a feeling of depth.
Open shelves can be used to store attractive crockery or cookbooks.
For difficult to reach cabinets, think of Lazy Susans, roll out drawers, pull down shelves, removable wire baskets etc.