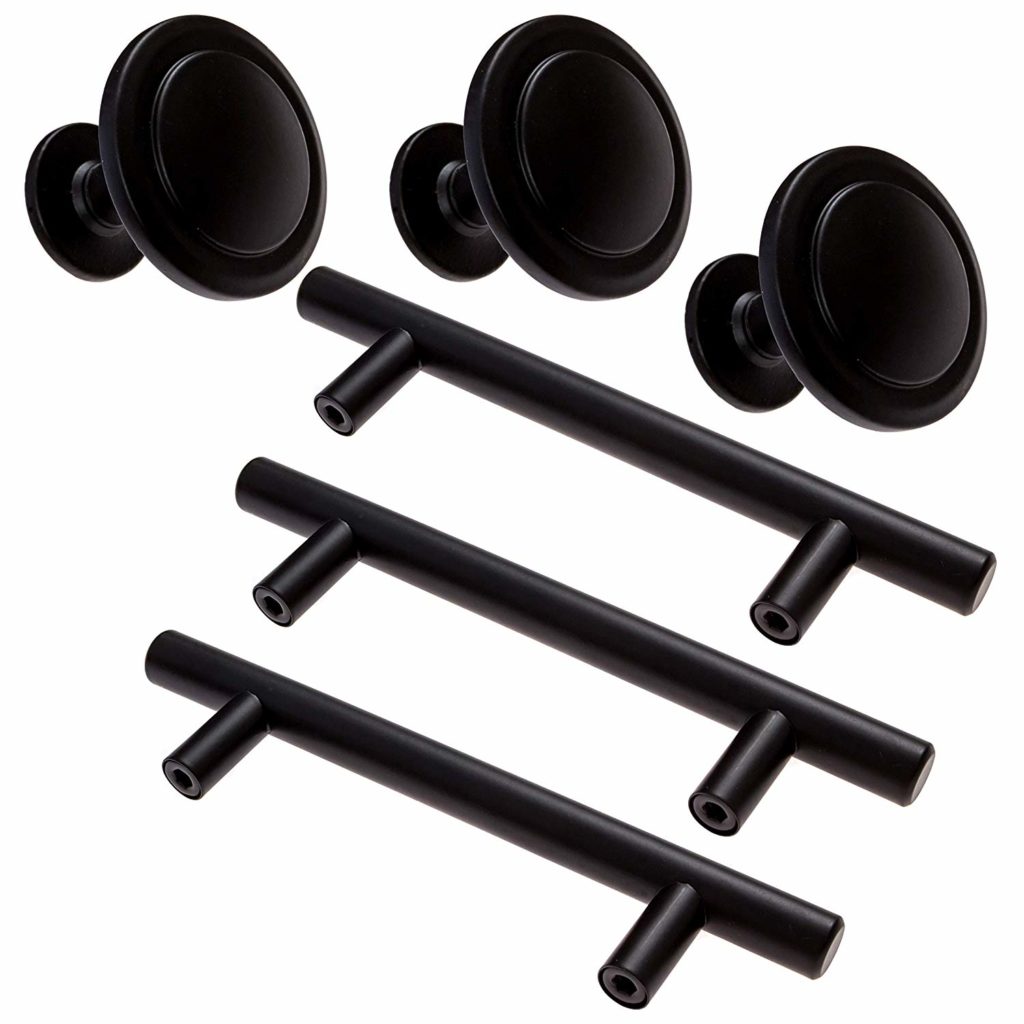 Hardware options
Giving your kitchen a new look need not be a big job involving remodeling or buying new cabinets. Just changing your kitchen cabinet hardware (sponsored link) can change the whole look of your cabinets. The hardware may be but a small part of the total cabinets, but they are the components that give the cabinets' character and individuality.
Changing kitchen cabinet hardware is not a time consuming job. Depending on the number of cabinets, it can take a few hours to, normally, a day at the most. In most cases, it is a simple DIY job.
The first thing to do is find designs that compliment the cabinetry that you have. Besides antique, traditional and contemporary designs, newer options like knobs in the shape of cars, fruit, animals, besides all kinds of geometric designs are available. Along the array of design options, a wide range of materials is also available – brass (both antique and oil rubbed), iron, copper, matte chrome, steel, brushed nickel, aluminum, plastic, glass and ceramic are just some of the options before you. When buying hardware, ensure that the designs and materials complement each other.
And remember that the new hardware should not just match your cabinets but your kitchen as a whole. Keep in mind that it is not just how the hardware looks that is important, but how it will look in the context of your kitchen. Here are 5 tips to guide you:
Do not use shiny metal fitting with grained wood cabinets as the wood and metal will clash.
Farmhouse and French country style kitchens are ideal places to use copper and ceramic fittings.
If your kitchen is modern in design, stainless steel or other high gloss fittings may add to the atmosphere.
Look beyond just matching the new hardware to the cabinets. If the faucets and other metal work in the kitchen are in bronze, aluminum fittings may seem out of place.
A basic rule of the thumb is that dark hardware goes best with light finishes and vice versa.
Hardware types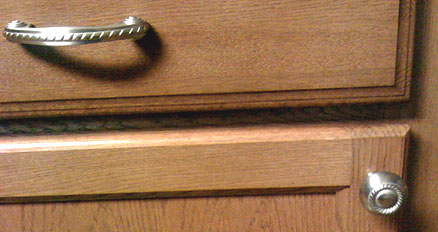 The various types of kitchen cabinet hardware are:
1. Knobs – These are mounted to the doors and drawers with a single screw.
2. Pulls – These serve the same function as knobs but being bigger have multi screw fittings. Being larger they have more visual impact. Combining knobs and pulls is a good idea – one type for the doors and one for the drawers. Just ensure that the styles match.
3. Drawer slides – These are the railing on which the drawer is mounted and slides to open and close.
4. Latches and catches – These are what keep the doors firmly closed. A variety of options like spring loaded, magnetic etc. are available.
5. Hinges – These are a critical item because the type you use will be dependant on the type of cabinet design you have.
Face frame cabinets are those that have a front facing frame that makes the opening smaller the overall cabinet size suggests. Here you will be able to see the hinges and so appearance is important.
Cabinets in the European style are frameless with hidden hinges, so the appearance of the hinges is not of consequence.
Hinges of the wrong size or those badly fitted can result in sagging doors.
This is one area you should get expert advice.
Hardware buying tips
Before going to buy your new kitchen cabinet hardware (sponsored link), take accurate measurements of everything. Note down all the sizes and the location and spacing of the screws. Besides the hassles of having to return hardware of the wrong size, it is better to avoid doing additional drilling to fit items that do not match your previous mountings. If you are buying from a shop, rather than online, why not take along some samples of your old hardware for comparison purposes?
Your original hardware, or the new designs you love, may be of unusual shapes and sizes so fitting the new items using the original holes may not be possible. The solution is to use a back plate. As the name suggests, this is a metal place that fits between the wooden surface and the knob or pull that is to be mounted. Back plates, besides covering up holes from previous fittings and marks that may be left on the wood surface, allow you to use any kind of knobs and pulls without worrying about what was used previously.