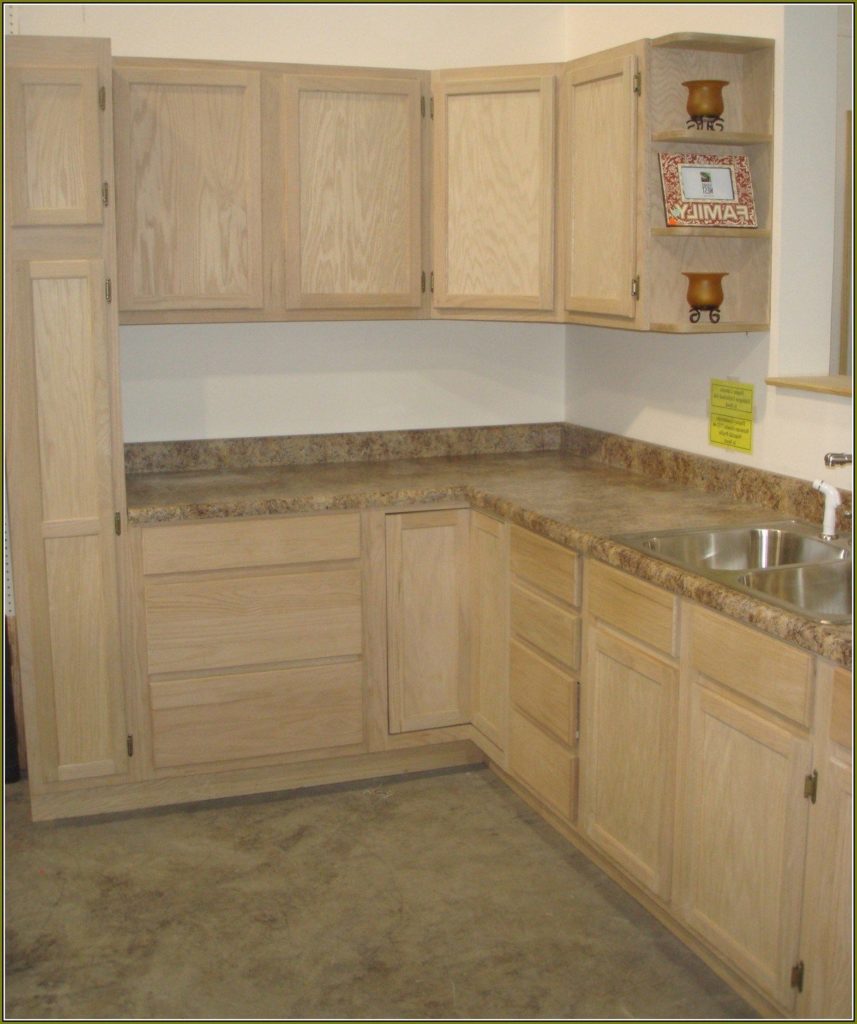 Why unfinished kitchen cabinets?
Many people are scared of going in for unfinished kitchen cabinets because they feel that these will be second rate goods. In fact just the opposite is true. Unfinished does not refer to the quality in any way – it refers to the final part of the production process, painting and staining, not having been completed. A secret many do not know is that crooked manufacturers often cover up inferior wood or lumber with defects by paint, polish and stain. In the case of the unfinished wooden cabinet, there is no way to hide the type and quality of the wood being used and so the manufacturers have to use top quality defect free wood because the customer will be able to clearly see what he is paying for. In fact, unfinished kitchen cabinets are often made of the best wood available within a specific price range.
If you are remodeling your kitchen and are a DIY type, unfinished cabinets can save you a lot of money. If you are on a tight budget, the saving may be saved by choosing cabinets made from non premium wood types if you plan to paint or stain them. The look does not suffer since wood like beach or oak can be stained to look like expensive cherry or mahogany. If you can install the cabinets yourself, you are looking at even bigger savings in terms of labor costs.
Unfinished cabinets give you the option of getting exactly the look you want. You can paint them, stain them or just give a clear coat to leave the unfinished look. Clear lacquer or a light maple stain will give a light feel. For a darker finish you can go in for a walnut stain or a dark paint. A good point to keep in mind is that lighter shades make a small kitchen look more open and dark colors add character to a larger kitchen.
Unfinished kitchen cabinet types
There are two types of unfinished cabinets:
The face frame design has a front facing frame that reduces the interior size of the cabinet. They come in attractive designs but you will be sacrificing space you may need to fit in large utensils.
Frameless cabinets do not have a front frame and therefore have more interior space. These look best in kitchens with a more contemporary design.
If you are replacing only some of your cabinets, you will, of course, have to ensure that the new cabinets match the old ones.
Different woods are used in making unfinished kitchen cabinets – mahogany, pine, hickory, maple, cherry and oak are common. The various types of wood all have different qualities you will need to keep in mind when selecting unfinished kitchen cabinets. Not all woods absorb stain equally. The original color and the hardness of the wood determine what the final shade of the stain will be. Remember that once a wood is stained in a dark color, changing it to a light shade is not easy. A safe option is to get some samples of the wood you want and stain them to see what the final effect will be and once you are sure of the shade, go ahead.
Unfinished kitchen cabinets are also made of particle board and plywood, both of which have their own advantages and problems. Make sure you know what you are buying before spending the money.
How and where to buy unfinished kitchen cabinets
Take detailed measurements of your kitchen. Make a diagram that shows the location of the cabinets, appliances, windows, wall sockets and plumbing fixtures so you know the size of the cabinets that will fit in your kitchen and where they will go. Study your storage needs and know what kind of cabinet interiors you need in terms of drawers, shelves and racks. If you are not confident of being able to do this yourself, get expert help in both doing the measurements and making the diagram. This will help not only with buying the cabinets, but also other fittings and appliances you may need.
The Internet is a great place to find manufacturers and supplier of unfinished kitchen cabinets. You should also check the Yellow Pages for cabinet makers and retailer who sell unfinished cabinets. Compare quality, durability and price (including shipping charges).
You can also contact wholesalers of unfinished kitchen cabinets. The prices here are normally considerably lower than those you will find in retail outlets.