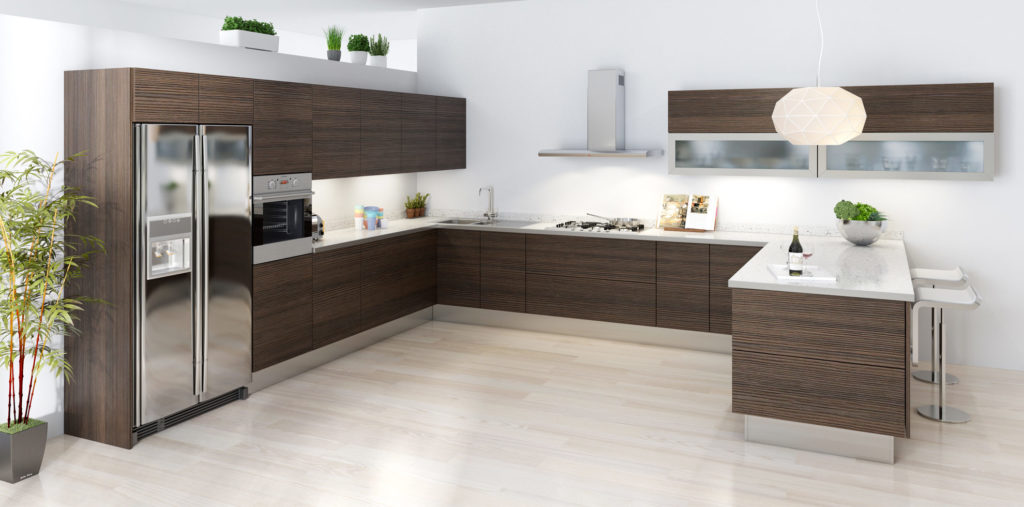 Whether you are seeking professional contracting services or doing the kitchen remodeling yourself, you need to have access to as many kitchen design style look books. These will help inspire homeowners and help them have a clear idea of what they want to achieve in their kitchen as far as looks and materials are concerned.
However, this year gave way to the emergence of transitional designs which are basically characterized by a successful mix of traditional and contemporary. Some people think that since it is a mix of certain design styles that they could toss in just about anything and get away with it. Like marriage, it is much more complicated than that. I mean, how do you succeed at combining two completely different elements in one space? Will it be too busy? Won't one overpower the other? How do you achieve balance? These are just some of the questions that many homeowners, as well as designers, are faced with when dealing with this new design trend. And the million-dollar question is, how do you make this work?
The good news in designing YOUR home is that there are no rules. At the end of the day, you can choose any style you want. As long as it meets your functional requirement and the design elements do not give you a headache, everything's fine. It is your home and having a kitchen that works to your advantage is the only thing that matters. So enough with the pep talk! Let's get down to business. To all you homeowners who want to amplify their kitchen style a notch, here are some ideas that you might want to dabble on:
1. Identify what you like about the two opposing styles and make sure you achieve these when you remodel your kitchen.
Contemporary styles are popular especially in small spaces. It is because they are simple, organized, uncluttered, and at the same time, sophisticated-looking. Traditional designs, on the other hand, imbibe a laid-back, comfortable feel that everybody needs after a long-day's work. Transitional kitchens marry these two elements together in a balanced, harmonious manner. This design style provides homeowners with a certain degree of flexibility that is an advantage especially if you prefer both styles or if you are one that gets bored easily.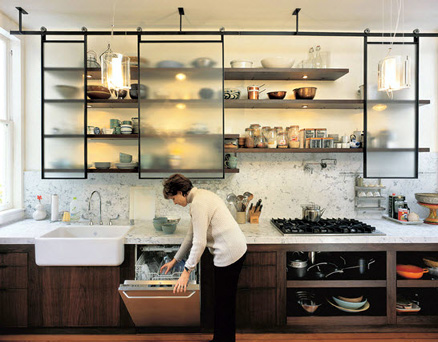 2. Choose one dominant style.
When we say mixing two different design concepts, we do not mean that the room should look half and half. You need to decide which of the two styles you prefer over the other and make it the dominant concept. For example, if you want the traditional feel of a country kitchen, which is considered one of the most popular traditional design concepts out there, retain the textured wood or concrete floor, as well as the maple kitchen cabinets. You can incorporate modern accents such as stainless steel faucets and appliances or choose a décor that you can use as a focal point of your kitchen. Just make sure that colors and styles are unified so that they do not look too busy.
Here, you will see that orange, which represents modernism, is the dominant color in this kitchen. The lighting, wall tile colors, refrigerator, and ergonomic metal-and-plastic swivel bar stools pop out amidst light-colored beams and laminate floors. The cacti provides "just enough" splash of color contrast against the rustic, white iron window.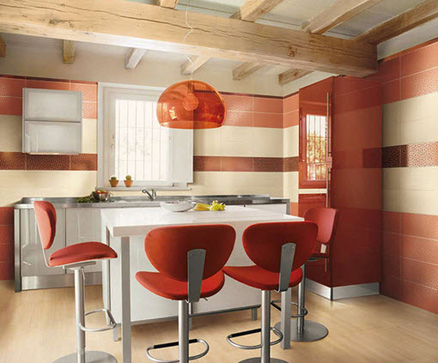 3. Choose oversized furniture and mix it with an all-white background.
An oversized butcher block countertop, antique dining table, and wooden chairs have a rustic feel. Surprisingly, they work well against an all-white background of cabinets, walls and floors. Instead of choosing chrome or stainless, choose brass or antique fixtures. Here, you can make your room look bigger and make it appear "sterile" but still achieve that comfortable feel the rustic furniture brings to your kitchen.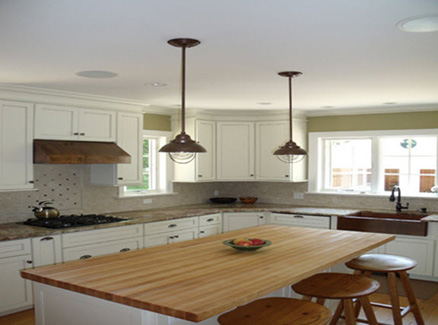 4. Balance stainless steel and bright-colored walls with textured wood cabinets and brick accents.
Here, you have a bright-colored wall mixed with a brick accent for contrast. The dark-colored, textured cabinetry against smooth, stainless steel countertops, fixtures, and appliances are superb. It is like walking in a Hansel and Gretel kitchen infused with a modern furnishing. It is a nice balance of the old and the new.
5. Mix salvaged beams, textured wood floors with modern lighting and appliances.
Industrial-style lighting and modern metal appliances add the perfect contrast to a kitchen which is heavy on wood finishes, such as the western lodge beams and the wooden floors and cabinetry.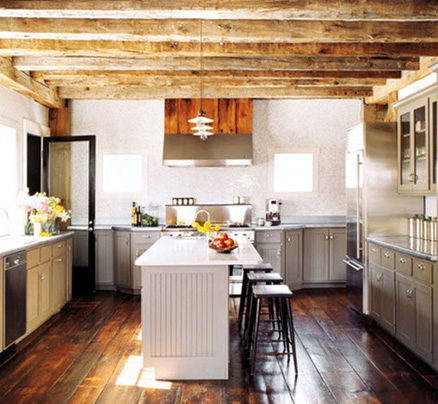 6. Mix colored and textured fabrics with modern lighting components.
This display kitchen shows off appliances, uniform-colored dishes aligned neatly in symmetrically partitioned shelves. Incorporate fabrics in the similar color scheme as your dishes to achieve that cohesive look. The backsplash and prints at the back of the cabinet make a statement reminiscent of a 70's show. Mix these rustic elements with modern task lighting, a contemporary chandelier in chrome and stainless steel fixtures to achieve an industrial feel without ruling in the warmth the rustic décor provides.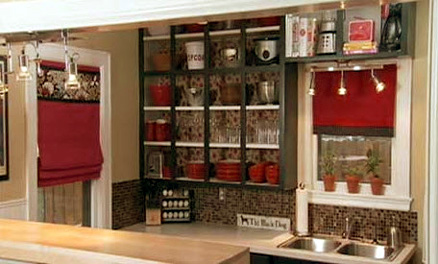 7. Mosaic backsplash, stainless steel appliances, and white cabinets.
This is a genius way to incorporate design and make the wall more interesting. Place an exotic tile mosaic just above the stove. To prevent it from looking too messy or too busy, choose tiles that are in the same color palette as your kitchen backsplash. This is a nice contrast against the white cabinets and the pink-colored stove knobs add a pop of color. Amazing!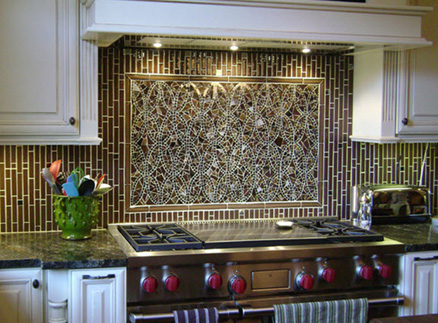 There you have it! These are just seven design ideas to inspire you in your remodeling agenda. There are a lot of amazing ways to create a modern-rustic kitchen, you just need to know which elements interest you. Mesh these together in order to achieve that perfect vibe you've been looking to fill your kitchen.
Marie Christine Sing-Umali is a blogger and home improvement enthusiast working for Kitchen Cabinet Kings, a leading online distributor of discount bathroom and kitchen cabinets nationwide. If you're looking for high quality birch, maple, bamboo, and oak kitchen cabinets, you can find quality RTA cabinets at Kitchen Cabinet Kings at amazingly affordable prices. Claim your free kitchen design service, discounts and know more about financing options they offer by visiting https://www.kitchencabinetkings.com.