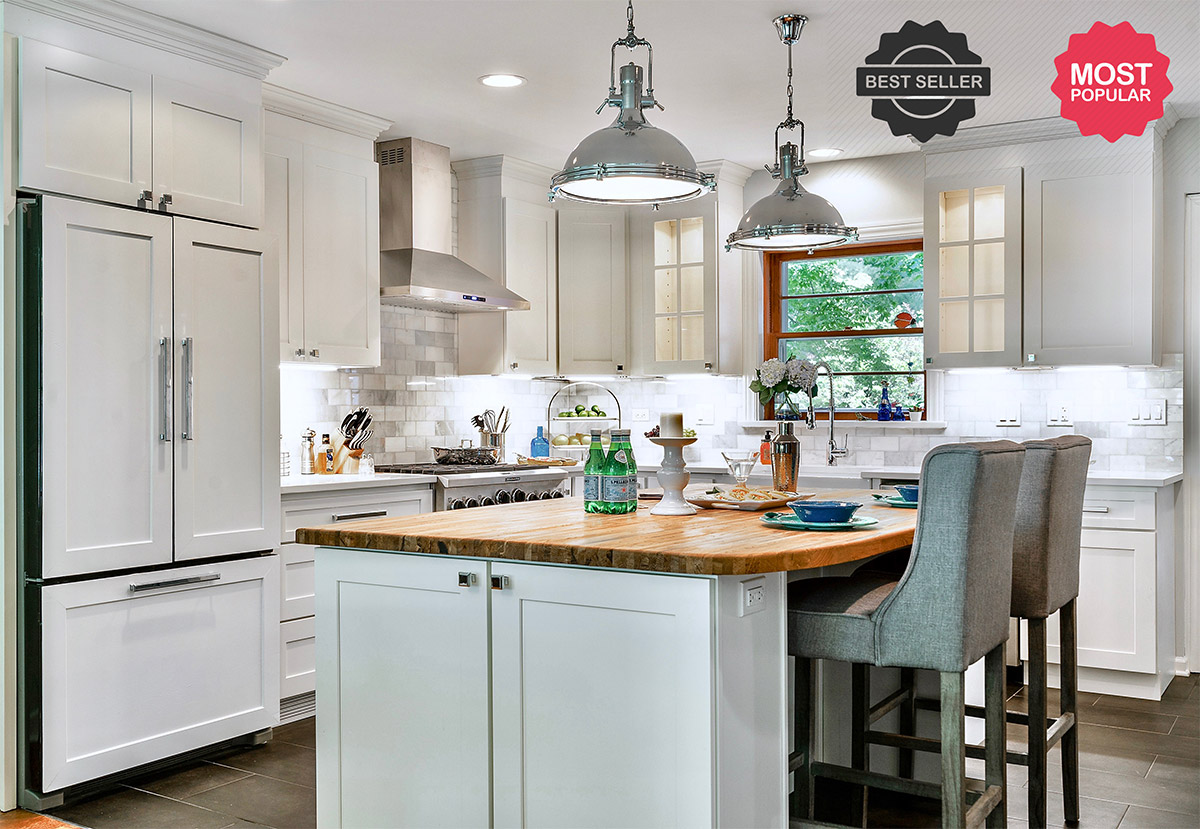 For those who believe in style with simplicity, Shaker style kitchen cabinets are the best bet.
The idea of Shaker kitchen originated in the American colonies way back in the 18th century, when people lived in self-sustained communities and built homes with simple designs, which served a more functional purpose. Shaker cabinets refer to door type cabinets and drawers with recessed center panel. Based on the same principle, shaker kitchen cabinets came into vogue.
For all those who might be interested in making that kitchen area look more roomy and liberal, here is a quick guide to some of the important features that Shaker kitchen cabinets offer.
Features of Shaker style kitchen cabinets
1. Symmetry and subtle layout: Symmetry and function are the keywords when it comes to describing a Shaker kitchen design. Shaker kitchen cabinets make use of the available kitchen area in the most efficient manner, lend orderliness and clutter free arrangement of all the kitchen items and accessories, so that one does not feel claustrophobic. With its subtle layout, it has an appeal for those who want everything to be in place and prefer an organized lifestyle.
2. Natural look means always in fashion: Shaker kitchen cabinets have a natural distinctive look. Just as if out of the woods, shaker kitchen style cabinets feel like a perfect craft piece carved out of wood. Unlike the common kitchen cabinets, these are not adorned with any decorative beadings or moldings, but kept very straight and simple. Shaker kitchen cabinets are painted in natural hues and other vibrant shades that create an impression of vast empty space. The knobs and door handles are mostly made of wood or brass and kept simple so that they never go out of fashion.
3. Sturdy with uniformity: Shaker kitchen cabinets are known for their sturdiness, and they can bear excessive wear and tear arising out of daily household chores. Shaker style kitchen cabinets are mostly made from hardwoods that grow in North Eastern regions of America; maple and cherry wood being the favorites. Mostly the cabinets are long and touch the ceiling. The Shaker kitchen cabinet doors are made from flat slab of wood with simple frames, straight lines to ensure uniformity in the layout and design.
4. Space utilization: Shaker kitchen cabinets make judicious utilization of the available space, taking complete advantage of the walls. Shaker kitchen cabinets are inbuilt cabinets that are innovatively designed, to make room for all the kitchen items starting from pans, woks, and the cutleries to the garbage bin, so that everything is well fitted in the designated racks and nothing peeps out or lay carelessly on the kitchen counter. You can also opt for wider cabinets and drawers, so that there is enough room for all the modern-day kitchen appliances. Such an arrangement makes the kitchen look neat and tidy.
5. Aesthetic look: Most of the Shaker kitchen cupboards are hand crafted by the skilful craftsmen, but people with an aesthetic bent of mind can try their hand and make them look more attractive.
6. Better arrangement in kitchen area: If the kitchen area is large enough, there is ample space to set a little dining table in the center for a perfect family meal. However, if space is less, shaker style kitchen cabinets still enable you to arrange a few chairs next to the kitchen counter.
7. Traditional and contemporary mix: For a classic and appealing ambience, light fixtures can be fitted alongside the kitchen panel to create soothing and gentle effect. The most striking feature of Shaker kitchen cabinets is that they are timeless and have a traditional and contemporary mix — the reason why shaker style kitchen cabinets have never been out of fashion.
Shaker kitchen style cabinets come at a reasonable price, and with all the above features being the part of the package, they are worth the one time investment, that you need to make to own them.
With space being a constraint in modern-day homes, Shaker style kitchen cabinets are the best choice for people who appreciate elegance and countryside living. So, if beauty in simplicity is your philosophy, shaker kitchen cabinetry should be your pick for the kitchen.