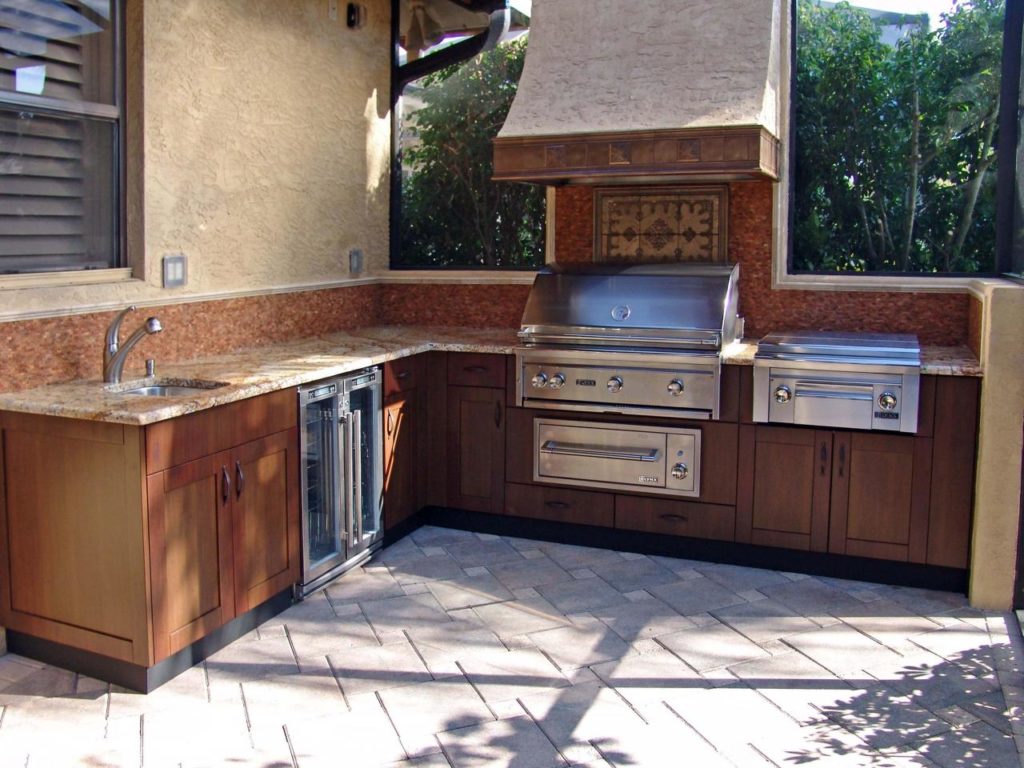 Outdoor kitchen cabinets are meant for cooking outside of the home, it may be on a deck, in a park or a beach, at a swimming pooll and near a barbecue. They need to be stronger than indoor kitchen cabinets as they are to be exposed to seawater, wind, rainfalls, scorching sun and other weather conditions. Outdoor kitchen cabinets must be waterproof and should not be easily rotted, peeled and discolored.
Outdoor kitchen cabinet designs and layout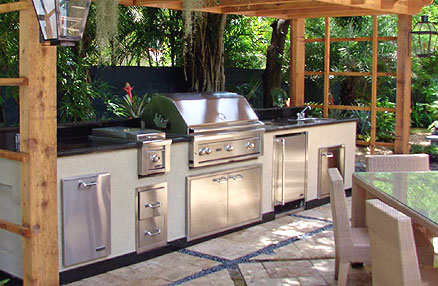 Outdoor kitchen cabinets are cupboards that can stand by their own. They have several drawers and shelves in which dishes and other supplies and appliances can be stored neatly and conveniently. Outdoor kitchen cabinets will have different storage opportunities.
Kitchen appliances shelves and drawers are a must feature in the outdoor kitchen cabinets. Cabinet can store utensils, stove, oven and knives so that your outdoor place will look neat and tidy.
Outdoor kitchen cabinets can accommodate outdoor toys and towels. Children will carry toys to play when they are outdoors and cabinets are the best place to store the play items.
Outdoor kitchen cabinets have grills on top for cooking. Such a facility is necessary for outdoor cooking. You do not have to make a temporary arrangement if the cabinets have a grill or a cook top.
Some outdoor kitchen cabinets have warming drawers that keep cooked food hot and fresh. If you are preparing multiple dishes or taking your time to serve food, such a facility in the outdoor kitchen cabinetry will be very convenient.
There are also cabinets with locks, in which lockable items can be stored. Lockable cabinets will keep your things safe even if you left the place and moved a little away.
Outdoor kitchen cabinet materials
Outdoor kitchen cabinets are mostly made of wood, polymer and stainless steel. Each of these materials has a unique look.
Wood can be cherry, maple, hickory and oak. Hickory is one of the strongest and is similar to walnut wood. Teak, which is mostly used by the best boat builders, provides a rich dark finishing. Cyprus provides casual family look to the outdoor kitchen cabinet.
Stainless steel works excellent in your outdoor kitchen. It is strong and withstands rough use out of the home. It provides long life to outdoor kitchen cabinets.
Polymer offers many options in colors. It gives a trendy look to the outdoor kitchen cabinets. It is also one of the hardest materials to make cabinets for outdoor cooking.
Natural stone is also used in outdoor kitchen cupboards, mainly as cook tops. They are weather resistant and work great for outdoor cabinets.
Outdoor kitchen cabinet hardware
Outdoor kitchen cabinets will have hinges, drawer glides and handles and they are a significant part of the cabinets. They should be tough enough to survive the rough use and low maintenance. Handles, pulls and knobs come in a variety of materials such as steel, brass and rock.
Hinges, which are self-closing and weather resistant, should be considered for outdoor kitchen cabinets. Such hinges are most convenient while you are cooking outside of the home.
Drawer glides used in cabinets should also offer full extension and withstand rough weather. Such drawers are more accessible and can accommodate things easily. They can also be used roughly.
Handles in a range of designs are available. They add to the look of the outdoor kitchen cabinets, but priority should also be given to their quality.
Outdoor kitchen cabinets are available in different price ranges. The price of cabinet depends on the layout, materials and hardware used in the cabinets. You can choose the one that meets your requirements and serves your objectives. Whatever the design and types of outdoor kitchen cabinets you buy, check the quality of the material used in cabinets. In the long term, good quality is better than cheap materials.