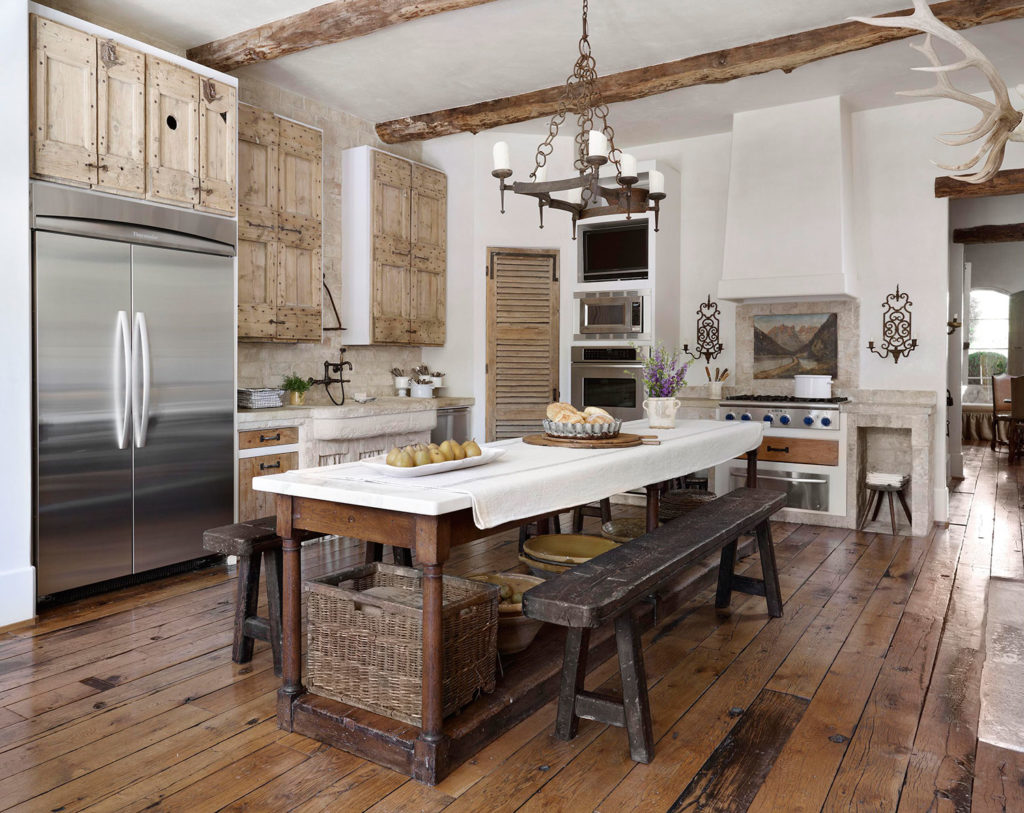 A kitchen is not all about efficiency, organization and function… it can be more than that. A kitchen should have a personality, appeal and a feel that can light up your senses and make cooking fun. People spend a lot of time in their kitchens and a good looking kitchen will make the time spent there pleasurable. A French kitchen design is amongst the best classic kitchen designs. So, considering a French country kitchen design for your kitchen is definitely a good idea. This design will give your kitchen a traditional and unique look that will take you to hillsides of the rural France. This kitchen design fits extremely well in rural as well as modern urban kitchens.
A French kitchen design relates itself to French countryside as it has rustic French farmhouses, pastoral settings and lavender fields. A French kitchen design represents a French living style that is very unique. With this kitchen design you will discover that a French look is generally warm, rustic and old.
A French country kitchen design has many elements that make it different. This kitchen design uses large sized furniture made of light color wood, which can be decorated using the ornate carving style.
Colors used in French kitchen design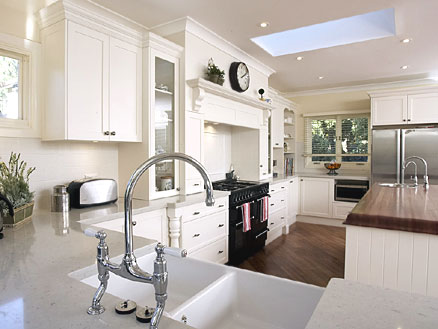 Color plays a vital role in a French kitchen design. For deciding the color combination you can take help of ideas from some impressionists like Van Gogh, Monet and Renoir. The basic colors used in this kitchen design include bright red, cobalt blue, rust, sunny yellow, soft ocean tones and soft golden tones.
Besides that, you can even decorate your French kitchen design using colors like sunset purple, sunflower yellow, meadow green, poppy red and bright blue. The walls, furniture and cabinets of a French kitchen can be painted in taupe, light beige and ivory.
The cabinets can be painted in a glossy white color or they can be left in a natural woody color as well to keep it natural. Light colors make the kitchen look light, big and airy. As far as curtains and cushions of the seats are concerned… you can use floral prints, paisley and stripes, this will give an ethnic French look.
Materials used in French kitchen design
For a French kitchen design it is important to use natural materials in the cabinetries, walls and furniture. The materials that are commonly used in making a French kitchen design include tumbled marble backsplashes, natural stone for flooring and granite for countertops. The natural materials can be placed on beamed ceilings and walls. They can be even roughly stained or wood painted or plaster painted.
The flooring of the French kitchen design can be done with cotton rugs, bricks or stone. A fireplace should be there, which is made of stone and a window with wooden shutters. A rustic or distressed look is suitable for the cabinets and furniture. Ceramic tiles having backsplashes are just perfect for the countertops.
Accent pieces
There is an extreme use of pottery accents, rustic urns, tiles and hand painted European ceramics. In fact the terracotta pottery and ceramic tiles are used wherever there is a possibility of placing them. By adding a few copper pots, you can create the much-needed spark.
A French kitchen design is a perfect design for any and every kitchen. As the kitchen is the center of your house, this kind of a kitchen design will give your house an aesthetic yet a trendy look. You will never fail to get your kitchen noticed and appreciated by visitors once you design it in a French style.
Besides gathering appreciations, you will yourself fall in love with it as this kitchen design spreads positive vibes and lightness. Once you have a French kitchen design, cooking will be fun and you would not mind spending hours in that corner of your house.
So create the uniqueness by having a French country kitchen design.